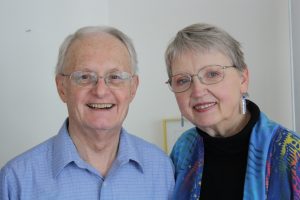 "I was the first person on both sides of the family not to go to Augsburg," said Phil Formo with a smile. "My mother met my father in chemistry class there. She was in nursing and needed help with it, and he was good in chemistry. They also both sang in the first Augsburg choir concert that ever took place, after the men's chorus and the women's chorus merged."
Phil's parents, Jerome and Winifred, both class of 1937, were extremely dedicated to Augsburg and stayed deeply involved in all things Auggie throughout their lifetimes. Jerome served as a Regent in the late 60s, was active as a Regent Emeritus, and also was awarded a Distinguished Alumni Award in 1983.
Phil reports it was an easy choice to designate proceeds from his parents' estate in 2009 to establish the Jerome and Winifred Formo Scholarship for music majors or those with a strong interest in choral music directing. More than eight students have benefited from this endowed fund, but it was not the first Formo scholarship. That distinction belongs to the David J. Formo Scholarship, which was established in 1979 and is awarded annually to a junior or senior student who has successfully overcome adversity to achieve academic and extracurricular excellence.
Phil reports it made great sense to make gifts to support endowed scholarships at Augsburg. His parents demonstrated the power generosity as a way to remember their son and Phil's brother and carry on his legacy.
"Seeing the way our giving has led to a better future for so many students inspires us to do more. It's great to meet the scholarship recipients and hear their stories. We're thrilled each time we hear the influence the scholarship has had on their lives and their ability to attend Augsburg. It's very satisfying."
For a short video that tells more about the Formo scholarships and others, watch here: