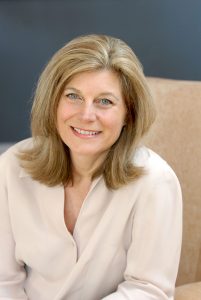 Lisa Zeller '81 has long been a vocal and enthusiastic fan of Augsburg. She was part of the first class to complete the Master of Arts in Leadership (MAL) degree in 1989, and she was a founding member of Augsburg Women Engaged (AWE). She volunteers regularly for both and supports their fundraising initiatives regularly. But her latest effort—to support the endowed AWE scholarship with a substantial estate gift—is born of a deeper connection.
The first in her family to attend college, Lisa did not have the usual college experience. Shared dorm or house living, evening study sessions, weekend parties, and fun with friends were not for her. Her mother was a single parent who "struggled her whole life. Money was always a worry," Lisa recalls. Yet "my earliest memories are of her instilling in my sister and me that we get an education and become self-sufficient. She planted those seeds early and strong."
At church, Lisa had noticed two posters, one for Pacific Lutheran University and the other for Augsburg. Pacific Lutheran was too far away, so Augsburg became her alma mater. But tight finances meant she was living at home, working several jobs, getting parking tickets on a regular basis, and devoting all spare time to her studies. "I was shy and introverted, although I loved college. The one thing I regret is that I had no social life. I think that is actually a big part of why I'm involved now."
Lisa majored in communications and religion, the latter surprising her. While taking the requisite classes, she discovered that she loved studying religion and philosophy that went beyond Lutheranism and Christianity. Undecided about her future, she considered going into the ministry until one of her business professors explained that "the business world needs good, ethical people, too." She pursued an advanced business degree elsewhere but found that accounting and statistics classes felt "like sticking needles in my eyes. I hated every second." Augsburg, on the other hand, was "talking about creativity and a whole new liberal arts approach to leadership. If I could have designed my own program, MAL would have been it."
As part of the first cohort, Lisa made the lasting friendships and connections she missed the first time around. "It was such a great experience," she says. "I give so much credit to Augsburg for my self-discovery and becoming who I am today. No one had told me I was smart before. Augsburg helped me cultivate my passion and interests."
She embarked on an eclectic business career and in 1994 founded the Phaedrus Group, a training and consulting firm she still runs with her husband. As a member of AWE, Lisa has observed that women approach philanthropy differently from men, seeking more connection with causes and recipients. Her planned gift to the AWE endowed scholarship provides just that. This scholarship exists to support Auggie women, especially those who are first-generation, students of color, or other underserved populations, so perhaps they will be able to earn a degree without giving up friends and fun. It is her way of paying it forward.
"I've had an opportunity to meet the first two AWE scholars, and these young women inspire me and give me hope for the future. It is so fun to cheer on this generation of women!"