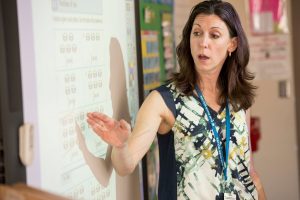 The Master of Arts Teaching program at Augsburg exposes degree candidates to approaches that will enable them to collaboratively work toward educational ideals and evidence-based practices. Experienced faculty prepare candidates to navigate the complex political realities in the field of education. This program help teachers find agency in a landscape that has systematically marginalized rank and file educators in matters of policy, curriculum, and pedagogy.
The MAT and broader experienced curriculum is designed to enable graduates to realize the dynamic interrelationship among race, class, gender, ability, sexuality, and other facets of identity. Graduates of this program will learn to build strong public relationships with each other across differences, as well as with students, colleagues, families, administrators, and community leaders.
Program Summary
This MAT program is for individuals earning their initial teaching license.
All education-specific courses are offered on weeknights to accommodate working adults (6 to 9:30 p.m., Monday through Thursday).
Students can start in fall, spring, or summer terms.
Faculty members are trained and skilled in K–12 education with a priority on teaching degree candidates.
Small class sizes offer direct access to faculty and help foster professional mentorships.
Augsburg has developed relationships with urban and suburban area schools and districts to provide meaningful field experiences and student teaching placements.
The Education Department maintains teacher licensure programs, which are approved by the Professional Educator Licensing and Standards Board (PELSB).