Tate weston '21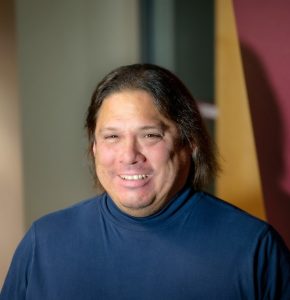 I appreciated the way the program emphasized a look inwards in order to better prepare us to work with our students. I have continued to take available graduate classes after I have received my MAE, including the Paideia institute. This has allowed me to continue to make connections with fellow teachers.
The faculty understood the hardships and complexities of being a working graduate student with a family. They have continued to support me in any way they can, including giving recommendations, tips on jobs and ongoing opportunities for enrichment.
I'd say that the emphasis on teaching equity in all its forms to pre-service teachers is invaluable, in a teachers corps that increasingly consists largely of white teachers and students of color. The connection to the Native American community is important as is the large number of Natives at Augsburg in general.
---
matthew cesare
I looked at several area colleges and universities for my Masters program and settled on Augsburg because of Masters of Teaching Program. Other schools required a more rigid curriculum and a larger course load. Augsburg offered exactly what I wanted. The MAT program allowed me to work towards my license but with a slightly lighter course load. It fulfills all the state required course work and takes less time then the MEd program, which works well for me as I wish to enter the field sooner then later. It also offered all of the courses I needed in the evening, so I could work full time and attend school full time.
Faculty are experienced teachers who are or have worked in a variety of school settings. They have always been available and willing to work with me. As a very non-traditional student they have been great to work with.
The course work is current and relevant to current situations and issues schools are facing. Things like equity, race, and access are all topics that are openly discussed in classes. As a student your view points may be challenged, but your voice is always welcome. The realities of what is happening in public schools is incorporated into the course work. From Distance Learning to Racial inequalities, Modern Classrooms to basic lesson planning. This is a challenging field and teachers are required to do more and more. I feel that Augsburg is preparing me for what is out there and how to deal with it.
Although this program may be rigorous, don't give up. Minnesota needs great teacher and this program is designed to prepare student to be just that. Don't give up!
---
Michelle hofeldt
I chose Augsburg because they were one of only a few schools in the Twin Cities area that offer a Master of Arts in Teaching degree. The MAT degree means that even though I didn't study education or work towards a teaching license during my undergrad degree, I can now get my teaching license, begin teaching, and finish my Master's degree soon after.
I finished my undergraduate degree and then entered the workforce, working for six years in entry-level positions largely outside of my degree areas. The MAT program supported me in going back to school after being away from it for so long. The program allows me to advance my degree at the same time as I am earning a teaching license, which will lead directly to a career which I am passionate about in my degree field . My professors encouraged me to attend professional music educator workshops, and the practical experience I gained from conducting the Augsburg band and doing field experience and student teaching in Minneapolis classrooms will inform my future teaching.
Augsburg's MAT program and licensure track in music education stands out because they offer a wide range of courses and topics that are largely ignored in more traditional music education programs. They offered courses in Latin American music and music history, courses incorporating the histories of jazz, rhythm and blues, pop, bebop, soul, and hip hop, and courses that teach critical theory, anti-oppression, and the work of dismantling of systemic racism and inequity in education. These topics are all centrally important to me, and I would like to teach them in my future classrooms.