The University of Minnesota, Augsburg College, Minneapolis College of Art and Design, Minneapolis Community and Technical College, and the North Hennepin Community College, recently joined forces to establish a pilot project known as the Environmental Student Leaders Action Network (ESLAN). The project is a behavior change project funded by a Hennepin County Green Partners grant.
     The Kick-off meeting was on Wednesday, October 14th, at the Gandhi Mahal Restaurant. At the event, folks discussed the structure of the project and brainstormed ideas for behavior change projects on their campus. Also, people had the opportunity to tour the restaurant's aquaponics system; Minnesota's first, in-restaurant aquaponics system, and dined in Northern-style Bangladeshi/Indian cuisine.
      Between October 25th and 27th, the ESLAN students attended the Association for Advancement of Sustainability in Higher Education Conference (AASHE), an event that equips higher education faculty, administrators, staff, and students to lead sustainable innovations.  One of the helpful sessions held at the event was the Behavioral Change in Sustainable Campus Actions session facilitated by Alexis Troschinetz, the Clean Energy Resource Teams (CERTs) Behavior Change and Metrics Coordinator for the University of Minnesota's Regional Sustainable Development Partnerships and Extension. The session informed students on how to organize and execute sustainable initiatives.
Now, each campus is working on their independent project. The Augsburg College team consists of four students (Elise Linna, Hanan Farah, Jennifer Kochaver, and Oscar Martinez), one graduate student (Amber Lewis), and two faculty (Emily Schilling and Christina Erickson). We are recycling personal care products inside bins founds in each residence bathroom floor of Urness Hall and by the Einstein's bagel shop inside Christensen Center (images presented below in Figure 1).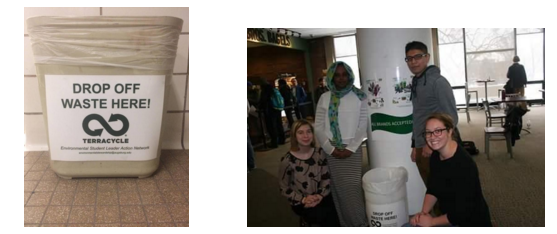 (a)                                                                          (b)
Figure 1. a) Recycling bin found in one of the Urness Hall floors. b) ESLAN Augsburg students standing next to the recycling bin found in Christensen Center. 
The items collected will be recycled through the TerraCycle company, an acclaimed upcycling and recycling company. The company is amazing, so check them out at www.terracycle.com. The team is delighted with the number of products being recycled in the bins thus far. In order to incentivize folks to continue doing a great job, we are rewarding the Urness Hall floor that recycles the most personal care products by Thursday, March 10, with a pizza party.
     We collected pre-surveys from the Urness residents two weeks ago and we will compare them to the post-surveys that we will collect in March. We will use the data from the surveys and our own personal experience to present our findings on March 28th to the rest of ESLAN institutional partner members.
     Up to now, this has been a wonderful opportunity to grow as agents of sustainable change. If you want to learn how to join us in this rewarding experience or have questions, please contact us by emailing us at environmentalstewardship@augsburg.edu. We will be posting more blogs, so also look out for those.