As Earth Month unfolds in ways we can't predict towards the 50th anniversary of Earth Day, stay tuned for stories from the past, opportunities to take action towards a Just Transition mentioned below, and updates from what the Environmental Stewardship Coordinators are learning, doing, and processing during this time! Follow us here and on facebook.
(By Allyson Green, Chief Sustainability Officer)
On April 22, 1970, students across the country organized teaching-ins that demanded action on unrestrained pollution that threatened the ecological systems that support life. As our current reality of a global pandemic has shifted plans for the 50th anniversary of Earth Day (and every other milestone the Augsburg community was planning to celebrate), the student Environmental Stewardship Coordinators and I have found ourselves grieving. What about the global climate strike we were going to mobilize students to participate in? What about the coffee tasting and panel that would highlight the connections between social, environmental, economic, and personal health? We are already anxious about what the climate crisis means for our current and future health and well-being, and now how will COVID-19 change that?
In Minnesota, our health and well-being can be predicted by the color of our skin, economic status, immigration status, gender identity and sexual orientation, and other characteristics of who we are. We could all spend the next 10 days of our stay-at-home order getting lost in statistics that illustrate this reality. COVID-19 is exposing vulnerabilities in our society that have long been present and experienced most intensely by marginalized groups of people.
And so, even in our grief, visions of a future where all inhabitants of this planet (human and non-human) can thrive are emerging more strongly and becoming more possible. A Just Transition that doesn't leave anyone behind is not only possible but necessary, and this is what helps fuel my daily hope and work.
What if everyone had healthcare that covers all of our needs, regardless of immigration status and ability to pay? What if all young people – black, brown, indigenous, LGBTQIA – had what they needed to succeed in school and follow their dreams? What if our worth didn't depend on our productivity and consumption? And what if we all had the clean air, water, and food our bodies need to thrive?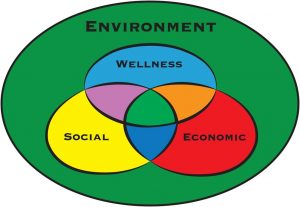 The framework for sustainability that we use at Augsburg captures the interconnectedness of everything happening right now and reminds us that public health disasters, economic collapses, and social upheavals are not isolated events and are also inherently environmental crises. Our colleagues from the Bemidji State Sustainability Office graciously share this model from their own community, honoring Ojibwe culture, that resonates with the Lutheran theology under-girding our institutional values as well.
How is your daily life illustrating these connections right now? My own mental health wavers with my ability to get outside and walk or bike around my neighborhood. As traffic has slowed on the highways, I'm reminded that my physical health is connected to the air quality around me, and I can feel the difference in my lungs. Today, my rent is due, and I'm grateful to still be employed, even as so many of my neighbors are waiting for unemployment checks before they can pay their own rent. How are these connections between wellness, social, economic, and environmental systems playing out on a community, state, national, and global scale right now?
When these systems are out of balance, we have opportunities to change the way they adapt and relate to each other moving forward, but only as we address the root causes of the imbalances to begin with. In writing this week about climate change and COVID-19, Vijay Kolinjivadi makes direct connections between our global exploitative economy and the climate and COVID-19 crises. We created these problems. And we can resolve them while changing direction towards an inclusive economy. Kolinjivadi reminds us, "the rapid and urgent actions in response to the virus and the inspiring examples of mutual aid also illustrate that society is more than capable of acting collectively in the face of grave danger to the whole of humanity."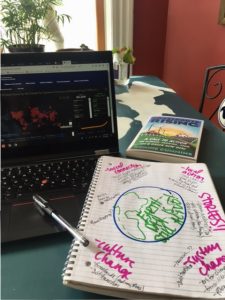 So, as I get ready to move on from this blog to my next task of the day, I'll pull out the notebook I'm now using to keep track of projects while working from home. The notebook itself has become a daily reminder to keep these connections and possibilities at the top of my mind. The first half of the pages are full of notes from my graduate school GIS and epidemiology classes. As the maps tracking COVID-19 change daily, and we need epidemiologists for every decision, those frameworks for understanding the world are now literally and figuratively the foundation of the projects the Environmental Stewardship Coordinators and I are continuing to work on (virtually) together. A solid understanding of the connections between people and planetary health and wellbeing can help us move towards a Just Transition. We grieve our current losses, and we rejoice in the potential gains we can help enact for more equitable social, economic, wellness, and environmental systems.
Will you join us this month in celebrating a long history of environmental advocacy that began generations before April 22, 1970 and will continue generations after COVID-19?