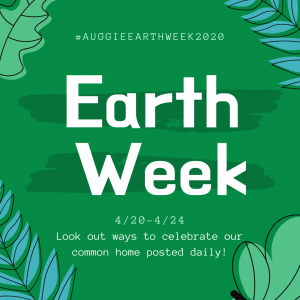 April 22 is the 50th anniversary of Earth Day!! While we can't celebrate in person, we invite you to take collective action with Auggies near and far.  The first Earth Day mobilized college students to demand action for clean air and water for everyone, and in this time of public health and climate crisis, we can still take action together towards long-term change that supports the health and wellbeing of us all. What can we transform? What could a revolutionary new normal look like? Whether you have the time, energy, and passion for taking small personal action, learning something new, building community, or advocating for policy change, we want to hear about it!
How can you participate?
Join daily collective learning and action opportunities:

Monday (4/20), 3:30-4:30pm – (virtual) Q&A with Ronnie Cummins, national director of the Organic Consumers Association and author of Grassroots Rising: A Call to Action on Climate, Farming, Food, and a Green New Deal. RSVP here!
Tuesday (4/21) – "Contact your legislators" challenge! Check ESC facebook for details and/or go to this doc for information on how to call and what issues you can call in about!
Wednesday (4/22) – EarthDayLive2020 – STRIKE theme, amplifying indigenous and youth stories (RSVP required).
Thursday (4/23) – (virtual) Sustainability Conversation with Augsburg Alum – details TBD
Friday (4/24), 7pm – (virtual) Movie Watch Party – details TBD.

Find other opportunities to take personal communal, and systemic action on this list compiled by the Environmental Stewardship Coordinators team. Add your own ideas! Take action whenever you can, in whatever way you can!
Share your actions with the ESC facebook page or on other social media platforms using #AuggieEarthWeek2020 (and any other hashtags your networks are using this week – for example, #EarthDay2020, #BetterTogether, #ClimateJustice4All, #StayHomeButNotSilent).
Submit daily actions for a chance to win a sustainability care package!