By Anna Cox ('22)
This fall from September 20-27, 2019 millions of people flooded streets and capital buildings for climate action. This climate strike was the biggest climate mobilization in history counting more than 7 million strikers. From New York to Berlin to our hometown Minneapolis millions of people joined together  and raised their voices in defense of climate action and justice. Augsburg University supported students, staff, and faculty in joining action as they felt called, and more than 50 Auggies came together for the strike. Thanks to organizing by Campus Ministry and Environmental Action Committee, Mayor Jacob Frey gave an energizing speech before we went to the strike, reminding us that by going to St. Paul we were taking action, and that after the strike was finished our work was not done. After the strike we needed to continue our action and continue raising our voices by sending letters to government representatives, pushing for more environmental policies. Following this gathering, we hopped on the light rail with hundreds of other strikers – a racially diverse group of teenagers, middle-aged people, college students, and even children.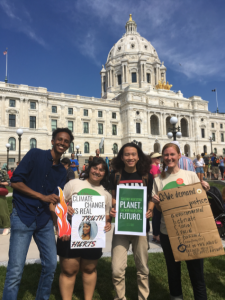 We started the strike at the Western Sculpture Garden just a few blocks away from the capital. In the midst of hundreds of people there were sounds of music, strikers were chanting, and megaphones rang through the air. Visually seeing all the posters and the creativity behind them were really inspirational in itself. When the time came to walk to the capitol building it was really an experience to walk beside people from all different backgrounds, coming together for a single cause. When we arrived at the capitol we heard speeches from multiple different people, most of them high school students. Hearing their words and stories was truly inspirational and enlightening.
During this event we were asked a question. What next? After the strike is done what will you do to continue the action? What will you individually? What will Augsburg do as a campus? I think attending a strike just like the one on September 20th reminds us that we still have work to do. We have made improvements, but we can always do more. These are just a few quotes from our student Environmental Stewardship interns and how they felt impacted by the Global Climate Strike.
"I didn't realize just how many marginalized groups were even more negatively affected by the climate crisis than everyone else. It was eye-opening and I hope others who were not there could watch it somewhere."

"Last year, I went to the climate strike and I actually worked with a group of people at my school to advocate for the Green New Deal and that day was cold. There weren't many people there,  just enough to fill the steps of the capitol. This year, there was a mass of people advocating for the health of our planet and it filled my heart with so much hope."
Ready to take action?
Join us for a listening and action planning session around how environmental equity shows up in our lives and on campus, November 11, 4:30-6:30pm in the Marshall Room. Together we will collectively envision Augsburg's commitment to environmental action beyond 2019.