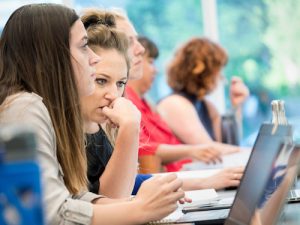 A Master of Business Administration (MBA) is a highly prized graduate degree. It offers a wide range of knowledge and skills that are helpful in many industries. There's a lot to look at, from accreditation to admissions criteria for an MBA. You may wonder if getting an MBA is worth it. The answer is different for everyone, but those who decide to earn one gain a competitive advantage. Whether you are a few years out of college or have been working for 10 years, an MBA degree will help hone your skills.
The course duration of an MBA depends on the type of program you attend. There are different types of MBA degree programs, and they all have varying lengths.
How long does it take to get a traditional MBA?
A traditional full-time MBA program length is about two years. The program usually starts in either late August or early September with a couple of short breaks and a longer two- to three-month break during the summer between the first and second year. Most students opt to do an internship during the summer break.
As a full-time student, you can expect to take classes throughout most the day during your first year. After you finish class, expect a few hours of homework and other activities. During your MBA years, homework may include reading textbooks and case studies, working on projects, and writing essays.
Many students go to class activities such as bar nights, dinner parties, and other social gatherings. Many schools offer presentations from successful business people as well. Days off may include comprehensive studying for the coming week.
Things change a bit the second year, when the focus is all about specialization. Students choose electives from broad fields to customize their education. These fields include:
Accounting

Finance

Entrepreneurship

Leadership

Marketing

Sustainability

Real Estate
Some universities specialize in other fields. Besides the time commitment, the average cost of a two-year MBA is $130,000.
How long does it take to get an MBA degree online?
An online MBA may not have a defined length of time. Some online MBA programs are self-paced learning and can take multiple years to finish. Most people take about two years to complete an online MBA. Universities all around the country offer online MBAs to students who choose to study off-campus.
These programs typically require about half of the credits that a full-time MBA requires. They're an excellent choice for working professionals and business owners who want an advanced degree but don't have time or flexibility to go to a campus for classes. Students spend an average of 10 to 15 hours a week outside of class doing work.
Online MBAs cost significantly less than a traditional MBA. The average cost ranges from about $35,000 to a little more than $39,000. An online MBA cuts down on costs like transportation and living expenses because students don't have to worry about commuting to class or staying close to a particular university or college.
How long does it take to get an MBA degree if you go to school part-time?
Part-time MBA students take classes at night and on the weekends. They're popular among working professionals working to change careers or improve their prospects. The part-time MBA program can be completed in about a year, or up to five years depending on the program. The shorter programs are accelerated, which means they move faster and require more rigorous studying.
These programs can be less of a financial burden than full-time programs, because you can still work while attending them. Expect to spend seven to eight hours a week doing homework on top of any work you may have for your job. The time commitment may make it hard to spend time with family or go out with friends.
Many top-tier part-time MBA programs aren't cheap. The average cost is about $110,000, slightly less than a full-time MBA. However, a part-time MBA may spread the cost over an extended period, and you have the advantage of the income from a full-time job while completing it.
How long does an accelerated MBA take to complete?
And accelerated MBA is an excellent option for people who want the benefits of an MBA but don't have two to three years to earn the degree. An accelerated MBA takes between 10 and 24 months to complete, depending on the program. This makes an accelerated MBA an attractive option for someone who has a year to dedicate to education.
The work is rigorous for an accelerated MBA. Universities cram in two years' worth of learning in a single year. Expect to study all the time and give up your free time if you decide to get an accelerated MBA. Break times are shorter, lasting about a week instead of a few weeks in a traditional MBA.
The price is significantly lower than a traditional MBA. Some programs from state universities start in the tens of thousands of dollars, while you're looking at about $100,000 at an elite school—that might sound like a lot, but it's roughly $40,000–60,000 less than a two-year program.
How long does it take to get an executive MBA?
An executive MBA is a great way for entrepreneurs, people in middle management, and executives to learn the necessary skills to take their career to the next level. It can take anywhere from a year to three or four years to get an executive MBA. Each program is different, and there are online and on-campus programs available.
They're designed for individuals who are already employed. Typically, classes meet at night a couple times a week or on weekends. The executive MBA works around the busy schedule of a high-level working professional.
An executive MBA isn't cheap; many programs cost over $100,000. Though that's a large number, it shouldn't be out of reach for most people interested in getting one. Many are already making six figures a year and continue to work while they get their degree. Some employers offer financial assistance for executive MBAs, because the companies reap the benefits as well when that employee grows in business savvy and skills.
The bottom line
If you are considering pursuing an MBA, you will likely need to devote a large amount of time to complete the program, typically one to two years. Expect to spend multiple hours dedicated to schoolwork each week in addition to class time. Additionally, if your college or university offers networking events for MBA students outside of the classroom, it would greatly benefit you to attend them.
The decision to continue your business education and attend graduate school is an important one that requires the consideration of many different factors. How long does an MBA take to complete? The answer is entirely dependent on which degree program you choose to enroll in.
Request specific MBA program information or contact the business professionals at Augsburg University to find out which program is best suited for you.