When it comes to business credentials, one of the most desirable is the Master of Business Administration. As an MBA student at a strong program like Augsburg University's, you'll learn the nuances of finance, management, marketing, leadership, strategy, and more from top professors in your field, putting you in a position to conquer the 21st-century business landscape.
Learn how to graduate with an MBA, what the MBA requirements are, and all the particulars you'll need to know for admission to a leading program.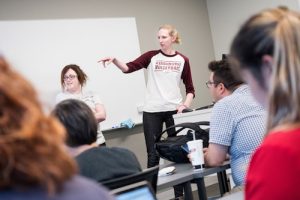 Basic Requirements for MBA Programs
Regardless of the institution you're hoping to attend, the basic MBA requirements are similar. Here's what you'll need to be admitted:
Undergraduate degree
First, you'll need your undergraduate degree. The institution you attended must be accredited. While your undergraduate degree can be in any major, it would be helpful to have a degree in a business-related field such as business management, marketing, or finance.
Your transcripts
You'll also need transcripts from the college or university where you earned your undergraduate degree. You can obtain a copy of your transcripts easily by contacting the registrar's office at your former school.
GRE or GMAT
Another MBA degree prerequisite is the completion of the Graduate Management Admission Test or Graduate Record Examination within the past five years. While each school holds applicants to different score requirements, most schools require a GMAT score of 600 or more, or a GRE score of more than 150. Many institutions, like Augsburg University, do not require the GMAT or GRE, but they may require you to complete MBA math modules in its place.
Application
You'll also need to complete your application to the university and pay any appropriate fees associated with the application process. Keep in mind that your graduate school application will be extensive and include several important components:
Statement of interest (cover letter)

Application form

Responses to application essay questions

Two letters of recommendation

Current résumé
In addition, most institutions prioritize admissions for students who have already gained at least two years of hands-on experience in the business world.
Tips for Gaining Admission
While each school's requirements are different, there are some useful tips that can help separate you from the countless other students also applying for their MBA.
Research each school
To understand which university is the best fit for you, you'll need to understand what separates them. Pay close attention to the mission of each school and the clubs, organizations, and faculty at each school. Focus on schools that align with your goals and will help you reach those goals.
If possible, take the time to visit the top schools you're considering. Most have programs in place that will expose you to life as an MBA student so you can make an informed decision about whether that school is best for you.
Display a global flair
In an increasingly global economy, admissions departments prioritize applicants who have some degree of exposure to the world on a global level. If possible, gain international work experience and knowledge. If that's not possible, plan a trip abroad before applying for your MBA. Anything you can do to show admissions staff that you're a member of the world on a global scale will be helpful.
Curate your references
Take special care when deciding whom to ask for references. Of course, your goal is to receive a glowing recommendation. But, you should also consider the impression your reference will have on admissions staff who review your application materials.
If possible, seek references from professional contacts who can speak to your business acumen and work ethic, and don't reach too far back to get them. In other words, a reference from your current manager holds much more weight than a reference from a friend or old acquaintance.
Ace your interview
When it comes to the interview, admissions departments are looking for relaxed and confident people who can not only speak to the information on their application, but also to information not found in an application. This includes personal experiences, anecdotes, and knowledge of the school and its MBA program.
Don't lose focus
The competition for admission to an MBA program is extremely stiff across every university in the country. If you've been wait-listed by your top school or you suspect you may be wait-listed, don't lose hope or focus.
Instead, take this as an opportunity to learn and improve. Speak with the admissions department about why you were wait-listed or denied, and use that information to improve your application.
MBA Program FAQs
Who makes a good applicant?
In addition to ensuring you meet the requirements for an MBA program, most institutions favor applicants who demonstrate strong character and intelligence beyond the basic MBA degree prerequisite courses and requirements.
Meeting the MBA requirements and possessing a strong and diverse range of educational and extracurricular activities is the best way to distance yourself from the competition.
Can I apply without taking the GMAT or GRE?
Yes; while some MBA programs in the country require prospective students to have taken one of these entrance prerequisites, many institutions have other criteria to weigh your application. While the scores are self-reported, the university will confirm your scores before granting admission to the program.
Can I apply with a three-year undergraduate degree?
Most universities are happy to accept qualified applicants who received accelerated degrees. While you may occasionally encounter a school that requires a four-year undergraduate degree, most have no issue accepting qualified applicants with three-year degrees. If you have a three-year degree, having at least two years of work experience will enhance your chances of being accepted into the program.
When will I receive a decision?
While each school is different, most schools strive to review applications and decide on admission within six weeks of receiving your completed application.
How can I schedule an interview?
Admissions interviews are typically given on an invite-only basis. These interviews represent the final step in the admissions process before you're accepted to a program. If you're contacted for an interview, it's usually an indication that you're strongly considered for admission into the program.
Conclusion
When it comes to how to get an MBA, there are several important factors to consider. While the requirements for MBA programs differ for each university, the minimum requirements are similar across the board.
If you're hoping to receive your MBA qualification, a strong application, work experience, and a four-year degree are the basic prerequisites.
While a strong educational and extracurricular foundation is a major factor for admission, prospective applicants should also approach the process with a measure of determination and an understanding that it's common for many students to not receive admission into the program of their choice on the first application.
Remember, if at first you don't succeed, learn from your shortcomings and continue seeking admission into the MBA program that's right for you.
Have other questions? Contact staff and faculty in the business department at Augsburg University. If you're ready to take your next step, request specific MBA program information to determine which program is best for you.