Choosing to attend grad school was a big decision, and now you're faced with another choice: "Should I take the GMAT or GRE?" You need to take one or the other to be admitted to a master's degree program, but how do you know which test is best for your situation?
Much like taking the ACT or SAT before applying to undergrad, the GRE and GMAT share some similarities. Both tests are timed and are divided into sections with a focus on reasoning and analytical writing. Scores are valid for five years after taking each test, and many schools accept both tests. Many institutions, like Augsburg University, do not require the GMAT or GRE, but they may require you to complete MBA math modules in its place.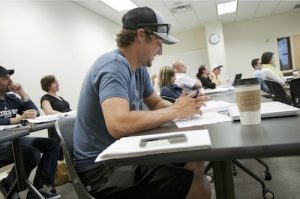 However, there are some key differences between the GRE and GMAT. It's up to you to determine which test is right for you and your graduate school goals, especially if you're preparing to get a Master of Business Administration degree from a quality university. We're taking a deep dive into the difference between the GRE and GMAT so you'll have all the information you need to make the best decision and start your grad school journey on the right foot.
What is the GRE?
The GRE—which stands for Graduate Record Examination—can be used to apply to most types of graduate schools, including some business and law schools. It's a general test that sets you up for the grad school admissions process even if you haven't decided which degree to pursue yet.
GRE sections
The GRE is broken into three sections: verbal reasoning, quantitative reasoning, and analytical writing. Each section is timed separately, with the entire GRE taking about three hours and 45 minutes.

These sections are designed to measure your general ability in each area. Verbal reasoning focuses on reading comprehension and your ability to interpret and draw conclusions about an author's perspective. Quantitative reasoning measures your ability to interpret data and complete mathematical problem-solving. Analytical writing uses two essays to measure your critical thinking skills and how well you can express your ideas through writing.
GRE scoring
Verbal and quantitative reasoning are each scored on a scale of 130 to 170, while analytical writing is scored in half-point increments on a scale of zero to six. Some multiple choice questions require more than one answer, but there's no partial credit if you get one answer right and another wrong.
The scores from each section are recorded separately rather than as a cumulative number. The GRE reports the average verbal reasoning score is 150, quantitative analysis is 152, and analytical writing is 3.5.
GRE tips
Tip #1: Skip difficult questions. The GRE is taken on a computer in most parts of the world, but the test software still allows you to apply traditional test-taking strategies. Don't waste time on difficult questions! Skip questions you're having trouble with, then use the GRE's "mark and review" feature to return to them later.
Tip #2: Prepare with timed practice questions. Reviewing sample questions from each section will give you an idea of what to expect so you'll know which areas to study before the test. Don't forget to practice for the analytical writing section. With only 30 minutes for each essay, you'll need to be prepared with an efficient writing process.
Tip #3: Read each question thoroughly. Some questions require a single answer while others need you to choose multiple answers or enter a numeric value. Rushing through the questions can lead to mistakes that could be avoided.
What is the GMAT?
The GMAT—which stands for Graduate Management Admission Test—is used specifically for applying to business schools. Though some business schools accept both the GMAT and GRE, some people believe schools give admissions preference to students who have taken the GMAT because it shows that a student is committed to business as a career path.
GMAT sections
The GMAT is divided into four sections: analytical writing assessment and integrated reasoning each takes 30 minutes to complete. Quantitative reasoning and verbal reasoning each take a little over one hour.
Three of the GMAT's sections are similar to those found in the GRE, but the GMAT has a heavier emphasis on data analysis skills that are necessary for business settings. The integrated reasoning section is designed to measure how well you evaluate and analyze data presented in different formats, like charts, graphs, and numbers.
GMAT scoring
The total GMAT is scored from 200 to 800, with each section also receiving individual scores that are reported to any business schools you apply to. This helps schools understand which areas you're strongest in as they make admissions decisions. The GMAT reports that most test takers score between 400 and 600.
The GMAT is an adaptive test, meaning the computer will decide how difficult your next question should be based on how you answered the previous question. The scoring system takes this into account, awarding students more points if they answer more questions correctly and if their questions were of a higher difficulty level.
GMAT tips
Tip #1: Keep moving. The GMAT's adaptive structure means you can't skip questions and return to them later. Do your best to find the right answer, but don't spend more than a few minutes on a single question. The GMAT penalizes test takers who don't answer every question in a section within the allotted time.
Tip #2: Brush up on your math skills. Algebra, analytics, and other math skills make up a significant portion of the GMAT, so you need to be prepared. Be sure to refresh your memory about different types of charts and graphs while you're at it.
Tip #3: Think like a businessperson. The GMAT is concerned with measuring how efficiently you can arrive at the right answer, much like a manager would in a business setting. A common GMAT strategy is to look at the answer options before you do a complicated equation. The right answer might be obvious without having to do many calculations at all.
Should I take the GMAT or GRE?
You may have been wondering which is easier: the GMAT or GRE? As you can see, both tests offer challenges and will require you to put in some hard work if you want to do your best. The bottom line of this decision comes down to your education goals for grad school and what type of test taker you are.
If you're positive you want to enroll in an MBA program, the GMAT will show your dedication to the field. If you're still on the fence about which degree you want to pursue, the GRE will allow you to begin the admissions process while keeping your options open.
If you've decided grad school is the right path for you and you want more information about Augsburg's offerings, request some information and get started on the path toward your dreams.