Choosing an MBA program isn't easy. It's a big commitment and you want to make sure you're getting the most out of your degree without drowning in debt or being permanently handcuffed by homework.
We enlisted the help of five business leaders to share the most important factors they considered when they were choosing which business school to attend. As it turns out, gut instincts are important along with careful cost comparisons, and networking before you're accepted is a great way to help you decide.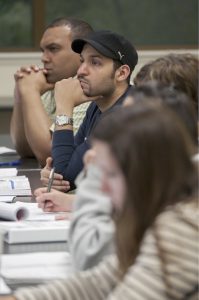 All of the business experts we spoke to have successfully completed MBA programs and used their degrees to advance their careers. The list of considerations they gave us is lengthy, but these insights are invaluable in your own MBA program search.
Choosing the Right MBA #1: Go With Your Gut
There are endless data points to consider when choosing an MBA program—cost, proximity, post-graduate salary, to name a few—but don't discount the value of listening to your instincts and choosing the school that feels right when it's time to make your decision. You're going to spend a lot of time at this place and its reputation is going to follow you throughout your career.
"When I looked at getting my MBA, the most important criterion by far was how the current and prospective students made me feel when I talked to them in person," says Phil Strazzulla, who holds an MBA from Harvard Business School and founded SelectSoftware. "At the end of the day, I went with a school that made me feel inspired and motivated by my fellow classmates to work towards my goals. I wasn't peer-pressured into a typical career path, or made to feel like an outsider because I didn't want to spend all my time partying."

Like any other organization, colleges and universities—and the MBA programs they create—tend to have distinct cultures. A school's culture can range from über-competitive to happy-go-lucky collaborative and anything in between. Culture is like the DNA of a school; it's what makes up its identify and should not be overlooked.
"The best way to decide which business school's culture is the best one for you is to visit campus, sit in on a class, and pay careful attention to how people within the MBA community interact," says Tyler Cormney, co-author of "How to Apply for an MBA" and the co-founder of MBA Prep School. "Aim to build a 'personality profile' of the schools on your shortlist to determine which MBA program has a culture that makes you feel at home."
Choosing the Right MBA #2: Weigh Cost vs. Benefits
According to Investopedia, the average annual tuition for a two-year MBA program is around $60,000. When added to the cost of rent, food, books, and overseas tours and internships (depending on your area of concentration) it's obvious how expensive an MBA can become.
MBA holders from accredited institutions, such as Augsburg University in Minneapolis, often earn an annual salary of more than $100,000 (depending on the field) so it can be worth that initial investment. But, don't make a decision that big without first doing your research.
"I did a fair bit of research on the cost of MBAs and found a staggering difference across different schools," says Jacob Beckstead, director of marketing and technology at Bailey's Holding Company. "Knowing that the material would certainly differ, I had to decide on how much I thought an additional dollar spent on an MBA program would really get me a 'better education' or 'better prestige.'"
Beckstead grouped the schools he was considering into three buckets:
Accreditation (i.e., is the school accredited by the Department of Higher Education?)
Regular schools (i.e., the most common state and public universities)
Prestigious schools (i.e., Ivy League and other notable universities)
Unlike some of his acquaintances who took two years off to focus on school full-time, Beckstead wanted to continue working while going to school. He ultimately decided on an online program that allowed him to do both, which helped offset the cost of the program and reduced his overall debt load.
Albert Ho is a project manager at Osler Health Systems and author of "Checkmate: How to Win the Sales Game in Healthcare." He spent a year researching all 40 MBA programs in Canada and established strict guidelines to easily qualify or disqualify schools.
Ho immediately eliminated all schools that cost more than $50,000 and took more than two years to complete. "Students believe that every MBA must be expensive … this is not true. My tuition was only $22,000 for the entire program. I did not see the value of a high-priced MBA," he said.
MBAs are valuable for both practical insights and long-term career rewards. Rahul Kashyap '19 MBA, MD, says, "I was able to use valuable lessons from each semester toward my day-to-day roles in leadership at one of the world's premier health care systems. The Augsburg MBA ignited a fire in me for innovation and entrepreneurial activities. I'm already rubbing shoulders with successful entrepreneurs."
Choosing the Right MBA #3: Go With What You Know
Enrolling in an MBA program will be unlike any professional or academic experience you've undertaken in your life. You'll be exposed to cutting-edge business theory, creative forms of entrepreneurship, and countless case studies of companies that have succeeded and failed.
The sheer volume of information and academic rigor will be challenging and unfamiliar. So, why not choose a program that builds on what you've already learned?
"I received my bachelor's degree in economics … and really enjoyed the study of money and investing, the finance side. So for me, getting an MBA in finance was the perfect complement," says Ron Auerbach, finance professor and author of "Think Like an Interviewer: Your Job Hunting Guide to Success." "It best prepared me for working in banking, financial services, and Wall Street. And the concepts in finance were rooted in economics. So, the crossover between the two made it easier to comprehend."
MBA coursework can be doubly challenging if you've never been exposed to the subject matter.
"If you were an undergraduate accounting major who is already fluent in the language of business, then a case study-based program might be perfect for you," Cormney says. "But let's say you were a liberal arts major who's been working in public relations for four years and never touched a spreadsheet. In that case, you are probably better off at a business school that will begin by teaching you the ABCs of business."
Choosing the Right MBA #4: Consider Your Career Options
Before you travel too far down the path toward applying to business school, think about your end goal. What do you want to do with your shiny, new degree once you've got it? There are plenty of benefits to earning an MBA but the work is only beginning once you graduate, so make sure to choose the school that will work hardest for you after graduation.
"Clearly defining your career aspirations is a precursor to choosing the schools that are best for you," Cormney adds. "Business schools can't be all things to all students so they tend to specialize in certain areas—entrepreneurship, marketing, finance, and so on … shortlist schools that offer courses that appear tailormade for your desired career."
Auerbach agrees: "With a finance MBA, it opened the door to working in banks, corporate finance … personal finance, financial analysis, and investment banking. Thus, wherever I chose to live or ended up, there would be a need for somebody with finance training."
Sometimes your MBA will directly affect your career path in the middle of the program. Augsburg graduate Mai Moua '19 MBA says, "As a result of my MBA consulting project, I was offered a director position with the client. This opportunity is leading me into a new and exciting industry and role."
Choosing the Right MBA #5: Leverage Your Network
It's easy to think choosing an MBA program is a decision that rests entirely on your shoulders. In fact, most would-be MBA students think choosing the right path comes down to cost-benefit analyses, class-size comparisons, and online applications. But our experts agree that you have much more at your disposal.
After you decide which area of business you want to study, "find out where the thought leaders in your prospective industry teach," says Cormney. "You'll also want to talk to as many people in that industry as you can to find out what they perceive to be the schools with the strongest MBA brands."
Albert Ho used the networking approach by talking to admissions counselors and attending 10 different information sessions at the schools he was considering. He also used the people in his personal network to help him make his decision.
"I talked to 30 friends and contacts that had already completed their MBA to learn about their experiences," Ho explains. "These conversations helped me to understand the reasons for completing my MBA."
Also consider what you want your network to look like once you're in an MBA program. With a finance concentration in Augsburg's MBA program, Lara Dreier '15 MBA says, "My cohort was diverse in every aspect of the word, and came from all sectors and career stages, which meant I had something to learn from everyone. We were encouraged to support and lean on each other, and as a result I developed some lasting professional connections and friendships."
The Bottom Line on Business Degree Programs
Choosing the right MBA program isn't easy, but at least you've got some guidance from people who have been in your shoes, made the decision you're considering, and succeeded where you hope to succeed.
Just keep in mind, choosing the right MBA program means it has to be a good fit—personally, professionally, and financially. Don't take the decision lightly, do your diligence, and dive in. There's no better time to start working toward the future you've always wanted.
Get professional opinions on choosing the right MBA for you and your career. Explore Augsburg University's MBA program or contact mbainfo@augsburg.edu to talk with MBA experts today.