An Master of Business Administration is the most popular master's degree in the United States. Whether you already have a solid career, you're searching for a job, or you consider yourself an entrepreneur, you might wonder about getting an MBA.
Why earn an MBA? The degree is widely accepted by employers and opens doors to future advancement and promotional opportunities. Business education has adapted to stay relevant to current trends, including the globalization of business and the drive for innovation.
Why an MBA Is Important for Your Career
One of the best reasons to get an MBA is that you become more marketable to employers. Just scroll through the job listings on Monster to see how many have an "MBA preferred" indication.
It used to be that MBAs were the degree of choice for people going into finance. Today, all types of industries are hiring people with these degrees. Tech companies are getting business school graduates on board in order to stay competitive. Hot jobs for MBA graduates include mid-level management and executive positions.
Companies prefer hiring people who have earned MBAs because these students are usually better educated and positioned for roles in strategic thinking, problem-solving, and ambiguity management. An MBA program does more than give you specific knowledge; it provides experiential learning opportunities to help prepare and train students for the rigors and processes necessary to lead successful businesses.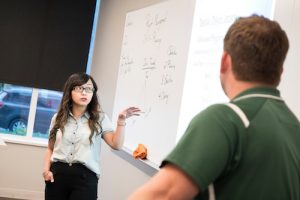 How will the MBA help you in developing your skills? When you're working toward this degree, you don't just learn; you consistently use your knowledge. This is a vital characteristic of any leader, manager, or entrepreneur. You need to apply and interpret the data analytics in order to quickly transform ideas into profitable action.
From an employer's perspective, an MBA graduate is likely to have the following qualities:
Commitment

Work ethic

Critical thinking

Business analytical experience

Collaboration and a love of learning
Will an MBA Help My Career?
Many people ask, "Is an MBA worth it even if I'm already established at a successful organization?" We've examined how corporations benefit from hiring employees with MBAs. What are the advantages of an MBA for you?
Gain Knowledge, Skills, and Experience
On the most basic level, you will learn more with an MBA than someone who enters the workforce after getting a bachelor's degree. Those students may gain real-world experience, but the entry-level positions they take don't give them the advanced knowledge they need to understand the subtle nuances of business.
Move Up the Career Ladder
Continuing your education after an undergraduate degree prepares you to start at a higher level when you do get a job. MBA graduates often move into more challenging and prominent positions at an accelerated rate.
At the same time, many MBA programs look at applicants' work experience during the admission process. Therefore, you might want to consider getting that entry-level position while you're earning your bachelor's degree to gain a competitive advantage.
Earn a Higher Salary
Why get an MBA if you already have a job and have started your career?
MBA graduates are often offered a higher salary than direct-from-industry hires and students who have just graduated with an undergraduate degree. Therefore, if you're considering employment elsewhere, you'll be likely to get a pay boost. Even if you stay at the same organization, you may see a salary increase after earning an MBA.
The average salary for MBA alumni is $142,000 per year. Depending on your lifestyle, you can pay off your student loans fairly quickly at that rate, making the investment financially lucrative. The average payback for an MBA is about four years. Plus, unemployment rates for these graduates are low.
Network
An MBA program gives you ample networking opportunities. This can help you make connections that will allow you to grow your current business. It can also give you the security of knowing you'll have help and connections to a variety of companies and industries if you want to change careers.
Types of MBAs
A Master of Business Administration is not just a generic term for a business degree. There are a few different types of MBA and distinct concentrations to choose from.
The types of MBA differ based on the class format. Students can take MBA courses:
Online

On campus

Full-time (completed in two years)

Part-time (completed in two to five years)
An executive MBA, or EMBA, is typically a two-year program that's directed at people with at least five years of managerial experience. This is ideal for people who have already started their careers.
A global or international MBA has a diverse student body. It exposes students to global policies and considerations and is ideal for people who want to work outside of the United States.
The most popular MBA concentrations include:
Strategy

– Explore a general knowledge base surrounding business theory and the factors that affect a company's success or failure. This can help your career if you want a big-picture focus, have ambitious goals, and desire a versatile degree that can be used in many industries. People with a strategy MBA degree often go on to

become executives, entrepreneurs, supervisors, and analysts

.

Corporate finance – Learn to maximize the value of an organization by understanding objective function, investments, financing, dividends, and valuation.

Operations – Gain knowledge and experience in supply chain management or logistics. This involves facilitating production and manufacturing, managing company resources, and mediating relations with everyone involved in the process.

Entrepreneurship – Prepare to develop and lead your own businesses. Students learn strategy, business ethics, social responsibility, and problem-solving.

Management – Focus on allocating resources, solving problems, and working with people on various projects.
Careers for MBA Graduates
What can you do with an MBA? Graduates with this degree can get a variety of high-ranking positions in almost any industry.
People with a corporate finance MBA may pursue careers in venture capital firms, in commercial banks, and as chief financial officers at Fortune 500 companies. After earning an MBA in operations, many graduates get jobs as operations, supply chain, or logistics managers; consultants; and inventory control managers.
An entrepreneurship MBA can help you launch your own organizations or work in a leadership or management role within a company. Graduates with a management MBA can pursue positions as management consultants or managers or supervisors in any industry.
The only question remaining is: Where will you go and what will you do with an MBA?
Have questions about how an MBA can help your career? Explore Augsburg University's MBA program or contact mbainfo@augsburg.edu to talk with MBA professionals today.