It's decided: getting an MBA is your next step toward advancing your career in the business world. But you're still not sure about which is the best MBA specialization for you. What's the difference between the MBA specializations that are available, and which one will set you on the right career trajectory?
"A traditional MBA was created to train the corporate middle managers. If you have something else in mind, it may not be a bad idea to explore something more focused," says Peter MacDonald, co-founder of Wunderite. His business partner Joe Schnare agrees, saying that students who choose a specialty are often more appealing to top employers than those who pursue a general MBA.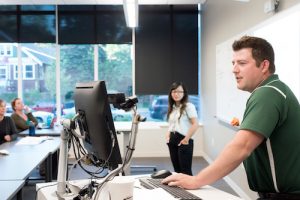 Specialized MBA programs offer in-depth knowledge in a single area of business, which can help you catapult your career by proving to employers that you're serious about your career path and that you have the skills they're looking for.
Take a look at this rundown of MBA concentrations to choose from. Keep your career goals in mind as you weigh your options and determine the best MBA specialization for you.
7 MBA specializations aspiring grad students should consider
1. Finance
This MBA specialization has a long reputation of helping finance professionals advance their careers in this competitive field. "An MBA with a finance emphasis gives you a deeper toolkit that is highly valuable if you're interested in advancing your career in accounting, financial planning, or similar fields," says Brad Plothow, vice president of marketing and communications at Womply.

Finance is a popular field for earning an MBA, with ONET reporting that 35% of financial analysts require a master's degree. Earning a general MBA won't give you much of an edge in this competitive environment, but pursuing a finance specialization will give you career-specific skills like financial reporting and forecasting, financial management, and corporate finance. Choosing to specialize in finance shows that you're serious about moving up in your career and gives you the job-specific skills employers are looking for.
Why choose this MBA specialization: Go for a finance MBA if you're serious about a career track in financial analysis or planning, stock market analysis, investment banking, or even accounting. "Some MBAs with a finance emphasis actually prepare you to sit for the CPA exam at the end, which is an efficient path to accelerating your career on multiple dimensions," Plothow says.
2. Marketing
Many entry-level marketing positions are open to candidates who whose highest education is an undergraduate degree, and some marketing professionals pivot into the field from other careers with no formal training at all. Rather than making a marketing MBA specialization superfluous, this workforce landscape opens up advancement opportunities for those who are willing to put in the work by earning this specialized master's degree.
Payscale reports that marketing professionals with a specialized MBA earn an average of $89,000 per year, compared to the $65,000 annual salary available to marketers with a bachelor's degree. Specialized MBA holders also have opportunities to move quickly up the career ladder into management and director-level positions.
Why choose this MBA specialization: Holding a specialized MBA in marketing can immediately set you apart from other job candidates. A marketing MBA specialization is worth considering if you want the possibility of a fast track to upper-level management positions in the marketing field.
3. Economics
Economists are concerned with gathering data about and doing research on economic topics, then advising businesses or governments about actions to take or concerns to be aware of regarding economic issues. The majority of economist positions require an advanced degree, according to the Bureau of Labor Statistics, with just a handful of entry-level jobs available to those with an undergraduate degree.
Economics is a specialized field, so it stands to reason that employees benefit from having a specialized degree. Students in an economics specialization are trained in advanced micro- and macroeconomics, as well as monetary policy and the basics of business operations.
Why choose this MBA specialization: It's clear that a master's degree is the bare minimum when it comes to most economist positions, especially if you want to advance beyond an entry- level job. Pursuing an economics specialization may be right for you if you want the opportunity to make a change in economic policy and you enjoy digging into research and analysis.
4. Data analytics
Managing and using big data is a top concern at companies both inside and outside of the tech industry. An MBA specialization in data analytics prepares students to collect, organize, and analyze data in the booming data science field with focused courses in areas like modeling, SQL, and the ethics of data analysis.
"I'm hearing that a short, analytics-focused MBA helps propel candidates to their next career," says MacDonald, whose own MBA specialization is in data analytics. A joint report by Burning Glass and IBM shares that 39% of data scientists and advanced analyst positions require a master's degree or higher, but these positions are difficult to hire for due to a lack of qualified candidates.
Why choose this MBA specialization: Data analytics is a rapidly growing field, especially in the finance, IT, professional services, and insurance industries. With corporations actively looking to fill gaps in data science positions, this MBA specialization gives you the education and skill set you need to step into one of these roles.
5. IT management
IT managers, or information systems managers, are in charge of everything related to computers and technology at an organization. Depending on the organization, IT managers could find themselves reporting to C-level executives and managing large teams of people, along with incorporating new and existing technology into the company.
Upper-level IT careers like this come with salaries in the range of $142,000, according to the BLS, which also reports that many organizations require their technology managers to have a graduate degree. With courses in areas like digital management, enterprise architecture, e- commerce, and data management, this MBA specialization prepares students for the critical projects they'll be responsible for as IT managers with business chops.
Why choose this MBA specialization: Many people work their way into IT management after starting in entry-level technology positions, but an MBA specialization in IT can help you take your tech career to the management level more quickly—and even to C-level positions like chief information officer if that's your goal.
6. Entrepreneurship
Entrepreneurs are often thought of as the business world's savvy risk-takers, using self-taught skills to bootstrap their start-up companies. Though earning an MBA in entrepreneurship might seem counterintuitive, Schnare shares that this MBA specialization offers learning opportunities that benefit both students who want to build their own company and those pursuing a traditional corporate career.
"What I found by focusing on entrepreneurship is that classes in this specialty teach students how to innovate and implement change, which are skills big companies are looking for in their workforce today," Schnare says. Students with an entrepreneurship concentration can expect to gain skills in entrepreneurial finance, business trends, valuation, and venture capital.
Why choose this MBA specialization: The courses you'll encounter in an entrepreneurship MBA specialization will give you in-depth knowledge of how to navigate the murky waters of running a new business. This isn't a skill every businessperson has, making this an MBA specialization worth considering for anyone with dreams of building their own company from the ground up. Students with a focus on entrepreneurship can also put their skills to use working for a start-up company or a long-standing organization that's pivoting or expanding their business model.
7. Management consulting
Management consultants, sometimes called management analysts, work with organizations to improve efficiency and boost profitability. ONET reports that 46% of consultants are in positions that require a master's degree, and it's not hard to see why. Companies entrust consultants with their day-to-day business operations, and it's critical that these management analysts have the business acumen to provide good advice.
An MBA specialization in consulting offers students in-depth knowledge of high-level business operations and strategy that go beyond the lessons of a general MBA. This specialization shows consulting firms, and the organizations they work with, that you can confidently direct them toward stronger business strategies in your role as a management consultant.
Why choose this MBA specialization: Consulting is the ultimate career goal for many aspiring MBA students. If you're one of them, this specialization can show that you're qualified to be a management analyst, even if you don't have decades of business experience under your belt.
Choosing your MBA specialization
Now you can use this breakdown of MBA specializations, along with weighing your interests and your career goals, to determine the best MBA specialization for you.
Once you've decided on the specialization you want to pursue, check out Augsburg's MBA opportunities to see how to make it work for you.