Whether you're rushing to your next class, hidden under stacks of homework, or schmoozing at the latest networking function, being an MBA student is a significant time commitment. The only guarantee that comes with earning an MBA is that there will be a lot to learn and even more to do in order to successfully complete your program.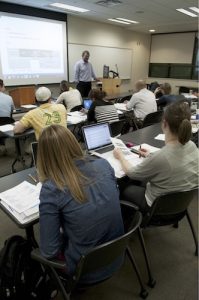 We get it. The last thing you need is an extensive list of voluntary MBA books to read while you're preparing to apply or smack dab in the middle of your degree. Well, get used to it. However, there are plenty of people who have been in your shoes and can provide the tips, tricks, and perspective you need to make it to graduation.
But, bear in mind, we're not talking about the classics. Save your copy of Carnegie's "How to Win Friends and Influence People" and disregard "MBAs for Dummies." We enlisted the help of professors, business professionals, and MBA-holders to bring you a list of outside-the-box MBA books you can't afford to miss.
MBA Books That Define Leadership
Author: Laszlo Bock, former senior vice president of people relations at Google
Why it made the list: "One of the biggest challenges companies undergoing transformations face relates to the hiring and retention of employees," says Carlos Castelán, Harvard MBA grad and managing director of The Navio Group. "One of the companies that has pioneered human capital management is Google and 'Work Rules!' provides fascinating insights from the former SVP of People Operations at Google that show how the company succeeded in building perhaps the world's greatest collection of talent."

Author: Mark H. McCormack, attorney, sports agent, author, and founder of IMG
Why it made the list: "Although getting an MBA is a lot about the theory behind management and leadership, you rarely ever read or get trained in actual leadership situations," says Shruti Pangtey, founder of IndianGirling and DigitalEmpires. "This book takes you through the reality of being an actual leader from an experienced leader. The way negotiation and meetings are discussed in the book makes you reassess interpersonal communication.
Author: Phil Knight, co-founder of Nike
Why it made the list: The notoriously shy Nike co-founder shares a rare and revealing glimpse into a man who borrowed $50 from his father to launch a company that, today, is globally recognized and generates over $50 billion annually," says D'vorah Graeser, MBA-holder and founder and CEO of KISSPatent. "But, even more important than his tireless and hard-working attitude, one of the greatest takeaways is his unique management approach, completely abstaining from micromanaging and favoring his own personal style: Don't tell people how to do things; tell them what to do and let them surprise you with their results."
MBA Books That Inspire Action
Author: Simon Sinek, author, motivational speaker, and organizational consultant
Why it made the list: "[Sinek] shows how successful leaders throughout history have been able to inspire their organizations to achieve greatness by identifying the underlying motivation," says Paige Arnof-Fenn, founder and CEO of Mavens & Moguls. "It is a compelling book to show how great leaders become influential when they can answer why they do what they do and connect with people on an emotional level."
Author: Yvon Chouinard, founder of Patagonia
Why it made the list: "This book is everything. [It] provides a manual on how to build a company built on empathy for employees, customers, and the planet," says Sam White, MBA-holder and marketing manager at Del Mar Jiu-Jitsu Club "It's a beautiful story of how a wildly successful company can be built on principles other than maximizing shareholder wealth—a topic that will be drilled into the heads of MBA students."
Authors: Leonard A. Schlesinger, Charles F. Kiefer, and Paul B. Brown
Why it made our list: "Business school is more than just figuring out how to do financial statements and writing business plans," says Russ Nauta, owner of creditcardreviews.com. "To succeed in business school and business in general, you need to be able to identify opportunities and quickly act to test viability."
MBA Books That Question Capitalism
Author: Phillip L. Zweig, award-winning investigative reporter and author
Why it made the list: "All MBA[-holder]s and their companies are affected either by bubbles in their industries or bubbles in the economy. Learning how to exercise independent judgment and spot bubbles is a skill that can't be taught but should be mastered," says Donald E. Petersen, consumer protection attorney and MBA-holder. "Market exuberance, Penn Square's loose underwriting standards, and four major banks bidding up the market for these loans created a bubble which … burst with a resounding crash when energy prices decreased in the early 1980s."
Author: Peter Joseph, independent filmmaker and activist
Why it made the list: "This book is the anti-MBA. That is, the essential and unquestioned foundation of every MBA program is capitalism. Any challenge of capitalism would be heretical," says Laura Snyder, international member of the Taxpayer Advocacy Panel. "This book challenges capitalism by explaining its role in perpetuating the biggest problems society faces today: inequality, social alienation and depression, environmental degradation, war …" If after reading this book you still want to do an MBA then you definitely should do one because you are clearly and staunchly committed to its underlying principles."
MBA Books That Teach Business Savvy
Author: Norm Brodsky, author and veteran entrepreneur
Why it made the list: "You'll get plenty of theory in your MBA program and plenty of high-level, birds-eye analysis. This book isn't that; instead, it focuses on building a business from the ground up, starting with the most essential part: knowing your numbers. If you don't know your numbers well, you're not really in business—you're playing at business," says Julia Kelly, co-founder of Rigits Bookkeeping & Accounting.
Author: Geoff Smart, author, and founder of leadership consulting firm ghSMART
Why it made the list: "The book provides a valuable framework for building a team and defining roles and objectives," says Bethany Babcock, MBA-holder and founder and CEO of Foresite Commercial Real Estate. "Building a team is the most important part of starting or running a business as it is the only way to expand a person's reach beyond their own individual capabilities."
Author: Sun Tzu, military general, tactician, writer, and philosopher
Why it made the list: "This book is helpful to get you thinking about strategy as well as how to use information when thinking about career moves in business," says Sandra Mohr, academic resources dean at New England College of Optometry. "A couple of key takeaways from this book are to know your strengths and weaknesses, understand and know yourself and the enemy, and know when to fight and not fight—key lessons to use in business and in life in general."
Author: Malcolm Gladwell, best-selling author, speaker, and podcast host
Why it made the list: "Leaders have to communicate well to their followers," says Augsburg University MBA Program Director George Dierberger. "In his latest book, Gladwell's premise is that humans 'default to truth'—that is, we tend to take on face value the things people tell us, even if we should know better. It is good to trust but better to validate and research the truth of complex issues."
Get personalized MBA book recommendations and prepare for your next career move. Explore Augsburg University's MBA program or contact mbainfo@augsburg.edu to talk with MBA experts today.