You've submitted your test scores. You've written your MBA personal statement. You've received your letter of acceptance. Now, one important question remains: How will you pay for your MBA? By following these three simple steps, you can make a worry-free investment in your business degree: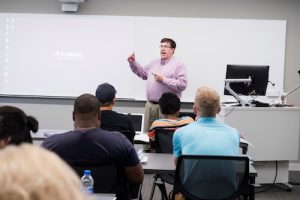 Search for scholarships and other awards.
Apply for federal student loans.
Look into privately funded student loans.
Step 1: Scholarships, Fellowships, and Grants
The best way to fund your education is with money that you won't have to repay. Scholarships can drastically reduce or even eliminate the amount of debt you'll have after you graduate. There are a wide range of MBA scholarships available to students like you. You may qualify for several scholarships. The more effort you put into applying for financial aid, the more likely you will be to win one or possibly more. Some students have financed their entire degree programs with scholarship money. It just takes some extra work.
Career-Specific MBA Scholarships
As an MBA candidate, you likely already have a specific career path in mind. A smart way to finance your business degree is to find scholarships specific to your line of work. Some examples include:
The FEMC Richard Metzler Scholarship is awarded to students who are committed to entering management consulting careers.
Government Finance Officers Association Daniel B. Goldberg Scholarship is available to students who intend to work in government finance at the state or local levels.
If you've ever owned your own lawn care business, you could receive a $1,000 scholarship from the LawnStarter Lawntrepreneur Scholarship.
MBA Scholarships for Women
There are many organizations committed to strengthening inclusion and equity by helping women advance their educations and careers.
American Association of University Women Career Development Grants are available to women who are committed to elevating their careers or re-entering the workforce.
AAUW Selected Professions Fellowships are available to women of color who are in their second year of study.
Angela Dipietro Women in Business Scholarship
MBA Scholarships for People of Color, Immigrants, and LGBTQIA+ People
If you are a member of a federally protected minority group, there are a number of scholarships that are available to you. Below are just a few examples.

The Paul and Daisy Soros Fellowships for New Americans is available to students who are permanent residents, naturalized citizens, or children of naturalized citizens.
If you are a tribal-enrolled Native American, you are eligible for The National Center for American Indian Enterprise Development Scholarship.
African American students who have been accepted into a master's-level business program are eligible for National Association of Black Accountants National Scholarship Program.
Openly LGBTQIA+ students may qualify for Point Foundation Scholarships.
The Award for Excellence in Business Commentary National Essay Competition is open to African American students who are currently enrolled in MBA programs.
The Association of Latino Professionals Annual Scholarship Program is open to ALPFA members who are of Hispanic heritage.
MBA Scholarships for Military Personnel
If you are a veteran, reservist, or active duty, you may qualify for scholarships reserved for candidates with military experience.
Tillman Military Scholars Program scholarships are available to veterans, active duty military personnel, and their spouses who are enrolled in full-time MBA programs.
Veterans who are U.S. citizens demonstrating financial need may qualify for AMVETS National Scholarship Program awards.
Fleet Reserve Association scholarships are available to those who are serving or have served in the U.S. Navy, U.S. Marine Corps, or U.S. Coast Guard.
The Katherine F. Gruber Scholarship is sponsored by the Blinded Veterans Association and is available to active duty military personnel as well as the children, grandchildren, and spouses of blinded veterans.
Grants
Augsburg University offers a partnership grant that helps local businesses develop their employees' talents while allowing students to save money.
If you are employed by one of our partner institutions when you enroll in our MBA program, you will receive a tuition discount of $80 per credit.
Augsburg alumni, AmeriCorps/Lutheran Volunteer Corps volunteers, and military personnel are also eligible for $80-per-credit discounts.
Step 2: Applying for Federal Financial Aid
To determine whether federal financial aid can help you pay for your MBA, you will need to fill out the Free Application for Federal Student Aid.
Types of federal financial aid include:
Federal Direct Loans: You may borrow up to $20,000 in fixed-rate unsubsidized student loans from the federal government. Federal Direct Loans are what used to be referred to as Stafford loans.
Direct Graduate PLUS Loans: Though these credit-based federal loans come with higher interest rates than Federal Direct Loans, the Graduate PLUS loan is a good option if you have a healthy credit score and need additional funds.
School-based aid: Many Augsburg students qualify for Federal Work-Study programs and find on-campus employment that helps them with living expenses.
State aid: Augsburg University is a participant in the Minnesota State Grant program. Your FAFSA will tell you whether or not you qualify for financial aid via the state of Minnesota.
Step 3: Financing Your MBA with Private Loans
Private loans can help you fill in the gaps that remain after you have exhausted your scholarship search and received your federal financial award letters. Repayment terms for private loans may be less flexible than terms for federal loans. Private loans often come with higher interest rates.
There is a reason why private loans are last on this list. It is imperative that you borrow conservatively. Do not borrow more than you will need for tuition or living expenses, and consider how much you can expect to earn after you graduate. Responsible borrowing is one way to ensure that your MBA is a sound financial investment.
Deferring Undergraduate Loans
While you are enrolled in the MBA program, you may choose to defer your undergraduate student loan payments. This will help you keep your expenses low while you focus on your studies.
Tuition Reimbursement
Many companies will offer tuition reimbursement to their employees. Be sure to let your employer know that you are pursuing your business degree and find out if you can be reimbursed for tuition expenses.
Paying for a master's degree program may seem like an overwhelming task, but remember that a little bit of savvy and effort go a long way. Choosing the right payment strategy can leave you in excellent financial health after you graduate.
Get more perspective on how to get an MBA and prepare for your next career move. Explore Augsburg University's MBA program or contact mbainfo@augsburg.edu to talk with MBA experts today.