You're ready to advance your career by earning your MBA—now your only problem is choosing a degree program. There are plenty of options to consider, but one of the biggest deciding factors is whether you want to enroll in a part-time or full-time MBA program.
Both types of programs get you to the same goal, but there are some important differences between full-time and part-time MBA programs. If you want to find success as a graduate student, you need to choose the MBA program that fits your needs.
We're breaking down the advantages and disadvantages of a part-time MBA vs. full-time MBA so you can make an informed decision. Take a look at this list of pros and cons to determine which type of MBA program will work best for you.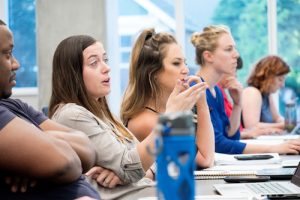 Pros of full-time MBA programs
Shorter completion time
You can usually complete a full-time MBA in four semesters, which is about two years depending on the university's course schedule. This short completion time means you can be on your way to career advancement faster, with less risk of burning out on your coursework.
Dedicated focus on your studies
A full-time MBA allows students to focus entirely on their MBA studies without also juggling a full-time job. Depending on your learning style, having more time devoted to your coursework could be a big advantage. You'll also be surrounded by other full-time students, putting you in a ready-made community of people all working toward the same goal.

Additional financial aid options
Both full-time and part-time MBA programs offer financial aid, but many programs limit fellowships and assistantships to full-time students only. Unlike undergraduate financial aid packages, these options usually include a stipend to help cover living expenses in addition to tuition. Some external grants and fellowships may also limit their eligibility to students enrolled full time.
Cons of full-time MBA programs
Heavier tuition burden
Full-time MBA programs may offer more options for tuition assistance, but that financial aid comes with a downside. With most full-time programs being completed in two years, tuition is due in a more condensed time period. Students hoping to save up enough money to pay as they go might find this to be challenging in a full-time MBA program.
Less flexible schedule
Full-time MBA programs are structured more like the traditional undergraduate experience. Full-time classes would most likely meet on campus during the day, as opposed to more flexible online or night classes (which the Augsburg MBA offers). Committing to this schedule makes it nearly impossible to keep a full-time job, and it might also be a struggle to balance family obligations.
Loss of income
You're going to have to give up your day job (or delay starting one) if you want to earn your MBA through a full-time program. Don't underestimate the cost of losing two years of your full-time salary, including lost interest gains from contributions to a retirement fund. You can work part-time while earning your MBA to offset this loss, but it will still be a significant drop in income. In the Augsburg MBA program, you can keep working full-time and attend class one night each week to earn your MBA.
Pros of part-time MBA programs
Easier scheduling for working professionals
Earning an MBA will always require a time commitment, but part-time MBA programs offer more flexible class schedules that make finding time for school an easier proposition. If you're working full-time and don't want to give up your job, you'll want to find a part-time MBA program that offers classes during your available times, like nights, weekends, or online.
More affordable tuition
Part-time students might lose out on some financial aid options, but that doesn't mean they can't afford tuition. Professionals who keep their current job while attending a part-time program might find that their employer will foot part of the bill for a tuition reimbursement program. Having a steady paycheck and a tuition bill that's spread over a longer period will also make it easier to save up money for tuition and books each semester.
Real-life experience
Part-time MBA students can apply a lesson learned in class Wednesday night to their work on Thursday morning. Not only will this practical experience help cement what they learn in class, but it can also lead to advancement opportunities in their career before they even graduate.
Cons of part-time MBA programs
Lengthy completion time
Part-time programs differ in length, but you can plan on taking two to five years to earn your MBA part-time. Some schools offer accelerated or go-at-your-own-pace part-time programs to cut down on the time to completion, so check into those options if a lengthy degree program is a deal-breaker for you.
Greater total cost
The cost of a part-time MBA may be easier to swallow when it's spread over a longer period of time, but the grand total could be more in the long run. Students who earn their degree at a slower pace are more likely to see a higher bottom line. The loss of fellowships that are only available to full-time students is also a factor. Calculate the total cost of a part-time MBA program to make sure you're getting your money's worth.
Loss of motivation
Earning a part-time MBA alongside a full-time career and other obligations is like running a marathon. The longer MBA completion time means you might find yourself running out of stamina halfway through. Students who choose a part-time MBA need to be diligent to remember their goal and keep their motivation high—otherwise, they risk running out of steam before they have a degree in hand.
Choosing the MBA program that's right for you
These important pros and cons will help you make the best choice when choosing a part-time versus a full-time MBA. Now it's time to weigh your options and find the MBA program that fits your lifestyle, academic ambition, and budget.
Want help evaluating how an MBA can fit your schedule and your career? Explore Augsburg University's MBA program or contact mbainfo@augsburg.edu to talk with MBA professionals today.