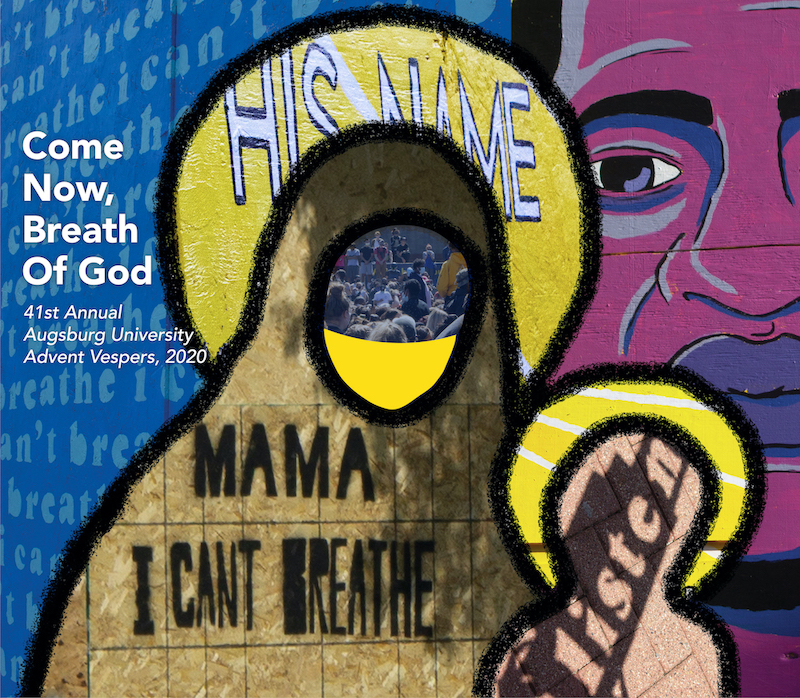 Each year for the past four decades, Augsburg University has hosted Advent Vespers to mark the Advent and Christmas seasons. This year's celebration includes virtual devotions leading up to the virtual 41st Annual Advent Vespers at 7 p.m Friday, December 4, 2020.
Olivia House '20, who earned a degree in graphic design at Augsburg, created the artwork for this year's theme, "Come Now, Breath of God."
Read our Q&A with Olivia about her perspective and work as an artist, the piece she created for Advent Vespers, and what she hopes people experience through this theme art.
Meet the artist: Olivia House '20
Q: How would you describe yourself and your relationship to art? How do you view the role of an artist?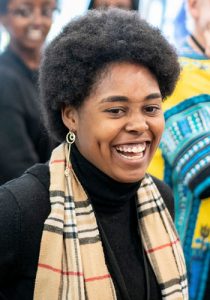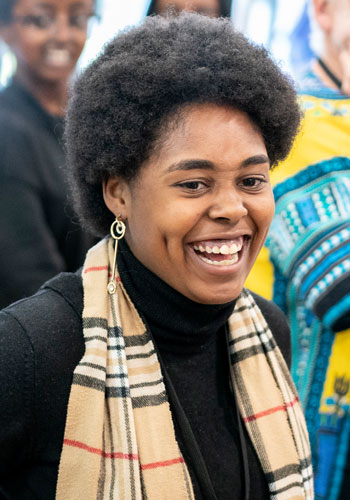 A: Art has been a part of my life since the beginning, and this includes all forms of art. Drawing, painting, collaging, writing and performing plays, and dancing were some of my favorite things to do when I was younger. While things have changed and I've shifted into more of a digital artistic expression, what hasn't changed is what I use my art for. My role as an artist is to impact the people my art touches, inform, and inspire proactive change.
Q: What medium/media do you typically work with? Why is art and the creative process important to you?
A: I typically work within the digital realm of design, but over the past year or so, I've really started to push and expand my creative practice to create outside of that. This piece is actually part of that push—I had never really done anything like this before! As a graphic designer, it's sometimes hard to see myself as an artist, especially when my day to day job is spent producing ideas that aren't necessarily my own. So being able to create pieces such as this, and use design within areas I care deeply about, is extremely important to me. It's my outlet.
Q: Tell us about this piece that you created for Augsburg University's Advent Vespers theme art.
A: This piece was inspired by the events that have transpired in Minneapolis, and the world, over the past eight months or so. Especially the uprisings and organizing that have happened post-George Floyd's murder by the Minneapolis Police Department. This collage is made from the photographs that I took over the summer. It features murals that I had the opportunity to help create alongside a few other Augsburg alumni, which was the inception of Know Peace Murals (check out our work on Instagram!) I wanted this piece to highlight the powerful imagery that came out of the uprisings to show the gravity of the revolution happening around us. To me, showing these pieces not only conveys how important this time is and was, but also gives a sense of hope for the future. When I heard the title, "Come Now, Breath of God," I couldn't help but tie it to the phrase "I can't breathe." And how George Floyd calling out to his mother was a call to all mothers. You can see how this is related to what Vespers is all about.  
Q: How did this piece come together? From where did you draw inspiration?
A: My time spent within the Minneapolis community this summer inspired this piece. Many events that transpired over the past several months were intense and sometimes terrifying, but what got me through was the community around me, especially the art community. What many residents saw as ugly and fear-driven boarded up buildings, artists saw as blank canvases, which, to me, is a metaphor in itself. As artists, and especially as Black artists, we can take our pain and trauma and turn it into something beautiful. For the past eight months, everything that I have created has come from a place of pain. But being able to take the pain and create something from it is how I heal and move forward. I wanted this to be reflected in the piece I created.
Q: What do you hope people walk away with after viewing and contemplating this piece of art?
A: There are many hidden meanings and ways to interpret this piece, especially when viewing through the lens of the birth of Christ. I don't want to influence how the viewer sees this piece, so I won't spill any spoilers, but I would just say to sit with it and come back to it and see what themes and parallels you start to see.
Q: Anything else you'd like to add?
A: I would just like to add that this piece is in no way intended to commodify Black pain and glorify the events that transpired this summer. So if you viewed this piece and felt moved by it, I want you to take action in some way. Give money to a Black artist or person in need, contribute to mutual aid in your community, shop at a local Black-owned business, and do some research to become knowledgeable on topics such as white supremacy and white privilege. Our pain, and what is created from our pain, is not simply for your enjoyment. I want my work to inspire action and change, not to just be seen as a beautiful piece. There are so many ways to get involved and make a difference, so I urge you to do so.
See the Advent Vespers schedule at augsburg.edu/music/vespers.