Thank you to students and directors for participating in this year's honor orchestra festival. Check out the concert recordings and we hope to see you next year!
---
Welcome students, parents, and directors! We are looking forward to an exciting day of music-making featuring string students from across the state. This year, we welcome guest conductor Dr. Jean Gómez, director of orchestral activities and mariachi director at the University of Texas Permian Basin.
About The Festival
Date: Saturday, April 1, 2023
Location: Hoversten Chapel in Foss Center
Cost: $25 per selected student
Students: Festival includes rehearsals, lunch, and an afternoon concert
Parents: Join for the free concert in Hoversten Chapel at 3:15 p.m.
Directors: Sit in on rehearsals, join for lunch, and attend your students' concert
Overview & Important Dates
***We are extending our registration deadlines. See new dates below.***
Current high school students who play an orchestral string instrument (violin, viola, cello, double bass) are eligible to be nominated for the festival by their director. Directors must complete and submit the Director Nomination Form by March 8. Once nominations are reviewed, Augsburg will notify directors of selected participants and send digital copies of music and additional information about the festival.
Deadlines
March 8 — Nominations due
March 17 — Notifications sent to directors
Schedule
8:00 a.m. — Check-in, Foss Center Atrium
8:30 a.m. — Rehearsal, Hoversten Chapel
10:00 a.m. — Break
10:30 a.m. — Rehearsal, Hoversten Chapel
12:00 p.m. — Lunch (provided), The Commons in Christensen Center
1:00 p.m. — Rehearsal, Hoversten Chapel
3:00 p.m. — Break and prepare for the concert
3:15 p.m. — Concert, Hoversten Chapel
Guest Conductor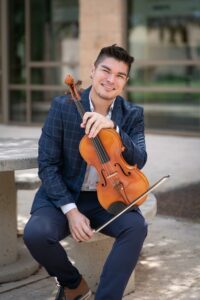 Jean Gómez is known for his energy and passion as a conductor and performer and his devotion to music education. From his early steps at the Escuela Munici pal de Música de Paraíso and the Sistema Nacional de Educación Musical in his native Costa Rica, he developed an interest in learning different instruments, playing in various ensembles, and teaching private lessons. These opportunities shaped his love for conducting and took him to the U.S. in 2015 to pursue his master's degree in conducting and viola performance at Truman State University in Missouri and continue with his doctoral degree in conducting with a piano minor from theUniversity of Georgia.
As a conductor, he has been honored to work with Diego Piedra, Sam McClure, Mark Cedel, Carl St. Clair, Robert Gifford, Mario Lamberto, Vittorio Parisi, Paulo Ferrara, Osmo Vänskä, Benjamin Zander and others. He won first place in the International Conductors Workshop and Competition in Atlanta, GA, in 2019. In 2020 and 2021, he was appointed a finalist for the American Prize Award in Orchestral Conducting, college division.
Dr. Gómez serves as the director of orchestral activities and mariachi director at the University of Texas Permian Basin and performs actively with orchestras and ensembles around Texas as the West Texas Symphony Orchestra and the Big Spring Symphony Orchestra. Music has brought him to step on stages in Panama, Honduras, Nicaragua, El Salvador, Mexico, Guatemala, Uruguay, Costa Rica, Italy, and the United States.
FAQs
Do you need to be vaccinated to participate or attend this event?
No, vaccination is not a requirement for this event.
Do I need a permit to park on campus?
There is ample street parking located around campus. Please follow the posted signs and note that street parking is monitored by the City of Minneapolis. Additionally, permits are not required for campus Lots D or L on weekends.
Contacts
Festival Host and Director:
Rafael Rodriguez, DMA, Orchestra Director
rodrigra@augsburg.edu | 612-330-1099
Festival Coordinator:
Ryan Borden, Fine Arts Coordinator
borden@augsburg.edu | 612-330-1279
Resources