Volume III, No. 1 – December 2019
To our Augsburg Music community,
It is a privilege to share with you, once again, the many exciting activities and events occurring in the Department of Music at Augsburg University. As I write this message, we have just completed our 40th year of Advent Vespers; and, as always, we have ushered in this most anticipated time of the year with hymns, anthems, orchestral works, and readings holding great meaning. Planning for next year's Vespers begins almost immediately, giving you some idea of the time and effort the department gives to this signature occasion in the life of the university.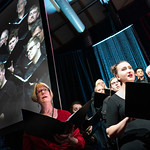 In the links that follow (I hope you will peruse all of them), you will learn about many initiatives in the department. As you likely know, this is Augsburg's sesquicentennial year, and the music department was active not only in the kickoff gala but also in a collage concert in Hoversten Chapel the next day. It was a marvelous portrait of the work our ensembles are doing, and our directors and students showed exemplary effort in performing so well so early in the semester! Our new departmental advisory council met for the first time on October 30. We have a wonderful group of friends, alumni, and colleagues who will provide invaluable feedback, encouragement, and advice on our work. Continue reading "OCCASIONAL UPDATES FROM THE MUSIC DEPARTMENT, DECEMBER 2019" →