Mission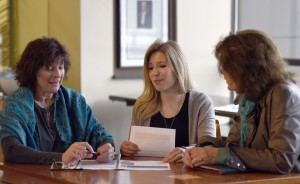 Anchored within Augsburg University, Seeing Things Whole is a community of business leaders and scholars dedicated to exploring the intersection of spirituality, values, organizational life and performance. We are drawn by a vision of a world in which the performance of organizations is measured no longer on the basis of a single bottom line, but rather on multiple bottom lines that together more fully reflect the health and impact of the organization on the world around it.
Vision
We envision a world made better through organizations whose lives and performance are informed as much by faith and moral reasoning as by the press of economic reality.
Core Values
Identity: Who We Are
Community of work
We are a community of practitioners and scholars from organizations and communities of higher learning who seek greater wholeness in organizational life.
Dignity of work
We are an empowering organization in which individuals are committed to one another's growth, through calling forth one another's unique giftedness, celebrating achievements, and providing compensation that is internally equitable.
Patient learning
We are hearers who, through thoughtful listening that suspends initial judgment, seek to deepen understanding of one another's diverse perspectives.
Purpose: Why We Do What We Do
Centered conversation
We structure conversations where each person can speak from their center and not from their boundaries so as to bridge one's personal faith with organizational performance.
Holding in trust
We create a safe conversation where leaders can look at their own and other's real-time challenges so as to become critical lovers and loving critics of their own and one another's organizations.
Common good
In a wider sense, we envision helping institutions realize their potential for serving the common good. We envision organizations developing an increased ability and willingness to collaborate across competitive and industry lines to find ways to leave the world a little better than we have found it.
Stewardship: How We Do What We Do
Managing our resources for long-term viability
The greatest resource is the quality and character of the people in Seeing Things Whole. We are committed to attracting and nurturing people who are seeking to make greater connections between their values and their organizational life. We also want to make sure that we have a viable and competitive fee schedule for customer members and competitive compensation for staff members. Long-term success requires that we are competitive in the marketplace both in terms of pricing our services and in paying our staff.
Strategic partnerships   
STW partners with organizations and communities of higher learning to explore the rich and complex relationship between faith and organizational life.
Building systems that sustain our work
All of our systems are built with one organizational focus but with three bottom lines (identity, stewardship, and purpose). As a result, we strive to develop systems that increase our capacity to serve through disciplines that support efficiency and excellence while strengthening the relational glue/fabric within STW.