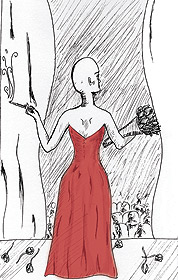 The Theatre Arts Department presents two shows back-to-back over the weekend of Nov. 16.
The Bald Soprano, by Eugene Ionesco
, is a "strikingly original, zany, savage satire of English language and society." In it, two married couples, a maid, and a fire chief view — through funhouse mirror lenses — this epic slapstick joke we call life. The production is directed by Augsburg senior Cole Walsh.
The Bald Soprano will perform at 7 p.m. on the Nov. 16 and 17, and at 2 p.m. on Nov. 18 in the Foss Studio Theater.
Force/Matter is a work-in-progress, co‑created by Shawn McConneloug and Kira Obolensky with the support of The Playwrights' Center's New Plays on Campus Program. The program puts the best new plays in America into the hands of college and university theaters and connects today's students and faculty with living playwrights and the professional playwriting world.
It combines movement and language to explore the confluence of physical law with human relationships.
Force/Matter will perform at 8:15 p.m. on Nov. 16 and 17, and at 3:15 p.m. on Nov. 18 in the Tjornhom‑Nelson Theater.
Tickets are $5 for general public, $4 for ACTC faculty and staff, and $2 for Augsburg students for each show. If tickets for both shows are purchased at the same time, the second ticket is $1. All Augsburg students need to bring their student ID to get their discount. To order tickets, contact the Box Office at 612-330-1257.