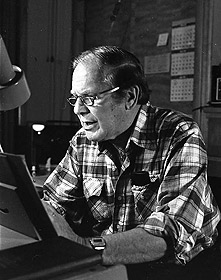 The campus community mourns the death of one of Augsburg's music giants, composer and conductor Leland Sateren '35, who died on Saturday, Nov. 10, at the age of 94.
His work includes more than 400 choral pieces he composed, which are sung in churches around the county. Sateren was passionate about Scandinavian choral music and introduced the work of many Scandinavian composers to American choral directors.
Sateren graduated from Augsburg in 1935, and for the next 10 years, he attended graduate school at the University of Minnesota, was music director at the university's KUOM radio station, and served in public service during World War II. In 1946, he returned to Augsburg; 4 years later, he became chair of the Music Department and director of the Augsburg Choir, which he led until his retirement in 1979.
He is recognized for the excellence he brought to the Augsburg Choir and Augsburg's choral arts program. During his long tenure, the choir developed a more contemporary sound and expanded its reach beyond churches into the community, and beyond the Midwest into Europe and international locations.
Among Sateren's many notable accomplishments are premieres of works with the Minnesota Symphony Orchestra and a commissioned piece at the United Nations to commemorate the 20th anniversary of the Universal Declaration of Human Rights.
Sateren was the first recipient of the F. Melius Christiansen Memorial Award for choral directors. In 2002 he was awarded the Weston Noble Choral Directors Award. He was also honored with the St. Olaf Medal, presented by King Olav V of Norway, and received two honorary doctorates.
Sateren's impact on the many hundreds of Augsburg students who sang in his choir was remarkable. Peter Hendrickson '76, director of choral activities and current conductor of the Augsburg Choir, studied with Sateren. A number of other choir alumni who studied under Sateren currently sing in the Masterworks Chorale at Augsburg, also directed by Hendrickson.
Sateren's first wife, Eldora, died in 1968. He is survived by his second wife, Pauline. He is also survived by four siblings, all of whom attended Augsburg — Margaret Trautwein '37, Norma Anderson '46, Sylvia Elness '48, and Donald. Sateren's four children also all graduated from Augsburg — Terry '68, Mark '69, Kirsten Bergherr '78, and Roald '80.
A memorial service will be held in Hoversten Chapel on Saturday, Nov. 17, at 11 a.m. Visitation will take place from 9:30 to 10:30 a.m. in the chapel.