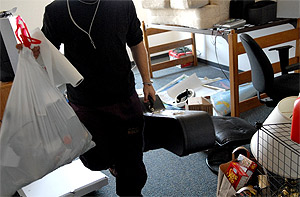 Last week, as soon as they were finished with final exams, many Augsburg resident students rushed to move out of the residence halls in order to meet their Friday noon closing deadline. Rather than leave their unwanted food items hidden in a cupboard — or worse, pitch them into the garbage — students were asked to toss food donations into boxes labeled, "Don't be rude, leave your food!"
Senior Joanna Flaten, Brian Noy of Campus Kitchens, and Urness hall director Amanda Temple coordinated the last-minute food collection effort. Two van-loads of food were donated to the Brian Coyle Center, and Campus Kitchens was able to use some of the food in a meal they prepared on Sunday evening.
"Next year, we hope it will be a bigger, campus-wide effort," said Temple, "but I thought of the idea rather last minute and only put a collection bin in the Urness/Mortensen lobby."
Because the Residence Life staff is busy with the physical aspect of move-out, both Temple and Amanda Erdman, Augsburg's director of residence life, would like to see another campus office coordinate donations next year. Temple said, "We'd like to see a clothing donation, and maybe they could have a garage sale with proceeds benefiting a campus event or organization."
Temple added that many people took discarded furniture, some of which was in almost-new condition. "There was no organization involved, but I know several people got good things out of the experience."
The effort was a spontaneous conclusion to Urness' "Go Green" initiative held in the month of April. Erdman said, "The Urness staff efforts throughout the month set the tone that led to such a quick success in the food donation and item exchange." Erdman added that Residence Life hopes to move to more sharing and exchanging of items between community members in future closings.