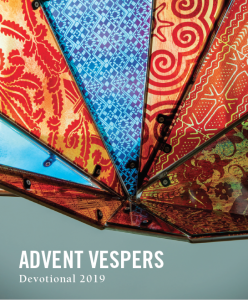 Augsburg University invites you to download the Augsburg 2019 Advent Vespers Devotional. This year in celebration of Augsburg's sesquicentennial and the 40th anniversary of Advent Vespers, Augsburg alumni shared their reflections on series of scriptures. We hope that this devotional will enrich your Advent experience. This year's theme is Light for the World to See. If you are interested in attending the service or being a part of of the liturgical party, please use the links below.
2019 Advent Vespers Services
Friday, December 6, 2019 at 5 p.m. & 8 p.m.
Saturday, December 7, 2019 at 2 p.m. & 5 p.m.
Celebrating a Season of Hope
For four decades, Augsburg University has ushered in the Advent and Christmas seasons with Advent Vespers, a magnificent experience of music and liturgy, focusing on the theme of preparation and culminating in the joyful celebration of the Incarnation. Advent Vespers is set in downtown Minneapolis in the majestic sanctuary of Central Lutheran Church, soaring 65 feet high with large stained-glass windows.
Advent Vespers Processional Party
Be a part of one of the biggest celebrations at Augsburg! Each December, Augsburg students, faculty, staff, alumni and friends celebrate Advent at Central Lutheran Church in downtown Minneapolis with word and song. Students can join the Liturgical Team and carry bells, candle, banner or torch as part of the Gospel Processional (if not already in the choir or orchestra).
Sign up today!