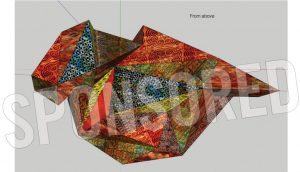 "From the moment I heard that a chapel would be included in the Hagfors Center for Science, Business, and Religion, I wanted to design a piece of art for it," said artist Bebe Keith. Her large 3-D glass sculpture will become a featured element of the building's roof top chapel thanks to the sponsorship investment by Jeff Nodland '77 and Becky Bjella Nodland '79.
"One of the things that drew my attention to this opportunity is that Augsburg is recognized as the fourth most diverse and inclusive campus in the United States. The idea that people of all faiths and backgrounds will use the chapel space interested me while also presenting a challenge to me as an artist."
Bebe Keith has been creating art professionally for about 12 years, mostly in the public art realm. "I usually create stained glass mosaics by hand for public spaces, primarily in health care. "When I got the Art and Identity committee's call for artists I wanted to do something distinctive."
Drawing on inspiration from scripture, her original design was all about diversity, connections and networks between people.
"When I presented my first 2-D design to the Art and Identity Committee, they really latched on to the idea but wondered if it could actually be produced in three dimensions, so I figured out a way to make that happen."
She found a computer program that helped her illuminate what was in her mind's eye. It worked. The design addresses the networking of the three disciplines of science, business, and religion was at the origin of her idea.
"I started with the idea of networks—dots with lines connecting with other dots with lines which connect to others and so on. The negative space is all triangles. So the idea of people as networks becomes forms."
As Keith puts it, "Acceptance is the most important value to me. I love to imagine people coming together in harmony and peace. Acceptance is the ideal. I want to promote places and spaces where people come together and listen to one another. This chapel is a place for sharing ideas and taking them along with them into the world. It will be a quiet place and those ideas are all there for the visitor."
The piece consists of 43 glass panels that will be in different patterns and colors. Each panel is drawn from a different tapestry of cultures and religions and references 1 Corinthians 14:26 – "When you come together, each one has a hymn, a lesson, a revelation, a tongue, or an interpretation. Let all things be done for building up."
"I found the patterns in books and drew from what people are wearing in different countries. Some patterns are from ancient places, while some are from newer countries such as Somalia."
Six of the panels will be unpatterned to suggest the future of Augsburg yet to unfold. All of panels will also include some smudges, blurring and distress to suggest imperfection of the world past and present. "It's not all tidy, but it makes us who we are," she said.
It will hang in the space so that from one particular angle viewers be able to see a cross. From all other points in the room it will look like a tapestry, a quilt, an abstracted shape, an unfolded origami.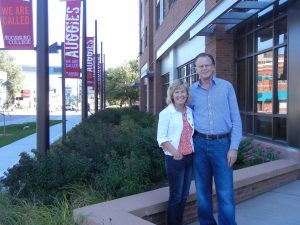 Jeff Nodland '77 and Becky Bjella Nodland '79 share Bebe's passion for the celebration of an inclusive faith and the ideas of welcoming the stranger as core aspects of what it means to be an Auggie. While serving as a member of the Augsburg Board of Regents, and now taking on the leadership of the board, Jeff participated in the decisions to proceed with the construction of the Hagfors Center. He and Becky were intrigued by the inclusion of the chapel as a visible expression of the ideals of a lived Lutheran faith.
"Becky and I see this piece of sculpture as a beautiful expression of what it means to live as faithful servants and relevant leaders. We support the essence of what it means to be a Lutheran institution of higher learning and to lead with a global perspective. Bebe's piece embodies those ideals for us," said Jeff.
The glass and metal framework will be fabricated in Germany based on Keith's design. The sculpture will be installed in the chapel and open for visiting in January of 2018.
— Cathy Madison