When it comes to Augsburg's Undergraduate and Graduate Opportunity (URGO) program, things have really come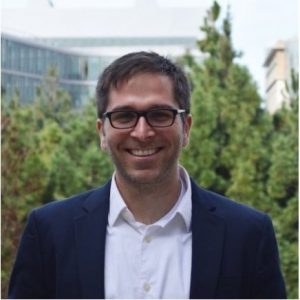 full circle for Donnie McCarthy '09. One of the program's first student researchers, Donnie is now the first URGO alumnus to serve as a sponsor, making the same experience he had as an undergraduate possible for current Augsburg students. "I'm thrilled that I can help someone–and hopefully, help a lot of people over the years–get access to that kind of experience," he says.
Donnie was one of the first Augsburg students to participate in URGO in the summer of 2008. It was his first experience undertaking research, working alongside now-retired Biology professor Ralph Butkowski. "It was really my first exposure to doing biological research; my first exposure to doing research in a lab setting, and really got me excited about that concept—being able to carve into the unknown a little bit," says Donnie.
Donnie also went on to undertake asthma research with Biology professor Jennifer Bankers-Fulbright, sparking an interest in pharmacology and immunology. "My experiences at URGO were career-influencing and what resulted in me going to graduate school to do basic research. I was fascinated by the idea of asking questions and experimentally answering them. To be at the frontier of our understanding of a biological pathway seemed akin to being an explorer, albeit of the molecular type," he says.
While a student at Augsburg, Donnie developed time management skills as he juggled school, a six-day work week, research, and playing on the men's soccer team–another pivotal experience for him. "Coming from Michigan, not really knowing anyone at Augsburg, getting thrown into the first pre-season training session, you create a family away from your family, and that was super valuable to me, getting really close with the whole team." 
Donnie has also been a supporter of the men's soccer team over the years and admires head coach Greg Holker's dedication to create a strong sense of community among students and alumni. "[Holker] really requires excellence, has a really strong standard for being a person–he really does foster a fantastic environment," says Donnie.
After Augsburg, Donnie studied at Albany Medical College before receiving his doctorate in Biochemistry and Molecular Biology from the University of New York. If he hadn't participated in URGO, Donnie says, he would have been at a disadvantage with his fellow graduate school classmates. "Having an idea of not just the scientific process, but being able to read and interpret scientific literature–there's really no other way to get good at it, so having done it before (in URGO) definitely helped," he says. 
Today, Donnie works at Samsara Biocapital in San Francisco, where he serves as Vice President. In his work at Samsara, Donnie works with both company creation and more traditional investing in life sciences companies, helping companies developing early-stage drugs, take an interesting idea and how it might translate into a therapeutic concept, how it will position relative to things that are already out there. His URGO research provided the skills necessary to thrive in his career–"doing research is an excellent way to learn how to think about something critically."
Donnie believes that a program like URGO sets Augsburg apart. "It truly does differentiate from most other small liberal arts schools–it's not an opportunity you get at every place, for sure, and enriches the overall experience for students. It was just that impactful for me, and if I can help one person in my lifetime have that same sort of experience, I'll do it a hundred times over." 
URGO is just one of many ways to give back, and any gift made to the program will automatically count towards your class' total for the Alumni Class Challenge. Join the Challenge!