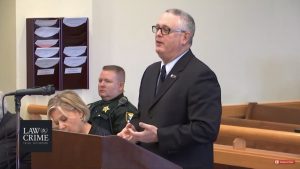 While Jay Brizel '87 sat at the defense table in a Florida courtroom in 2019, helping to keep defendant Jimmy Rodgers off death row, he was wearing an Augsburg lapel pin. Years earlier, while serving with the U.S. Army in Desert Shield and Desert Storm, he wore an Augsburg t-shirt under his chemical suit. His college days may be long gone, but his relationship with his alma mater is here to stay.
He contends that he is hardly alone. "If you dig deep enough, everywhere you look, there's going to be an Augsburg connection," says Brizel.
Back in the day, he was the rare freshman who had never laid eyes on the Augsburg campus until the day before he was slated to show up for football camp in Willmar. Born and bred in Miami and recruited by head coach Al Kloppen for his punting prowess, the young athlete knew little about Minnesota's terrain or formidable winters, but he knew hospitality when he saw it. Charles S. Anderson, Augsburg's president at the time, used to seek him out, as did the late campus pastor Dave Wold.
"It was a very welcoming place, and I always knew that people wanted me to succeed up there," Brizel says. He is honoring that legacy with a recurring gift to the sports medicine department.
"I wasn't the best student, but I liked playing football, and the people who took care of me were the sports medicine people," he explains. "They were always there, no matter how early I got to the locker room. They trained us, they taped us, and when we could barely move our bodies, they got us ready to play again."
Just a few credits short of graduation, Brizel left Augsburg in 1987 to join the army and work as an armorer on Apache helicopters. After serving in the Gulf War, he finished school and earned his law degree at Nova Southeastern University in Ft. Lauderdale. He started out as a public defender in central Florida, then spent 16 years in private practice. Eventually, he returned to public service, where the paycheck is reduced but the endeavor rewarding. A Ft. Myers resident since 1997, he now devotes his time to handling homicide cases and death penalty challenges while also mentoring young attorneys. He claims that retirement is out of the question; he is too busy having "an absolute blast" training the newbies.
"I'm having the time of my life getting the next generation of lawyers ready to defend the Constitution," he says. "I can tell you that there is a bright future for freedom in this country. A whole group of young people are not going to freely give up their rights or the rights of others."
Brizel also coached high school football for 13 years. Although he worries about concussions and wishes the game were safer, he does not want it to die. He treasures the memories. "I loved playing the game and I loved playing it for Augsburg. It was an awesome, awesome experience. This is the best way to give back to both," he says about his ongoing philanthropy. "I love the school, I love its mission, and I love what Augsburg has turned out to be. I have always believed that an Auggie is going to change the world."