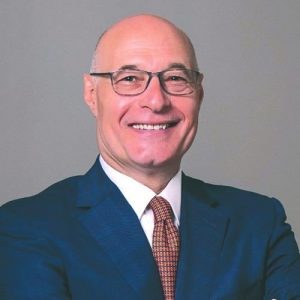 It is with a heavy heart, we share the news that Fuad El-Hibri passed away peacefully in his sleep early in the morning of April 23, 2022, surrounded by his family at his home in Maryland after a heroic battle with pancreatic cancer.
Fuad has made a tremendous mark on Augsburg over the past two decades. Fuad and his wife, Nancy, first learned of Augsburg in the early 2000s when their son, Karim '06, participated in the StepUP program. Fuad and Nancy served as inaugural co-chairs of Augsburg's President's Council, and Fuad was instrumental in forming the current strategic plan Augsburg150. Fuad and Nancy most recently made a generous gift to create the El-Hibri Endowed Chair and Executive Directorship of the Interfaith Institute at Augsburg and has annually sponsored Iftar dinners for the campus during Ramadan. 
"The Augsburg community has lost a dear friend with the passing of Fuad El-Hibri," President Paul Pribbenow remarked. "Fuad and his family have been generous with their time, wisdom, and gifts to support me and our community as we advance Augsburg's deep commitments to collegiate recovery, interfaith dialogue, and student success. Fuad was a role model for our students as he combined his faith, his business acumen, and his love for his family in all that he pursued. I will miss him and know that his legacy will live on at Augsburg and beyond."
Fuad was the Founder and the Executive Chairman of Emergent BioSolutions Corporation, Chairman of East West Resources, and Chairman of Aptevo Therapeutics. He retired from those positions on April 1, 2022. He was also a member of the Advisory Board of the Yale Healthcare Conference, as well as serving on the Board of Directors of the International Biomedical Research Alliance. Fuad, Nancy and their children, are also on the Board of the El-Hibri Foundation, started by Fuad's father in 2001. Fuad and Nancy have three children and three grandchildren.
"Faud was a compassionate, visionary leader who cared about people in a very personal way. This was evident in the way he supported the Muslim students at Augusburg," shared Muslim Student Program Associate, Fardosa Hassan.
Augsburg's Board Chair, Matt Entenza, said "Fuad has been a good friend to Augsburg and to me over the years. I will miss his passion, counsel and our many energizing conversations." 
Fuad believed in the possibility of a world where any young person could feel welcomed and encouraged to pursue their potential on any college campus, no matter their faith tradition. He was a leader in interfaith peace-making and dialogue, believing much could be resolved if we listened and learned more about one another. Fuad will be greatly missed by the Augsburg community. 
Read Fuad's obituary. Check out the pictures below that highlight his visits to campus.