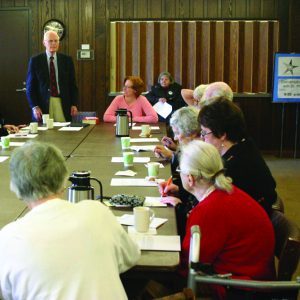 The Rev. Dr. Philip Quanbeck, Sr. '50 is one of the most decorated faculty members in the history of Augsburg, even among the 80 or so Quanbeck extended family members in the Augsburg fold. So it is little wonder that he is also claimed by Bethlehem Lutheran Church, at 4100 Lyndale Ave. South in Minneapolis, where he became a beloved visitation pastor after retiring from teaching in 1993 and was named Pastor Emeritus in 2010. Bethlehem Lutheran has chosen to honor him by sponsoring two pieces of art in the Hagfors Center for Science, Business, and Religion.
"Everyone just adores him," says Rianne Leaf, who chairs Bethlehem Foundation's grants committee. "He is such a warm human being, and he has a wonderful way of drawing people out and involving them in discussions. He is not a lecturer as much as a leader, and his insights are profound."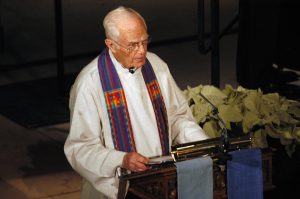 Now in his mid-90s, Quanbeck still attends church on many Sunday mornings. He is known for arriving at 8 a.m. to hear the sermon, then adding its points to his Bible study discussion at 9 a.m. Forty to sixty people have often packed the room to participate in the lively conversations he guides.
"When Augsburg applied for a grant, we knew we wanted to honor him," Leaf says. Although the $10,500 grant was approved a year ago, it was last November when Augsburg displayed more than 25 signature art concepts chosen for the Hagfors Center and invited potential sponsors to meet the artists. The Bethlehem Lutheran arts committee wasted little time deciding which to sponsor.
"We all immediately agreed on the sunburst. Then one of our committee noticed a beautiful woodsy landscape that reminded us of Phil and Dora and the cabin they love. The more we looked at it, the more intrigued we became, and we made a unanimous decision about 15 minutes later to also purchase that one," Leaf recalls. "That was a fun process."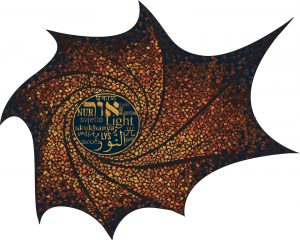 The sunburst, titled "Let There Be Light," will be a large three-dimensional piece of ceramic, glass, grout, and fiberglass by Kristen Opalinski '03. The fine and studio arts graduate became a graphic designer and marketing expert and now uses her expertise to explore faith and social justice. Leaf says the piece reminded them of Quanbeck's interest in and great respect for the world's many religions.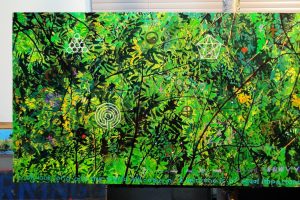 The landscape artist is Tiit Raid, who hails from Estonia, earned his BA and MA degrees from the University of Minnesota, exhibits widely, and has worked from his Fall Creek, Wisconsin, studio for the past 40 years. His piece, "Observation," is a 23" by 68" acrylic on paper piece mounted on a wood panel. It includes phrases along the borders, and he has agreed to incorporate some of Quanbeck's words in the finished artwork.
Leaf said that the group was thrilled to learn, after choosing the pieces, that both were already slated for display in the religion wing. "As you come down the hallway, you'll see the sunburst at the end. We loved that impact," she says. "The other will go above a study shelf, where students will be able to study, philosophize and daydream while looking up at it."
Leaf said the group is looking forward to meeting with Quanbeck to procure his favorite sayings. "He is so humble but so pleased that we are honoring him with this award," says Leaf. "And we all hope to be there for the dedication in September or October."
— Cathy Madison