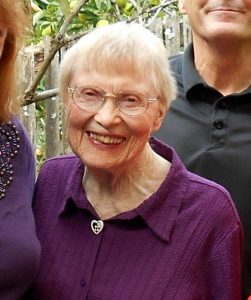 It took just one year for Augsburg to make its indelible mark on Marlys Morland '54, who has pledged a sizeable increase to the Marlys B. and Robert Backlund Morland Scholarship, established in 2011 as part of the couple's estate plan.
"I really did like Augsburg. The Christian influence was so sincere, and faith entered into everything," says Marlys. "I was there when Bernhard Chistensen was president. His wife used to come over to the dorm for an evening talk with us. They were just good, kind people."
One thing she remembers about her year at Augsburg was a dentist's visit to her health class, where he had to listen to student complaints about rising dental care costs. Coincidentally, she had to have three wisdom teeth removed that summer. The $150 bill meant that she had to drop out of school, even though she was working 20 hours a week at Swedish Hospital, making 93 cents an hour.
"I found out partway through the year that other college students only got 76 cents an hour, so I was lucky. But I never got a penny from my parents—they couldn't afford it—and I knew I wasn't going to be able to go back to school," she says. Instead, she took a national Lutheran youth leader's advice to move to Helena, Montana, where she discovered her love for working with young people and also taught adult Bible classes. She went on to become a parish worker in Portland, Oregon, where she met her husband. The couple settled in Newberg, Oregon, in 1971.
When the youngest of their three children entered school, Marlys finished her degree at Portland State University and taught elementary and junior high school for 25 years. She retired early to travel with her husband, Robert, until he died in 2008.
Thanks to her career and extended family experience, she understands the special challenges and struggles that even the most academically gifted students face. "We designed our Augsburg scholarship to support the StepUP program. We also support students who are majoring in Bible and planning to go on to seminary," she says. "There is such a need these days. I don't want them to have a lot of debt when they are ready to start their work."
Marlys notes how much Augsburg and its student population have changed. She grew up near Alexandria in Holmes City, population 65, where "we went to the Swedish Lutheran Church. We knew people who went to the Norwegian Lutheran Church, and some who went to the Finnish Lutheran Church, but we thought the Germans were really different," she recalls.
She embraces the Augsburg of today. "We meant well, but we didn't think about helping the community. We were struggling just to take care of ourselves, and everyone was just like us," she says. "Today students are reaching out and helping others in the community who aren't just like them. That is so important."
— Cathy Madison