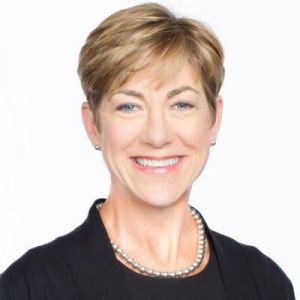 Something special happens when three things come together.
Science, business, and religion.
An artist, a group of engaged Augsburg women, and dedicated financial resources.
At least that's what Lisa Svac Hawks '85 thinks.
The idea that art will bring lasting inspiration to the new Hagfors Center for Science, Business, and Religion motivated Lisa to make the lead gift to help fund one of the two large-scale murals planned for the Center. She and the members of AWE (Augsburg Women Engaged) have set a goal to secure the $150,000 required to fully fund one of the planned stairwell murals.
In designing the new building, HGA's architects and a team of college leaders set forth a central principle for it: to ensure it considered the neighborhood. The Center must express and reflect the importance of community and hospitality, values that live at the heart of Augsburg's mission. The Center's two external stairwells will serve as both beacons and open arms to the community.
These same ideas attracted Lisa and other members of AWE to explore what it would take to support the artist's installation of one stairwell mural. AWE was founded on the idea that women want to connect and serve in different ways.
"Women think about connection and the social and collaborative nature of learning and living," says Lisa. "What better way to express those principles than through a mural that is all about connection?" The resulting mural design is titled "Emergence." It incorporates the image of a monarch butterfly along with references to symbiosis, textile traditions, geometry, faith, home, prayer and identity.
Sponsored by Augsburg Women Engaged (AWE).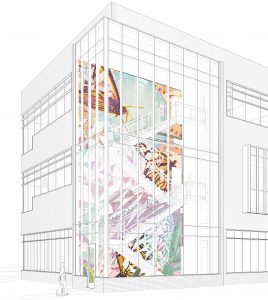 Muralist Greta McClain, the artist selected by the Augsburg Art and Identity committee, which is working to bring art into the Center, looked deeply into the challenge of combining three disciplines in one building. In shaping the design for her two stairwell murals she asked, "Do those "conflicting/disparate" ideas, all housed together, stand as a reflection of our community, Cedar Riverside? Are they a dynamic social experiment, and a view our very human experience?"
In McClain's words, "The collaboration between space and artist, community and construction, can take many forms depending on the project. Inevitably it includes a close collaboration between me as artist, and those closest to the project. Together we gather history, ideas, and images. These conversations are the key to the development of a site/content specific work for the finished mural." Continue reading "A Stairway to Art and AWE " →