Are you considering getting a Master of Business Administration with a leadership focus? If so, you've probably started your initial research and are realizing how much there is to consider. Is a master's degree in leadership or an MBA right for you? What are your career goals? Are you looking to fine-tune skills for a promotion or do you want greater flexibility in your professional life? Taking into account your career goals is one of the most important factors to account for.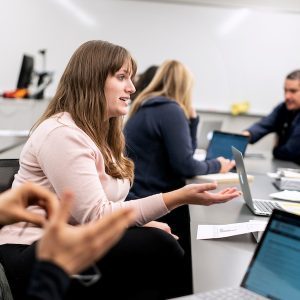 Once you're ready to enroll in a master's or MBA program, your first step will be the application process. Planning and preparation can help ensure the admissions process runs smoothly from the time you submit your application materials through the interview with the admissions committee.
Upon completion of the program, you'll need to determine if an internship or additional certifications are worthwhile. This guide covers what to expect from admissions, the program itself, and insights for what follows the completion of your MBA.
What is an MBA Concentration in Leadership?
An MBA in leadership is valuable in the business world. Top MBA leadership development programs grow both interpersonal and business skills that are necessary to be successful in leadership roles. Communication, coaching and consultation, and decision-making are a few essential skills that will be gained through an MBA program.
While working toward an MBA in business leadership, students will learn how to be effective in business whether it be a small company or global corporation. Graduate students in an MBA program with a leadership concentration often plan to work in management and even executive roles. Students admitted to an MBA program typically already have a few years of work experience in their field, usually in a management capacity.

Master's in Leadership vs. MBA in Leadership
Is an MBA with a leadership concentration or a master's degree in leadership right for you? While both can be beneficial in developing your career, there are a few key differences that should be taken into account when choosing a program.
A master's in leadership is better suited for those planning to move through the ranks within their company into a leadership position or are current leaders wanting to strengthen their skills. Master's programs in leadership have a focus on techniques and skills such as human resources, project management, and communication. A master's in leadership is typically completed in less than two years.
An MBA concentration in leadership covers a variety of business topics including marketing, HR, and finance. The leadership concentration allows for leadership-focused electives to be taken in addition to the core curriculum. An MBA program takes longer to complete—26 months—than a master's but is geared toward professionals who want greater flexibility in their careers.
Core Curriculum for an MBA in Leadership
A leadership MBA takes 26 months to complete at Augsburg University. Throughout the program, students will complete 42 credits. Students should expect to spend about 28 to 32 hours each week in a classroom and an additional five to nine hours in an online classroom environment.
Augsburg Syllabus for an MBA in Leadership
The Augsburg MBA leadership syllabus requires that 14 courses be successfully completed. Twelve of these courses are core requirements for the MBA program. The other two courses should be electives that are specific to the leadership concentration. Any two leadership electives can be chosen from the Master of Arts in Leadership program.
MBA in Leadership Requirements
Once you've chosen to obtain an MBA with a concentration in leadership, next you'll need to begin the admissions process. Be sure to review application requirements carefully to ensure you complete all admissions tasks. Common admissions requirements are:
GMAT, GRE, or an alternative with MBA math modules
Work experience
Letters of recommendation
Essay questions
Admissions interview
GMAT or GRE
Students will need to take either the GMAT or GRE for admittance into the MBA program. Either exam is accepted though there are differences between the two. The GMAT is specific to MBA programs whereas the GRE is accepted across many other programs. If applying for an executive MBA leadership program, some universities may waive exam requirements if specific qualifications are met. Some MBA programs, like Augsburg University, do not require the GMAT for admission.
Work Experience
Work experience is often a requirement when applying for an MBA program. At Augsburg, a minimum of two years of relevant work experience is preferred, though previous academic achievements are also taken into account. At many graduate schools, students seeking an executive MBA are often required to have at least five years of managerial work experience.
Letters of Recommendation
Letters of recommendation are required during the admissions process. These letters should be from your current or past employers and detail your professional achievements. For the leadership concentration, the letters should highlight any projects or teams you've successfully led. Two letters of recommendation should be included with your application to Augsburg.
Essay Questions
Augsburg requires applicants to respond to two essay questions. Responses to MBA leadership essay questions should exhibit the applicant's strengths and tell the admissions committee more about them. Applicants should showcase their leadership skills in their responses by detailing projects and work experiences where they have demonstrated leadership qualities.
Admissions Interview
Upon the approval of your application, the next step is an interview with the director of the program. For the interview, the applicant will need to meet with the director on campus or, in some cases, via Skype or Zoom video conferencing, or a telephone interview. While interviews may seem daunting, there are plenty of resources available to help you prepare for questions that may be asked and questions you should consider asking.
While questions that may be asked during the admissions interview will vary from school to school, there are many common questions. A few questions to be prepared to respond to are:
Why do you want to pursue an MBA in Leadership?
What work or academic qualifications do you have that will contribute to the program?
How will the MBA program help in reaching your goals?
Once the director has finished asking interview questions relevant to your application and MBA goals, it's your turn to ask the committee questions. Below are some questions you should ask the interviewers:
Do you have a study abroad program that may be beneficial to an MBA global leadership graduate student?
Do you have a field study course to apply the knowledge gained in the program?
What are my choices for MBA concentrations?
Are there any organizations you'd recommend a student in this concentration should join?
What advice do you have for incoming MBA students?
After an MBA in Leadership, What Can I Do Next?
Decision-making, strategy, and communication are senior leadership skills that companies value. These are just a few traits you'll develop and grow in the best MBA for leadership programs. What should you do once you've earned your MBA? Should you put what you've learned to use in an internship or should you take additional courses to continue building these skills?
Pursue an MBA Internship in Leadership
Internships are a great way to put to use your knowledge and skills after earning your MBA in leadership and management. Not only will you be gaining hands-on experience and have the opportunity to apply your skills in the workplace, but it's a great way to scope out different industries to see which is most appealing to you.
MBA students can take internships before or after completing their degrees. These internships may be at large corporations in industries such as finance, IT, health care, or consulting. MBA medical leadership graduate students may prefer to find an internship in the health sector. Those using their MBA in education management and leadership fields may look to intern at schools and education-focused foundations.
Certification Courses After an MBA in Leadership
Many students seek leadership development programs after earning their MBA. A graduate certificate in leadership at Augsburg will fine-tune and build skills acquired from the MBA program. By taking additional leadership courses, recent MBA grads can continue to grow both personally and professionally.
MBA in Leadership Careers
What can you do with a leadership degree? There are many different career paths that a recent MBA grad may pursue. Whether you're looking to work in a global corporation, a small company, or start your own business, a leadership and management degree is an asset.
HR Manager
Human resource managers plan and manage decisions, policies, and processes that impact employees. They oversee hiring and recruiting and often assist leadership in strategic planning for growth and employee programs. The job outlook for HR managers is favorable, growing faster than average over the next several years according to the Bureau of Labor Statistics.
Median salary: $113,300
Management Analyst
An MBA in leadership management is beneficial for management analysts. These analysts, also known as management consultants, work within the business of their clients to make the business more efficient. Often working with upper management on strategies to increase profits and reduce costs, strong leadership skills such as communication and empathy will come in handy when interviewing employees and presenting proposed changes. This often travel-heavy job is growing in demand much faster than average.
Median salary: $83,610
Top Executive
Top business executives are involved in important strategic planning and decision-making. In addition to several years of experience, these individuals must display strong executive leadership qualities for working with employees at all levels within an organization. The demand for top executives is expected to continue growing at an average pace.
Median salary: $189,600
MBA in Leadership Salary
Earning an MBA in project leadership and management sets you up for success and financial security. An MBA in organizational leadership salary will vary due to a number of factors. The type of industry, company size, work experience, and location can all impact the salary earned.
Analysts make a median salary of more than $83,000 per year. Someone with several years of experience working as a top executive typically makes upwards of $105,000 annually.
Resources and Books
Many resources are available to professionals and grad students considering an MBA in leadership. It's encouraged for students to review admissions requirements, course details, and course materials.
In addition to course requirements, the college bookstore is a great place to get a head start on reading and also pick up other suggested texts. All of these tools will help students gain a better understanding of what the program and courses entail.
Ready to Apply?
Once you've determined that an MBA in leadership is the right path for you and your career goals, it's time to get started on the application process. Don't forget to take a look at admissions requirements.
What are your next steps? Get in touch with admissions to request additional information and to address any other questions.