Asking for a letter of recommendation is always a daunting task—even more daunting when you're the one tasked with writing it.
If you're hoping to be accepted into a high-quality MBA program at a respected university, you'll need letters of recommendation. Read this guide to know what to expect from someone who can write a letter of recommendation for you. Even better, share this guide with anyone you want to write a great letter of recommendation for you.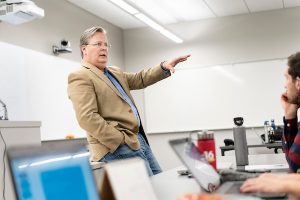 Navigating exactly how to write a letter of recommendation for business school—or any school for that matter—can be quite confusing.
Here we'll provide you with a few MBA recommendation letter tips, provide specific examples and anecdotes, and help you craft the perfect recommendation letter for your applicant.
Skip to a section:

What is an MBA Recommendation Letter?
Before you get into the writing, you need to know the exact purpose of the letter of recommendation. Submitting a strong reference letter is a vital part of their application process.
Typically, when your student asks you to support them in this way, the ultimate goal is to have someone of a specific level of academic authority add credibility to the student's application.
You are likely to have a strong relationship with the student who you will be writing for. This is necessary for you to communicate your support in a genuine manner.
In the letter of recommendation, you will need to focus on aspects of your student's character that, based on your professional/academic relationship, you have observed to be most commendable in their discipline. Also use examples of their past work as a foundation for why they would excel in a Master of Business Administration program.
How do MBA Applicants Choose Reference Letter Writers?
The student's choice of who they request a letter of reference from is entirely dependent on the relationships that student has fostered and how those relationships have affected their academic and professional career.
If you work or otherwise interact with this student often, you can bet you'll be chosen to write a recommendation letter. This is especially important for those students who are not coming fresh out of their undergraduate experience, but who have reached the stage of accumulating work experience.
Typically, prospective MBA students need an average of two or more years of professional experience. This will have given them a significant amount of time to not only showcase skills they will need to excel in their MBA program but also identify relationships that will be most conducive to their future academic and professional success.
Crafting the Letter
Now that you have a better understanding of why this student has selected you to write them a letter of recommendation, you can build on that information and relationship to construct it.
Before You Begin
Your student will need the letter of recommendation to match the tone and message of their personal statement in order to compose a cohesive application. What better way to achieve this than to have it written by someone who spends ample time with them?
With this in mind, the keywords for a letter of recommendation need to be directly related to:
The student's relevant experience: Have they demonstrated leadership, critical thinking, analytical, or communication skills? Take the time to observe them at work and be reminded of their most applicable traits to be highlighted in this recommendation letter.
The influence of their work and academic experience on their future goals: Was there a particular course or work assignment they excelled in? How does that relate to their eligibility for the prospective MBA program?
Your natural relationship with the student will determine whether or not they request a letter of recommendation from you and the type of information that will need to be included in the business school letter of recommendation.
Below, we're going to lay out an MBA recommendation letter template to guide you in constructing the perfect recommendation letter for your future MBA student.
Understand the Student's Goals
To write the best possible letter of recommendation for a master's in business leadership (or any type of MBA program), you need to tailor your information around the following subjects:
Your applicant's transcripts/academic credentials: Whether good or bad, examine your student's academic record and find where their academic performance shined. Based on your experience with the applicant, how do their best course grades, extracurricular activities, or teaching assistant experience relate to their ability excel in the MBA program?
Know the MBA applicant's purpose or end goals: In the MBA recommendation letter samples below, you will see how to connect the student's professional and academic history to their ultimate goals in their prospective MBA program.
Identify points of the applicant's history you can accentuate or relate to: This is directly related to the previous point. Remain aware of how the applicant's past academic and professional experiences play into their eligibility as a prospective student and what aspects of their history can strengthen the overall student body of the institution in question.
If necessary, ask about which universities the applicant is applying to: This will allow you to understand your audience. What qualifications is the institution looking for? What information is required in application packages, and how does that influence the content of your recommendation letter?
Discuss points of interest with the applicant: What do they want to emphasize?
Remain formal throughout the letter: Refrain from discussing casual anecdotes, as this will detract from the focus of the letter.
It may look like an overwhelming amount of information to consider but don't worry; that is why we're providing a MBA recommendation letter sample below to guide you. Your priority in this letter, and what you will see in the MBA recommendation sample, is to highlight the skills and qualifications of the applicant that you have directly observed and how that fulfills (or exceeds) the MBA program requirements.
Review the Directions for Submitting
Your student should provide you with any submission instructions you may need. Most likely, this recommendation letter will not be submitted through the student. You will have to submit the letter of recommendation directly to the university's administrative staff.
Should you feel uninformed on the process of submission, despite the information provided by the applicant, you may want to ask the following questions:
Should the recommendation letter be submitted directly through the university website or received by email?
What are the submission requirements? (Is a standard business letterhead/format necessary?)
Is the letter being sent by mail or fax?
What is the deadline for submission?
Ideally, this is information you should have before you even begin the writing process.
An Overview of the Letter
Here are the individual sections of a proper letter of recommendation for an MBA program example. The letter of recommendation as a whole should fill one page and consist of an introduction, at least two body paragraphs, and a conclusion.
The body of the recommendation letter should include:
An explanation of how you, the recommender, know the MBA applicant
A brief description of the applicant and their best qualities as they relate to the program and their future goals
Specific examples of the applicant's skill set; provide real-life, concrete examples of your student's excellence
If you are struggling to find the proper tone of the letter of recommendation, you may want to review an MBA recommendation letter sample from a professor, manager, or other leadership figure to guide the language used in the letter.
Introduction
In any business school letter of recommendation template, the following aspects need to be included in the introduction:
| | |
| --- | --- |
| Formal greeting | Introduce yourself, your title, and affiliations. |
| Candidate introduction | Introduce the MBA candidate. |
| Relationship to the candidate | Describe your relationship with the applicant and how that relates to your choice to recommend the applicant to the MBA program. |
Paragraph One
Once you get into the body of the recommendation letter, the balance of tone gets a little tricky. You will need to describe the candidate's qualifications and positive attributes without being overly complimentary. Try your best to maintain a formal, objective tone, while still representing your personal relationship with the applicant.
In this portion of the letter, it is best to discuss your student's problem-solving abilities within a professional setting, work ethic, leadership skills, and any stellar academic qualities the applicant may possess. Take a look at the executive MBA letter of recommendation samples below to get a feel for how this portion should be constructed.
Paragraph Two
Further into the body of the letter, ideally in the second paragraph, you need to go more in-depth regarding the applicant's character. Provide specific examples of how they manage responsibilities and why this trait contributes to their eligibility for acceptance to the MBA program.
Keep in mind that the purpose of the letter is to honestly review why the applicant is the best choice for acceptance into the MBA program. That said, mild criticism (if applicable) can go a long way in terms of objectivity and credibility when coupled with your praise of the applicant.
For example, you can describe how the candidate responded to an adverse situation or criticism if their response was negative in nature. Make sure to follow this up with how they are improving on this trait.
Conclusion
In the conclusion of your letter, summarize why you are recommending the applicant for acceptance in the MBA program. Briefly reiterate your observations of the candidate throughout your relationship and their strongest qualifications for acceptance.
Finally, leave the university an invitation to contact you should they require further information, and finish the letter of recommendation with a formal sign off—your printed name and signature beneath it.
Letter of Recommendation for MBA Program Example
Here is an example of a strong letter of recommendation for an MBA program applicant.
Dear Augsburg University MBA Program:
I am writing this letter to recommend Jane Doe for the MBA program at Augsburg University. I have directly supervised Jane for the past three years at [Name of company]. In my time working with Jane I have personally witnessed her dedication and hard work for the organization. Jane is responsible for capital purchases, information technology equipment, and pediatric care equipment.
Jane's interest and ability in learning news tasks have allowed her to be very knowledgeable in many of the procurement procedures that exist. She always volunteers for new assignments and demonstrates an ability to learn and retain information quickly and accurately. Jane is always willing to do what it takes to get the job done and truly lives up to the company ideals.
I believe Jane will be very successful in your MBA program and is well equipped to handle the challenges and learning experiences that Augsburg can provide for her. She is fully capable of balancing the workload between her job responsibilities and school. The knowledge she will gain from the MBA program will serve her well and will prepare her for promotional opportunities in the near future. I believe Jane is a great candidate for the MBA program and will be very successful in your program. 
Please feel free to contact me with any questions.
Sincerely,
[Your name] 
More MBA Letter of Recommendation Templates
To further assist you in writing the recommendation letter, it is advised that you review MBA reference letter templates.
Below are some letter of recommendation samples for MBA programs that demonstrate an effective letter of recommendation format, and further, specific examples of how to write from different perspectives. A letter of recommendation for MBA programs from a professor will look different than one written by an employer or manager; however, it may be difficult to find an MBA recommendation letter sample from a professor.
MBA recommendation sample letter from an employer

As an employer, you may face the opposite challenge of many writers in that you may be inclined to communicate a little too formally. This business school recommendation letter example will help you to relax your tone to produce the best letter of recommendation possible.

Business school recommendation sample from a peer's perspective

This is a great example letter of recommendation for an MBA program. It is not often that peers, rather than employers, managers, or professors, are chosen to write reference letters. As a peer, this sample will guide you in balancing impartiality while highlighting the strengths of the applicant.
Next Steps
With these guidelines and MBA recommendation letter examples, you're ready to write the perfect recommendation letter, such as a letter of recommendation for a master's in business leadership, entrepreneurship, or other concentrations, and make your applicant shine.
With these resources available, there's no reason you shouldn't improve a worthy candidate's chances of gaining admission with a powerful letter of recommendation.
If you're an MBA applicant: Share these templates with the person you're hoping will write a recommendation letter for you. These examples and insights will make it as easy as possible for the author, especially if they're unfamiliar with writing a letter of recommendation.
Explore our MBA blog to learn about other specializations or find out more about the requirements for applying to Augsburg's MBA degree program. Get started today!