Pursuing an MBA is a career-changing decision with many benefits. An MBA degree opens the door for many opportunities such as a higher salary and career advancement. While traditional MBAs have been pursued for over a century, with the rise of technology, online and hybrid MBA programs have been established at many schools. Students now must decide whether a hybrid or online MBA vs. traditional MBA program format is better for them.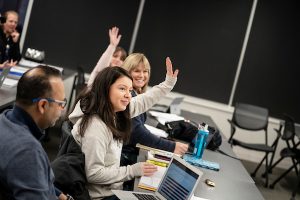 While some aspects of the online and on-campus programs may be similar, there are also many differences. Schedules, both for coursework and personal lives, should be taken into account. Resources and networking opportunities can vary between the two formats as well. It is encouraged for students to carefully compare and contrast online school to traditional school MBA programs to ensure they choose the right program for themselves.
Why Pursue an MBA Degree?
There are many reasons to pursue an MBA degree whether you choose to enroll in an online college, an on-campus program, or a hybrid. No matter the reason, an MBA provides many benefits for professionals from building skills to career opportunities. Some of these include:
Personal growth
Entrepreneurial opportunities
A higher salary and career income
Networking opportunities
Building professional skills
Opportunities for advancement
Recognition in the field
Improved communication skills
The Benefits of Online MBA Program
Once you've decided to earn your degree, you then must decide if hybrid or online MBA programs vs. traditional in-classroom formats are right for you. Online MBA programs have grown in popularity in recent years. Offline MBA courses are appealing for a variety of reasons.
You can take classes around your schedule 
One reason for the growing popularity and support of online programs is the flexibility that online MBAs offer students. Classes can be taken in the evenings and on weekends, allowing students to continue working as they earn their degrees. Additionally, classes can be taken from home as long as there is a good internet connection. As with brick and mortar, students may also need to consider whether a full-time online vs. part time MBA program is right for them.

A hybrid MBA combines traditional classroom interactions with an on-line component. The hybrid MBA allows for students to attend class only one night per week with additional materials offered on the university's educational platform. One example is Augsburg University's MBA program, which allows students to manage their busy schedules while completing their MBA program in 26 months.
Costs less or about the same as a traditional MBA
The tuition for many online MBA programs is sometimes less than the cost of a traditional MBA. That said, the tuition cost can vary widely depending on the program, accreditation, and school. Taking an online program can also save money in other ways. Since classes can be taken from home, there will be few transportation costs incurred. However, students often feel that they are missing the richness of group discussions around the subject matter.
Equal accreditation (usually)
Are online MBA programs accepted by employers as traditional degrees? Is a full-time MBA vs. part time program better? If the school has a good reputation and is accredited, online degrees are generally accepted by employers. Employers understand the growing popularity of online courses, and it can show that the individual is motivated and uses solid time management and computer skills. Some companies may ask to discuss why you elected to take an online vs. in-class MBA program. A few companies are reticent to reimburse for online MBAs; employees should check with their human resource department on reimbursement policies for their respective companies.
The Benefits of a Hybrid MBA Program
A hybrid MBA allows you the best of both worlds: Face-to-face interaction one night a week with the flexibility of completing assignments online the rest of the time. The Augsburg MBA program is a one night per week program that allows students to arrange their business travel around their schedule. On certain occasions, students will use Zoom or Skype to attend class if they are out of town or if there is a family emergency. The Augsburg MBA program embraces the hybrid model while maintaining the rigor of a traditional MBA program.
You can take classes around your schedule 
One reason for the growing popularity and support of hybrid programs is the flexibility MBAs offer students who travel or have busy family lives. Classes can be taken one evening per week, allowing students to continue working as they earn their degrees. Additionally, coursework can be completed at home and posted online.
The Benefits of a Campus MBA Program
When it comes to the hybrid or online vs. in-person MBA debate, taking an on-campus program provides benefits that online MBA degrees do not. On-campus students can expect structure and interaction that online programs cannot offer. Below are some of the benefits of a traditional MBA program.
More structured schedule
A structured schedule is one of the benefits of an in-person MBA program. Classes have a specific start and stop time and attendance is required, keeping students on a learning path with a set pace. This can help students to not become overloaded with coursework in addition to outside obligations such as jobs and families.
More resources on campus
Another contrast between hybrid or online vs. traditional classroom courses is the number of resources available. Having face time with instructors and hands-on experience in classes and labs can be beneficial to those who learn better in structured environments. Additionally, there are many other resources available to on-campus students. Some of these include:
Libraries
Group interactions
Tutoring
Career services and internships
Wellness and counseling
Field study projects
International trips
Networking
The in-person interaction that traditional programs offer is an important benefit as it presents many networking opportunities for students. Networking with students and alumni can open the door for many opportunities such as internships and career advancement. Outside of the classroom, joining clubs and other organizations can present even more networking opportunities.
Employer Perceptions After Graduation
Online MBA vs. traditional programs or hybrid programs: Which one is more widely accepted by employers?
The reputation of the school and the program structure are often more important to employers than how the degree was earned. However, there are many schools with MBA programs, some more reputable than others.
Those who complete an MBA program, especially an online program, should prepare to discuss their degree with their current or prospective employer. Some questions to prepare for regarding your MBA include:
Did you complete your degree in a traditional or online format?
Why did you choose to take an online program?
What did your program offer?
Is the program accredited?
Networking and connections
There are greater networking opportunities in on-campus programs. In-person programs provide the opportunity for networking with fellow students, instructors, and alumni face-to-face. Though networking may be easier in a traditional program, it is certainly still possible in online programs.
Some courses have work that may be completed over video conferencing, providing some real-time interactions. Online students may also consider joining groups and organizations within their community or find internships.
Does the program/degree you are pursuing make a difference?
Completing an MBA from an accredited school tends to be much more important than the format of the program. Whether an online MBA vs. part time MBA program or hybrid program is taken also makes little difference. Most employers value a degree whether it is earned on-campus or remotely. They also understand that online programs may be better for some to allow students to balance work, school, and other responsibilities. It comes down to the student and their goals and needs.
Who benefits best from an online MBA?
Should I do an online MBA program? Online MBA courses are ideal for many, but not everyone. While there is still a structured course syllabus and some interactions over chat and video chat, much of the work is completed independently. An online education is a good option for those who aren't near a school or who have families or full-time jobs.
Students with busy schedules may even choose to pursue a part-time or hybrid program to ensure they can balance their responsibilities. Other factors also play into the success of online MBA applicants.
They must be motivated and driven.
Time-management skills are a must.
They must be disciplined and have the ability to work independently.
They must have reliable technology equipment such as a computer and an internet connection.
Who benefits best from a Traditional MBA Education?
Traditional programs are still popular with many. Some find that they're more successful being on a structured schedule and completing courses at a steady pace. Traditional MBA students may prefer working in groups and having face-to-face meetings with other students as well as instructors. Being able to use other resources that schools have to offer such as libraries, lectures, and groups is also a draw to many MBA students. On-campus MBA students should:
Be punctual
Enjoy interacting with other students and professors
Have excellent communication skills
Welcome the opportunity to network with other professionals
Making Your Decision
Now that you understand the difference between hybrid or online MBA and distance MBA programs, it's time to choose which format is right for you. Do you have work or family obligations that fill your schedule or is your employer allowing you to work flexible hours? Do you have schools within commuting distance that offer MBA programs?
These aspects should be taken into consideration when choosing a program. There is a lot to consider when it comes to online MBA vs. in-person degrees. Learn more about how you can advance your career with a Master of Business Administration from Augsburg University.
Browse upcoming campus events or consider visiting for a campus tour.
You can also explore our blog or request information about Augsburg's growing MBA program. The best way to learn more about the Augsburg MBA program is by attending an information session.
Ready to apply now? Get started today.