Deciding to acquire a Master of Business Administration degree is exciting and often nerve-wracking. Whether you're looking to develop business skills, pursue a specific career opportunity, or strike out on your own and start a business, an MBA is a valuable asset. One aspect of acquiring an MBA that is often overwhelming is the cost.
You've done your research. You have ferreted out which MBA program is tailored to your individual skill set. But as you eagerly dunk your toes into the wide ocean of higher learning and begin the application process, you are unceremoniously saddled with an application fee.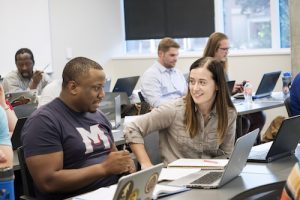 You stop short, stymied. How much does it cost to get your MBA? Is this something you can afford? Will your dreams be devoured by a lack of funds? Thoroughly understanding the breakdown of the expenses involved in getting an MBA and exploring different ways to cover those costs can provide clarity and direction.
The total cost of studying for an MBA in the United States is influenced by many factors. Tuition is only one of many expenses comprising the overall cost of an MBA. Many MBA students work part-time or not at all while pursuing an MBA, so it's important to factor in living expenses. Additionally, most programs—at both private and public institutions—charge additional fees for registration and technology use. Transportation must also be taken into account when determining the MBA total cost. Bearing this in mind, getting an MBA may be more costly than it might first appear.
MBA Average Cost
How much does an MBA cost on average? The cost of getting an MBA can range from $25,000 to upwards of $100,000, though the average cost is about $60,000. This large range is due to several factors. Will you be attending a school in state, out of state, or online? Is the university public or private? What fees are associated with the cost of an MBA? While the average cost of an MBA may vary from school to school, the types of fees required do not. Each of these variables must be considered when determining the average cost of an MBA in the United States.

Tuition Fees for an MBA in the United States
The advertised cost of tuition is often lower than the actual cost. Advertised costs generally only calculate tuition and don't include additional expenses such as application and MBA course fees. Additionally, the cost of course books and boarding expenses are not included.
MBA Course Fees Details
Many diverse fees contribute to the total cost of acquiring an MBA in American colleges and universities. An application fee, registration fee, technology fee, and deposit are all required before admittance into a program. The fee structure for an MBA in the United States should be taken into account when considering the overall cost of MBA programs.
Application and Registration Fees
Application and registration costs are two fees involved in acquiring an MBA that are often isolated from the cost of tuition. The application fee goes toward the cost of reviewing your application for admission. The application fee is typically less than $300, although it can vary based on the specific school. Registration fees are incurred when registering for classes and are required during each class enrollment period. These fees are used by the school to cover the operational costs of the registration process.
Technology Fee and Deposit
A technology fee is another component of an MBA degree cost. The technology fee is used for WiFi, computers, and other technological software and hardware. Depending on the institution, this fee may be charged on a semester basis or based on credit hours. Even in online MBA programs, the cost of technology is often unavoidable as an internet connection upgrade or new laptop may be necessary.
A deposit is yet another often overlooked cost that is part of obtaining an MBA. A deposit is usually required upon admittance into an MBA program. The deposit secures the student's place in class and is nonrefundable. The cost typically ranges from $1,000 to $2,000.
Other MBA Fees and Hidden Costs
An MBA program cost includes numerous lesser-known fees and hidden expenses. These additional expenses may be necessary to cover the cost of participation in clubs and events or transportation. The following are some relatively obscure fees that are associated with an MBA program.
Health fee: A health fee provides students with various health services. It is often charged regardless of whether a student lives on or off campus.
Boarding: Monthly rent or mortgage payments should be budgeted when planning for MBA expenses. If attending an MBA program requires relocation, additional costs are incurred.
Club dues: Those enrolled in an MBA program may join clubs or other organizations. Most clubs have mandatory dues required for participation.
Transportation: Driving or taking public transportation to campus, internships, and other events are unavoidable when obtaining an MBA. A transit pass, gas, and parking are necessary expenses.
Graduation fee: Students planning to participate in the commencement ceremony upon completion of the MBA program will need to pay a fee.
Ways to Cover the Cost of an MBA
The cost of acquiring an MBA isn't cheap. However, do not despair—students can procure an MBA without going broke. There are several different ways students can cover their MBA program costs. Graduate students looking to continue their education may consider applying for a scholarship, grant, or fellowship. Others may be able to seek assistance from their employers.
Scholarships
Scholarships are awarded to students based on specific criteria. They are often career-specific. They're funded by businesses, colleges, and other organizations. Some scholarships are specific to minority groups, women, or military personnel. Others may be awarded for academic or athletic achievements.
Grants
Grants are another resource for subsidizing the cost of an MBA in U.S. institutions. The types of grants are diverse. Some are based on financial need and others are merit-based. Merit-based grants may be awarded to students by universities for a variety of reasons, including academic achievement or work in the community.
Fellowships
Fellowships are another way to fund MBA expenses. A fellowship is typically awarded to graduate students continuing their education or research in a specific field. This type of funding doesn't always cover tuition costs but it can fund other activities, such as internships and projects. Fellowships are competitive and are often awarded for academic achievements.
Employer-Sponsored Tuition Programs
Students may be able to seek assistance from their employers. Many employers offer full or partial reimbursement of MBA costs. Tuition programs benefit the employer by helping retain skilled workers, and employees can pursue their careers within the company as their skills and knowledge grow.
Prepare to handle MBA costs and earn a degree to enhance your career. Explore Augsburg University's MBA program or contact mbainfo@augsburg.edu to talk with MBA experts today.