If you have an affinity for numbers and an appreciation for money management, a Master of Business Administration degree in finance is something you may want to seriously contemplate. There is a growing demand in the job market for graduates with an MBA in finance, making it an optimal concentration to consider.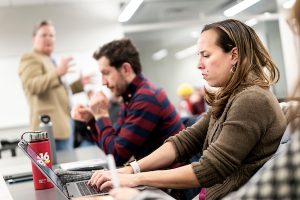 There are diverse paths you can pursue upon obtaining an MBA in finance; you are not constrained to one career trajectory. You can opt to work for a small firm or a large corporation, to deal with personal investments, or even to take on large projects analyzing and forecasting financial trends. In this guide, we'll discuss everything from admissions to what can be expected post-graduation.
What is an MBA Concentration in Finance?
An MBA with a specialization in finance will give you a strong education in finance while simultaneously honing your business skills. This makes it a fantastic option for professionals who have some work experience under their belts and would like to further their careers.
A finance MBA can help professionals expedite their careers by providing a foundation in areas such as accounting, statistics, and communications. Often, obtaining an MBA in finance can launch your career by accelerating the climb up the corporate ladder and landing you a managerial or executive position.
Professionals with a finance MBA will find that the job market is more favorable and will typically enjoy a higher employment rate. An MBA in finance is also a wise choice for students who are planning to start their own businesses. If you have an entrepreneurial spirit, an MBA in finance can help make your dream a reality.

Masters in Finance vs. MBA in Finance
There are many factors to evaluate before enrolling in a post-graduate program. You may face some quandaries such as: Should I enroll full-time or part-time? Is there a difference between an MBA and a master's in finance? Will a master's in finance suit my needs, or is an MBA the better option for me?
There are differences between an MBA in finance and a master's in finance. The primary difference between the two is that a master's in finance takes several years to complete, while an MBA with a  finance concentration takes a minimum of 26 months. Aside from the length of schooling, another consideration is the cost differential between the two options. Two years of tuition certainly costs less than three or more!
In addition to time and cost, it's important to assess how you will be using the degree. While both types of degrees will benefit a career, a master's in finance is primarily geared toward those looking to secure a position in a specific field, typically accounting or management.
Those with an MBA and a concentration in finance have more flexibility regarding their career paths and can pursue careers in economics, management, statistics, and communications. An MBA in finance also offers the added flexibility of part-time programs, while a master of finance degree can be a full-time, one-year commitment.
So, is an MBA in finance worth it?
Though it takes a minimum of three years instead of just a one-year commitment, it may be worth the extra time and money for the increased career flexibility it yields.
Core Curriculum for an MBA in Finance
Students enrolled in the Master of Business of Administration program will be provided with a curriculum to prepare them for the challenging and often competitive business world. The MBA finance course structure can be completed in 26 months with the exception of those enrolled as part-time students.
Augsburg Syllabus for an MBA in Finance
The syllabus for an MBA in finance includes 12 required courses. In addition to the core requirements, MBA students must also take two electives geared toward a finance concentration. Electives related to finance include investment theory, portfolio management, and international finance.
MBA in Finance Requirements
After choosing to pursue an MBA with a specialization in finance, what comes next? The admissions process may seem daunting, especially when it is time to interview with the admissions committee. With adequate research and preparation, your interaction with admissions can go smoothly.
When submitting an application for an MBA program in finance, it's important to research admission requirements to understand what is necessary for eligibility for MBA finance programs. Requirements typically include:
GMAT or GRE
Work experience
Letters of recommendation
Responses to essay questions
Admissions interview
GMAT or GRE
Sometimes the GMAT or GRE is required to be accepted into an MBA program (Augsburg University does not require the GMAT or GRE but does require two years of work experience). Both are accepted; however, it's important to consider which one is more beneficial. The GRE focuses on reasoning and analytical skills. It is more broadly accepted across graduate schools, including business schools. The GMAT has more of a focus on data analysis and is specific to business schools.
Work Experience
Work experience is preferred when applying to an MBA program. At Augsburg, at least two years of experience is desired. During the admissions process, both academic and professional experiences are taken into account. Applicants who have had strong and positive performances in both areas are likely to be admitted.
Letters of Recommendation
Another application requirement is a letter of recommendation. Admissions at Augsburg requires two letters of recommendation from professional work references. Once the names and email addresses of your references have been entered on your application, they will receive an email address where they can submit their recommendations.
Essay Questions
There are typically two essay questions required by Augsburg during the application process. The responses to the questions are used to learn more about each applicant. This is an excellent place for you to detail the reasons why you wish to pursue an MBA in finance. When writing responses to the essay questions, pay particular attention to word count and formatting requirements.
Admissions Interview
If your application is approved, the next step is to attend an on-site interview with the MBA director or admissions committee. There are several common interview questions for MBA finance students. There may also be some finance-related interview questions for MBA students. Here are some common questions to prepare for:
Describe a challenging situation and how you overcame it.
Why are you interested in this MBA program?
If admitted, what skills or experiences will you bring to the program?
In addition to answering questions, be prepared to ask some questions of your own. Asking smart questions shows the committee that you're invested in the program. Some important questions to ask include:
Is there an opportunity to study abroad in the MBA Program?
Are there networking opportunities to meet with MBA graduates?
Can you tell me more about the concentrations offered at this university?
After an MBA in Finance, What Can I Do Next?
You may be wondering: What can I do with an MBA in finance? There are numerous options that a recent graduate can pursue. When determining what is right for you, it's important to consider which MBA finance careers interest you.
Pursue an MBA Internship in Finance
One option recent MBA graduates may want to consider is an internship in MBA finance. An internship is a great way to develop skills and gain professional work experience. Internships provide an ideal way for you to get your feet wet in the wide wild world of finance. Some MBA students pursue internships while still in the program; others prefer to wait until after completion of their degree.
Interning at an investment firm is a wonderful way to gain valuable skills and knowledge about finance. You will have the opportunity to learn more about the market as you manage stocks for clients. For those interested in global business or investments, many large corporations offer internships within various departments. It's important to pursue these internships early as programs and positions fill up quickly.
Certification Courses After an MBA in Finance
Students may also take certification courses after MBA finance completion. These courses can be used to sharpen specific skills or show employers that you are knowledgeable in a specific area. A few beneficial certifications or short-term courses after MBA finance completion include:
MBA in Finance Careers
What jobs can I get with an MBA in finance? The career path after MBA finance completion will vary. Careers aren't restricted to MBA finance jobs in banks. Graduates may work in investment firms, small businesses, corporations, or even opt to be self-employed.
Financial Analyst
A financial analyst is a common starting point for a recent MBA graduate. Financial analysts assess benefits, risks, and financial trends to provide informed advice to clients to guide their investment decisions. The demand for a financial analyst is growing faster than average. Analysts can expect an average salary of $85,660 per year.
Financial Manager
Financial managers often oversee a team of analysts. They review and analyze trends and investments in order to make long-term financial projections for a business. According to the Bureau of Labor Statistics, financial managers earn an average annual salary of $127,990. The job market is favorable for this role, with the job demand expected to grow much faster than average.
Personal Financial Advisors
A personal financial advisor works with individuals on investments, mortgages, and other financial decisions. They advise their clients regarding these decisions or manage their finances for them by guiding their financial choices. With increasing demand, financial advisors will find an opportunistic job market and can expect an average annual salary of $88,890.
MBA in Finance Salary
Overall, there is an increasing demand for financial jobs. Graduates entering the job market can expect an average salary of more than $80,000 per year. The MBA finance pay scale may fluctuate due to several factors. Job location is one factor that affects salary.
Finance jobs in metropolitan areas will typically pay more than in rural areas. Another element that impacts salary is the type of establishment you work for. Large corporations will often offer higher wages than small firms. Whether it's a contributor or managerial role, the type of job you have—as well as the degree of work experience you have—will also influence your salary.
Resources and Books
There are many materials and MBA finance textbooks that are handy resources when considering a concentration in finance. An important resource is the course catalog, where you can find a description of each of the required courses. You'll also want to explore the college bookstore to find required finance MBA books as well as other suggested texts.
Ready to Begin Your Career in Finance?
In this guide, we've covered a plethora of information. We've touched on the difference between an MBA and a master's in finance, the admissions process, and what to expect post-graduation. Now that you know why an MBA in finance is valuable, are you ready to get started? Get in touch with admissions today!