Do you have an undergraduate degree and have a desire to pursue a career in business, perhaps by starting your own company or being involved in the start-up process? Or, maybe you already have an established business career but would like to earn a higher salary or climb further up the corporate ladder? You may be wondering how you can shine in a competitive industry full of eager entrepreneurs.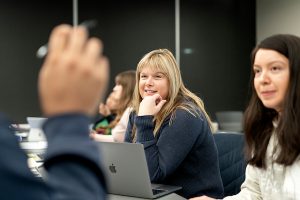 One of the best ways to stand out and prepare for a successful future is to acquire an MBA in entrepreneurship from Augsburg University, one of the three top MBA programs for entrepreneurship in the Twin Cities.
The Augsburg MBA program is designed to equip students for the fast-paced and ever-evolving business world that we live in today. This program creates critically and ethically minded citizens who are eager to tackle the challenges inherent in the global business environment.
What is an MBA Concentration in Entrepreneurship?
In order to discover if a concentration in entrepreneurship is suitable for you, you should familiarize yourself with the program details and explore how graduates stand to gain from it. This particular concentration targets risk assessment, business ethics, social responsibility, and new product and service development. It will also enable you to transform your theoretical business ideas into realistic business proposals.
One of the most valuable aspects of this program is the real-world experience we offer our students to ensure that their educational frame of reference is the real world and not confined to unrealistic textbook examples. Beyond the stimulating coursework, this program offers a huge boost for your career. Completing this program makes you more marketable than someone with a business degree. Your larger knowledge base will allow you to begin your career on a higher level and earn a higher salary.

Master's in Entrepreneurship vs. MBA in Entrepreneurship
What degree does an entrepreneur need? A master's degree in entrepreneurship is often confused with a Master of Business Administration in entrepreneurship. The more fitting degree choice largely depends on your personal career trajectory. At an elementary level both degrees are intended to provide advanced learning opportunities for ambitious and driven entrepreneurs, yet there are some significant but subtle differences between the two.
An entrepreneurship master's degree is a science degree. As the Master's in Business Degree Guide states, "The curriculum teaches the fundamentals of a specific science while applying business applications related to the science." A master's in entrepreneurship teaches students the intricacies involved in applying scientific methods to starting and running a business.
In contrast, an MBA in entrepreneurship is a well-rounded degree with an emphasis on leadership, data analytics, finance, and accounting. It balances a creative approach to business that stresses innovation and resourcefulness. MBA in entrepreneurship subjects include business ethics and social responsibility with a healthy dose of the quantitative skills needed to run a successful business.
Entrepreneurship Master's Degree: Pros and Cons
The benefits of obtaining a master's degree in entrepreneurship are mostly related to the acquisition of a PhD. Due to the more scientific nature of the master's curriculum, someone with this degree is better suited to continue on the research path. On the other hand, a master's degree doesn't have as strong of an experiential learning component and isn't as well-rounded or as comprehensive as an MBA program.
MBA in Entrepreneurship: Pros and Cons
The benefits of an MBA in entrepreneurship are plentiful. Those who have established business careers and choose to obtain an MBA in entrepreneurship set themselves up to earn a higher salary and be excellent leaders. The education involved in earning this degree is more well-rounded, involving a liberal arts education.
Core Curriculum for an MBA in Entrepreneurship 
The core curriculum for an MBA in entrepreneurship is comprised of a year-round accelerated program that is completed in 26 months, with classes in the evening. We have structured it this way so that both students and working professionals can obtain an entrepreneurship MBA without having to compromise their current careers or internships.
This is accomplished using a cohort model in which students follow a predetermined schedule with classes meeting only night per week.  In this model, students learn in a continually collaborative environment and remain in the same group for the entire program. The actual curriculum requires 12 core courses and two entrepreneur concentration courses.
Augsburg's MBA in Entrepreneurship Syllabus
To get an idea of what the actual classes and schedule look like, here is a sample MBA entrepreneurship syllabus:
Semester 1:

MBA 592 – Leadership: Ethics, Vision, Transformation
MBA 545 – Organizational Behavior

Semester 2:

MBA 540 – Business and Professional Ethics
MBA 570 – Quantitative Decision-Making for Managers

Semester 3:

MBA 571 – Data Analytics for Managers
MBA 520 – Accounting for Business Managers

Semester 4:

MBA 510 – Applied Managerial Economics
MBA 530 – Managerial Finance

Semester 5:

MBA 550 – Marketing Management
MBA 595 – Strategic Management

Semester 6:

MBA 565 – Managing in a Global Environment
MBA 580 – Management Consulting Project
Entrepreneurship Course 1

Semester 7:

MBA 580 – Management Consulting Project (began in Semester 6)
Entrepreneurship Course 2
This entrepreneurship program requires students to complete an MBA research topic in entrepreneurship to earn a degree. The concentration courses where this will be worked on are:
MBA 596 – Managing Innovation
MBA 583 – Entrepreneurship: Execution, Planning, and Strategy
MBA Entrepreneurship Requirements
As an award-winning MBA program, Augsburg University requires certain materials from program applicants to ensure specific standards are met. Here is a brief overview of the requirements:
Fill out an application. You will need to include transcripts from the college or university where you earned your bachelor's degree, two letters of recommendation, and a current resume.
The GRE or GMAT are optional, but you may be required to complete online MBA math modules.
Undertake two years of professional experience prior to application.
Complete two essay questions.
If your application is approved, you will be invited to campus for an interview.
Test Requirements
Almost all entrepreneurship MBA programs require that students take either the GRE or GMAT. These tests are similar but each is more suited to different programs. However, at Augsburg, if you don't take one of these tests, we simply require that you complete MBA math modules in its place.
Work Experience
The best MBA programs for entrepreneurship consider academic performance an important factor in the admissions process, but it certainly isn't the only factor. Admission is also based on your professional experience. At Augsburg, we require two years of professional experience that can be backed up with good references.
Letters of Recommendation
Two letters of recommendation are required. It is expected that you will have professional relationships with these individuals. It's critical to use your strongest and closest professional relationships. Include their names and email addresses on the application so they can receive the email inviting them to submit their recommendations online.
Admissions Interview
If your application is approved, you will be invited to campus for an on-site interview so the admissions team can determine whether you are an appropriate candidate for the program. This interview is an important step in the admissions process. To prepare adequately, review the following questions and prepare your responses. This will bolster your confidence and enable you to present a favorable impression.
Why do you want to pursue an MBA in entrepreneurship?
What qualifications or experiences do you have that will contribute to the program?
Tell us about a challenging situation, how you resolved it, and what you learned.
Aside from giving thoughtful responses to the questions posed to you, asking questions of your own is important to demonstrate your interest and analytical skills. The admissions team wants to see that you have done your research and you are committed to your chosen career path. Some insightful questions you can ask include:
Is there an opportunity to complete a study abroad program?
What groups or organizations can students in this program access or join?
How does this program use business simulations and experiential learning?
To give you an idea of what interviewers are looking for in your answers and questions, explore more information regarding the interview process.
After an MBA Entrepreneurship, What Can I Do Next?
What is an MBA in innovation and entrepreneurship going to do for you in the future? What does an entrepreneur do? These are important questions to ask yourself before diving headfirst into this program. The value of an MBA in entrepreneurship cannot be understated. This is bolstered by the fact that an MBA is one of the most common graduate degrees earned.
As long as your interests lie in furthering your business career, acquiring this degree accelerates your career. It opens up more opportunities in your current career and makes you more marketable, giving you a leg up on your competition.
Pursue an MBA Internship in Entrepreneurship
Top entrepreneurship MBA programs like Augsburg's make students excellent candidates for internships. Unlike many fields, entrepreneur-related internships with big businesses pay well and offer exciting networking opportunities while simultaneously providing you with valuable experience. MBA students often choose to do this during the summer, when some have a break and the widest variety of internships are available.
Certification Courses After an MBA in Entrepreneurship
After earning an MBA in entrepreneurship, there is more that you can do to make yourself even more marketable. Graduates should take these courses if they want to delve deeper into a specialized area. Here are a couple of certification examples:
Project Management Professionalism: This is recommended for those going into project management. It shows elevated commitment to the field.
Certification in Business Analytics: This is recommended for those seeking to pursue a career in data analytics, operations, or supply chain.
Certification in Leadership: This is recommended for aspiring leaders in the nonprofit market.
MBA in Entrepreneurship Careers
Jobs you can get with an entrepreneurship degree vary widely. An MBA in entrepreneurship is incredibly attractive to businesses. Profitable companies are generally starting new endeavors and looking for someone with an eye for innovation and entrepreneurial talent. Even if your entrepreneurial spirit takes a back seat in your vision of your career path, there are still a number of exciting job opportunities available after acquiring an MBA in entrepreneurship.
Job Opportunities After an MBA in Entrepreneurship
Senior Product Manager
This is one of the job opportunities for someone whose entrepreneurial spirit isn't a key player in their career goals. This job requires excellent communication skills and an ability to take feedback from customers, partners, and in-house teams and incorporate it into product strategy.
Average salary: $135,000
Research and Development Manager
Leadership, management, communication, and presentation skills are all integral to this position. The ability to budget and an affinity for ingenuity and creativity are also important. A research and development manager is usually responsible for overseeing the entire development process of a new product.
Average salary: $139,000
Not-for-Profit Fundraiser 
Organizational abilities and superb communication skills are essential for this type of work. Organizing activities to raise funds and creating and maintaining relationships are vital in the not-for-profit world. If you are full of entrepreneurial spirit and have a desire to assist others, this is an excellent path for you.
Average salary: $73,000
MBA in Entrepreneurship Salary
Simply having this degree in your pocket generally means that you'll be offered a higher salary than someone with an undergraduate degree. It shows that you know how to work hard and should be compensated for the time, money, and effort you invested to further your career. The average salary for an MBA in entrepreneurship is $106,000, which means you can likely repay your student loans fairly quickly.
Resources and Books
There are some remaining tidbits of advice for those considering this concentration for an MBA. If you're still completing your undergrad, the best degrees for entrepreneurs are business, communications, finance, and marketing. For some extracurricular reading to help you understand the business world, consider this list of recommendations from top business professionals and academics. Additionally, Forbes published a list of five lessons for those considering this path.
Ready to Apply?
Augsburg offers a top MBA for entrepreneurship. Individuals who are globally minded, innovative, and want to further their career would thrive in this program and reap its benefits for the rest of their lives. If your interest is piqued, reach out to admissions for more information or get started and apply today!