Big data is ubiquitous in the business world. Big data refers to enormous sets of data that can be analyzed for insights, visuals, patterns, and trends. In business, studying big data is the precursor to forming sound business decisions. Due to the prevalence of big data in business, an MBA in data analytics is an extremely useful concentration for today's business climate. Data analytics professionals analyze data to arrive at solid business solutions and projections.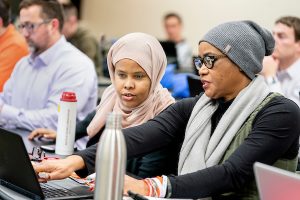 If you've chosen data analytics for your MBA concentration, you'll find that there are a multitude of career opportunities available to you. Data analytics is a great field to enter as a recent graduate diving into the data analytics sphere or as a seasoned professional looking to fine-tune your skills to advance your career. Once the program has been completed, students will be greeted with a favorable job market. Job demand has grown over the years and is projected to continue growing at a faster than average pace over the next decade.
What does an MBA in data analytics program entail? In this guide, we'll cover the different types of degrees, the admissions process, and the type of job and salary that you can expect after graduation.
What is an MBA Concentration in Data Analytics?
What are MBA analytics and decision science? An MBA in this concentration prepares students to use analysis of large data sets to improve the efficiency of a business.
How can an MBA in data analytics help your career? An MBA concentration in data analytics has become valuable in business. Since the rise of big data, job demand within this specialty has increased significantly. Through case studies and projects, you'll amass valuable information regarding the analysis of data. You will also acquire important skills such as decision-making and query languages. An MBA program also provides an opportunity for networking with other professionals from diverse backgrounds.

Which is the best MBA for data analytics? When choosing to pursue a degree in this concentration, students will have the option for an MBA or an executive MBA data analytics program. An executive MBA in data analytics may be a good option for those with managerial work experience, typically at an executive level. Often, employers may cover or reimburse the cost of an executive MBA.
Master's in Data Analytics vs. MBA in Data Analytics
When choosing to pursue a degree in data analytics, you will need to decide whether an MBA in data analytics or a master's in data analytics is right for you. A master's in data analytics is more hands-on, with specific courses geared toward a career in data analytics. This path may be appropriate for someone planning to pursue a job as a data scientist or other analytics-heavy occupation.
On the other hand, an MBA in data analytics provides a broader course of study that prepares students for a career in many different areas of a business. While typically not as hands-on as a master's program, MBA students who complete the program will find there are more job opportunities available to them. In addition to data science positions, they often find jobs in areas such as accounting, marketing, or strategy.
Core Curriculum for an MBA in Data Analytics
Students pursuing an MBA with a data analytics focus will follow a structured syllabus designed to prepare them for the business world. The MBA program at Augsburg University requires 42 credits to complete. While many students work on their MBA full time, some opt to enroll in the program part time.
Augsburg Syllabus for an MBA in Data Analytics
The Augsburg MBA program requires the completion of 14 courses. The MBA data analytics syllabus includes 12 core courses covering a variety of business topics such as leadership, strategy, finance, and marketing. Two electives focused on the data analytics concentration must also be taken. Data analytics MBA courses include data programming and predictive analytics. Students will also become familiar with the software analytics program, Tableau. Tableau software helps users interpret big data through an analytics platform that aids in key management decisions. A significant number of companies use Tableau for the accounting, finance, marketing, and management departments.
MBA in Data Analytics Requirements
When researching institutions, online MBA programs in data analytics are often considered. Online programs can provide more flexibility, and they're becoming increasingly accepted by employers. However, there are many benefits to in-person classes that one would miss out on in online degree programs, such as networking opportunities and face-to-face interactions. The best analytics MBA programs are often in bricks-and-mortar institutions.
When preparing to pursue an MBA analytics concentration, the first step is the admissions process. It's important that you become familiar with the application requirements and guidelines to ensure that your application is complete. Common application requirements are:
GMAT, GRE, or MBA math modules
Work experience
Letters of recommendation
Essay questions
Interview
GMAT or GRE
Students must take either the GMAT or GRE to be accepted into an MBA program. The GRE is more widely used across graduate programs and focuses on reasoning skills. The GMAT is specifically used by business schools and has a heavier focus on analytics. Though both are accepted, the GMAT is most often taken when applying to colleges offering an MBA in data analytics. Students are not required to take the GMAT or GRE. They may be required to complete five MBA math modules online at their own pace.
Work Experience
Relevant work experience is required by most MBA programs. Augsburg prefers that students have a minimum of two years of experience. Relevant work experience includes jobs that focus on analytics such as finance or marketing. Internships don't always count as work experience due to the short duration and the fact that they're typically unpaid.
Letters of Recommendation
Augsburg requires two letters of recommendation from professional work references. The letters of recommendation should highlight your accomplishments and work experience. They should also contain testaments to your skill and character.
Essay Questions
Essay questions are an important part of the application process. Your responses to these questions are a great way for the admissions committee to learn more about you and what you can bring to the program. Augsburg requires responses to two essay questions. There are often formatting and word requirements. Make sure you pay careful attention to these requirements when crafting your responses.
Admissions Interview
After your application has been reviewed, the final step is an interview with the admissions committee. While the interview may seem daunting, advance preparation can help you feel confident. Here are a few common questions to prepare for:
Why are you interested in pursuing an MBA in data analytics?
Why are you interested in this program?
Tell us about a challenging situation you encountered and describe the outcome.
Once the committee finishes asking you interview questions, you will have the chance to ask any questions you may have regarding the school or program. It's important to be equipped with a handful of questions to ask, which shows you're engaged and interested. A few questions to ask are:
What groups are recommended for students in this concentration to join?
Do you have any advice for incoming students?
Does the data analytics concentration have any limitations?
After an MBA in Data Analytics, What Can I Do Next?
What can you expect after completing the MBA data analytics program? Should you pursue an internship to put your new skills to use? Are there additional certifications you can take to enhance your new degree?
Pursue an MBA Internship in Data Analytics
Students and recent graduates often take on internships for opportunities to apply their skills and knowledge from the MBA program in real life. Many corporations have internship slots available in various departments, such as marketing or finance. Internships afford students the opportunity to work with big data while gaining valuable experience that looks great on a résumé.
Certification Courses After an MBA in Data Analytics
After completing the MBA program, graduates often consider taking certification courses to increase their knowledge. At Augsburg, a certificate of leadership studies is often considered. This leadership program is an attractive option for those pursuing management or executive positions.
MBA in Data Analytics Careers
Is a data analytics degree worth it? Graduates starting their career in data analytics after MBA completion will find job opportunities in many different domains. The job outlook for careers in this field is positive and demand is growing rapidly. An MBA in data analytics is attractive to many employers, especially as big data continues to be a valuable tool in today's business world. Below are just a few of the opportunities awaiting graduates in small and large businesses.
Data Scientist
Using math skills and various querying and coding languages, data scientists discover and analyze business trends and issues. Those with a data analyst MBA have many of the required skills that they can apply in this role. According to the Bureau of Labor Statistics, the demand for data scientists is growing faster than average.
Management Analyst
Management analysts have the challenging task of finding and proposing ways to improve the processes of a business. By studying historical data, these analysts can make informed decisions and projections to improve the company's overall efficiency. New graduates can expect a positive job market for this type of role as it is in growing demand.
Operations Research Analyst
Advanced math and analysis are used by operations research analysts. Through their insights and data visualization tools, they create and recommend solutions to complex problems in the business. The job demand is projected by the BLS to grow by 26% between 2018 and 2028.
MBA in Data Analytics Salary
The growing demand for data analytics professionals has made the job market favorable. The master's degree in analytics salary will vary. Salary is dependent on the type of role, company, amount of work experience, and job location. When just starting out, a data analytics MBA salary is typically at least $80,000 annually, and some jobs may pay upwards of $100,000.
Resources and Books
There are many resources available for students entering the MBA program with a data analytics concentration. Students may want to read up on some query languages such as Python, R, and SQL to get a head start. Textbooks and other resources are available at the college bookstore.
Ready to apply?
Now that you are familiar with the difference between an MBA in Data Analytics vs Data Analytics master's programs, it's time to take the next step. We've covered many pieces of the admissions process and what you can expect when entering the program and upon graduation. Are you ready to submit your application? Get in touch with Augsburg admissions today!