Volume III, No. 2 – April 2020

To our Augsburg Music community,
Welcome, once again, to our Occasional Updates for Augsburg University Music! Despite the frequent priority of solo work as a hallmark of musical achievement, most of us experience music-making as a social event. Meaningful music learning and experience derive from the shared act of preparing and executing performances.
Thus, the coronavirus has had an enormous impact on the "normal" work of the Department of Music and required us to think in creative ways about keeping our students engaged in active learning while practicing social distance and isolation. The typical final weeks of the semester, marked with concerts and recitals, preparation for commencement, juries, final exams, grading, and other rituals that mark academic transitions, have given way to exploring how today's technology can be leveraged to support continuation of student learning. What we have learned, of course, is that technology has two dimensions. On the one hand, it provides avenues of staying in touch from our places of "distance" that can help us feel connected; on the other, it is a weak substitute for the necessity of face to face, real-time, feelingful interaction with others.

Our faculty and students have risen to the challenges of these days, and in this issue of Occasional Updates, we share some of their remarkable creativity. Ensembles, of course, present a particular challenge, and you will enjoy reading about some of the unique experiences our ensemble directors have provided. Until mid-March, it was business-as-usual in the department. The immersive performance of Tienda in February was a significant success, as were many other events that occurred since our last issue.
Please enjoy reading about the excellent work being done in the department; and, as always, we invite you to be in touch with us at any time. We do not know, at this moment, what next year will hold for music instruction and engagement, but we do know that our faculty and students will continue to work in a spirit of collaboration and excellence to ensure meaningful music learning. Best wishes for safety and health to all of you. And thanks for your enduring support of the Department of Music!
David E. Myers, Ph.D.
Department Head for Music Studies
---
DEPARTMENT NEWS:
The Department of Music is immensely grateful to Jeff and Becky Nodland who have established an endowment fund to support scholarships for choral and music education students. This gift will enable more students to take advantage of the benefits of Augsburg Music. (Read more…)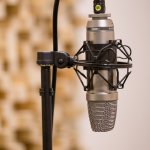 Grangaard Gift funds Recording Studio Upgrades
Augsburg recently received a significant gift from Paul and Margot Grangaard to upgrade the music department's recording studio. Paul is CEO of Faribault Woolen Mill Company and a trumpeter and music lover. He and Margot have contributed generously to numerous important causes and organizations in the Twin Cities, and we are grateful for their recognition of this important aspect of Augsburg's curriculum. The Grangaards' gift will support a state-of-the-art music production and recording studio, replacing an earlier one that had fallen into disrepair. It will include new digital equipment, acoustic treatment, computers, and instruments. This new production and recording facility paves the way for a minor in Music Production in the very near future, and a full Recording and Sound Degree in the next few years. New classes taking place in the facility have been approved and will be operational in the '20-'21 academic year.
The music therapy classroom was relocated from M26 to M16 in Fall 2019. This move helps accommodate the growing class sizes in our undergraduate and graduate music therapy programs. A Give to the Max campaign in the fall was dedicated to raising funds for new storage in M16. We are pleased to share that storage has been designed by Wenger and is slated to be installed in May 2020. We appreciate the generous donations provided from Give to the Max day and from the music department to support this project. The new storage will allow the variety of instruments utilized in the music therapy courses to be safely and securely stored.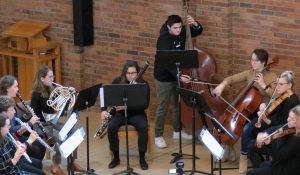 Once again, Augsburg University hosted the Music Listening Contest Championship 2020 on February 9. A faculty/student chamber ensemble performed Louise Farrenc's charming "Nonet" for winds and strings led by Dr. Klemp. Students Margaret Albers, flute; Quin Nelson, bassoon; Abby Eck, cello; Jack Jenson, bass; Hannah Eide, horn; and faculty members Erika Svanoe, clarinet; Elise Parker, violin; and Anne Ainomae, viola played to an enthusiastic audience.
We are pleased to share with you the exciting news that Mallory Alekna has accepted our offer of a tenure-track position in Music, Human Development, and Learning, beginning Fall 2020. Mallory is completing her Ph.D. at Arizona State University and holds an MM in music education from Indiana University – Bloomington. She has public school experience in instrumental, general, and choral music and has worked with programs providing arts learning in communities. Her Ph.D. dissertation is on access, equity, and inclusion among music majors, and she previously completed a study on recruitment of persons of color into university music programs.
Moving Music Online
Professor Kristina Boerger, D.M.A. – John N. Schwartz Professor of Choral Leadership and Conducting at Augsburg – was not able to transfer her classes online as easily as other Augsburg professors. She needed to change her entire curriculum to fit an online platform…(full article)
The Augsburg Concert Band, directed by Erika Svanoe, D.M.A., has produced two performances projects this April. A performance of John Cage's 4'33" and Music for Space and Time: Iteration II, an original composition by Augsburg Student Evan Sanden '21.
---
Alumni News: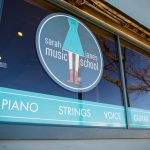 Sarah Perbix (Elhardt), founder of Sarah Jane's Music School in NE Minneapolis was featured in a recent Star Tribune article about performing musicians who have pivoted to online teaching as a result of COVID-19. Sarah performs with Cloud Cult, whose sold out show at Orchestra Hall was also cancelled this spring due to COVID-19, and she is a certified Yamaha piano teacher. Sarah Jane's Music School has more than 500 students and employs many musicians including Augsburg alum, Spencer Miller. The SJMS website offers an innovative array of online music learning for all ages and abilities!
---
FACULTY NEWS:
Jill Dawe has received the 2020 Minnesota Campus Compact Presidents' Civic Engagement Leadership Award "for a member of the faculty, administration, or staff that has significantly advanced their campus' distinctive civic mission by forming strong partnerships, supporting others' civic and community engagement, and working to institutionalize a culture and practice of engagement." Dawe received the award for her work in the Cedar Riverside neighborhood which has included a piano partnership with the Cedar Riverside Community School; connections with The Cedar Cultural Center; and Midnimo, a partnership between Augsburg/The Cedar to increase knowledge of Somali music and musicians in the US.
Annie Heiderscheit, Director of Music Therapy, is collaborating with researchers from Indiana University Medical School and Mayo Clinic on a study that was recently funded by the National Institutes of Health (NIH). The five year study includes the use of a music intervention to evaluate its efficacy in decreasing delirium in mechanically ventilated (MV) patients. This study is one of the fifteen studies funded as a part of the Sound Health Initiative, which is a partnership between the NIH and the John F. Kennedy Center for Performing Arts. This initiative dedicated $20 million over five years, dedicated to research exploring the relationship between music and the brain. In March, Dr. Heiderscheit co-authored an article on the pilot study the team conducted testing the music intervention with MV patients. The article entitled, "Decreasing delirium through music: A randomized pilot trial," was published in the American Journal of Critical Care Medicine. She was also invited to write a commentary by the journal Heart & Lung on an article entitled, "Rhythmic auditory stimulation increases 6-minute walk distance in individuals with COPD: A repeated measures study." Dr. Heiderscheit presented at the 2020 Great Lakes Region of the American Music Therapy Association Conference in Schaumburg, IL. She presented the following presentations: "Working with clients with complex profiles in music therapy: Clinical decision making," and she co-presented with Emma Moonier: "Using transference and countertransference to skillfully inform the therapeutic process." She also presented a keynote address at the 2020 International Association of Eating Disorder Professionals Conference entitled, "The brain comes alive with the sound of music: Innovative treatments for eating disorder clients through music therapy." Lastly, Dr. Heiderscheit was awarded the Augsburg University 2020 Distinguished Contributions to Scholarship Award.
Dr. Roberta Kagin, professor emeritus, and Wue Yu co-authored an article, which has been accepted to be published in the October edition of Music and Medicine and Interdisciplinary Journal titled "An Eclectic Approach to Working with a Dyad of a Patient with TBI and His Caregiver."
Dr. Merilee Klemp recorded a new album with pianist Lorie Line this fall, "The 30th Anniversary Year, Celebrating Christmas," and toured with Lorie in December to many midwest venues including Des Moines, IA, LIncoln, NE, WI and the Dakotas. Merilee continues to perform regularly with the Minnesota Sinfonia, including an early January tour and residency in Worthington, MN and a concert at the Sheldon Theater in Red Wing MN. The Schubert Club's Courtroom Concert series on January 23 featured Asako Hirabayashi's Trio for Oboe, Bassoon and Piano performed by Merilee, Laurie Merz, bassoon and Mimi Tung, piano. In February, Dr. Klemp was the guest presenter for the Adult Forum at Elim Lutheran Church in Robbinsdale, speaking on "Music to Inspire our Hearts and MInds: The music of Telemann." A student chamber music ensemble composed of Maria Kratz, flute; Morgan Ernst, oboe; Derek Parshall, harpsichord and alum Erika Parvi, violin performed for both the morning service and the forum. Most recently, Ms. Klemp served as one of the judges for the final round of the SPCO Youth Chamber Music Competition in March. Stay tuned for fall dates of the Riverside Wind Quintet concerts (both on campus & with the Grieg Society of MN) with music from Augsburg University's Nordic Collection, funded by a grant from the American Scandinavian Foundation.
Dr. Erika Svanoe recently served as visiting conductor to the Minnesota Symphonic Winds, a large adult community band based in the Twin Cities. She conducted the ensemble in the regional premiere of her new work Mary Shelley Meets Frankenstein at the Minnesota Music Educators Association midwinter clinic in February, and a longer program that included her piece Steampunk Suite in March. She also co-presented a workshop at the MMEA midwinter clinic "Commissioning with Purpose," for teachers interested in commissioning new works for their school ensembles. A teacher resource guide on Steampunk Suite will be published in the reference series Teaching Music through Performance in Band vol. 12. Additionally, the United States Navy Band performed Steampunk Suite at several concerts in the greater Washington DC area this winter.
Sonja Thompson's update on the Sesquicentennial Musical:  Unfortunately the show COULD NOT go on this time, due to the outbreak of Covid-19. We were within a few weeks of premiering "All That We Carry,"  a musical/theatrical reflection on 150 years of Augsburg University, when the pandemic hit. For Asst. Professor of Music Sonja Thompson (Music Director/Project Lead), as well as the entire cast, crew, and Theater Department colleagues, the cancellation of the spring 2020 production was a huge disappointment, needless to say, since the piece has been in process for almost two years. However, a new date for the production is in the works, so STAY TUNED!  "All That We Carry" is inspired by real stories contributed by hundreds of Augsburg alumni, current students, faculty, staff and regents, and features original music, archival video, audio and photographs, poetry and songs.
Kristina Boerger enjoyed several guest conductorships this year. In late summer she directed the annual Workshop of the Syracuse Schola Cantorum in a program of early English polyphony by Tallis, Gibbons, and Dowland. In November, she was the guest director of the Fall Music Festival of the Robbinsdale-Cooper high schools, conducting Porpora's Magnificat in A for string orchestra and treble chorus and Adolphus Hailstork's I Will Lift up Mine Eyes for full symphonic orchestra, SABT choir, and tenor soloist. In January, she was a guest director with the Saint Paul Chamber Orchestra's Northside Celebration, leading several works performed by the SPCO in collaboration with the Courtland Pickens Community Youth Choir KNOWN, choir directors Sherri Orr and Yolande Bruce with the Northside Celebration Choir, gospel soloist Greta Oglesby, and Sanford Moore's Northside Celebration band. In February, Boerger enjoyed a residency for the Kalamazoo Bach Festival Society, where she served as clinician for a two-day high-school choral festival and coached rehearsals of the Bach Festival Choir and of the Kalamazoo College Singers. As a soprano with Pomerium she performed two programs in New York City, one devoted to Pythagorean influences on Medieval polyphony and another to Lutheran plainchants and German motets of the late Renaissance.
Ryan LaBoy, conductor of the Cedar Singers, had an exciting performance season singing on the rosters of Twin Cities ensembles MPLS (imPulse) and Border CrosSing. As part of his debut appointment as Associate Conductor of MPLS (imPulse), Ryan led a quartet of musicians in performances of David Lang's Pulitzer Prize-winning the little match girl passion in late February. He was also invited to serve as the conductor for Youth Festival Chorus as part of GALA Choruses Quadrennial National Festival to be hosted in Minneapolis in July (now postponed to summer 2021). With the transition to online learning, Ryan also began hosting and producing his own podcast, Keep Calm and Choir On – featuring singers, conductors, composers, and music entrepreneurs from around the country– as a means of creative engagement with his college students. To learn more and listen, visit facebook.com/choironpodcast or choiron.buzzsprout.com
Peter J. Durow, Adjunct Instructor of Music, Human Development, and Learning was recently hired as a vocal music instructor at Central Middle School in the Eden Prairie School District. Peter's chamber choir of young professionals, From Age to Age, performed at the 2020 Central and North Central ACDA Conference in Milwaukee in March. Peter has a couple of new choral titles that are published with Heritage Music Press this spring and he recently completed a commissioned setting of "Psalm 146" for the combined ensembles at Zion Lutheran Church in Anoka, MN to celebrate the church's 150th Anniversary Year. peterjdurow.com
Reinaldo Moya, Assistant Professor of Composition was awarded the inaugural $20,000 Composer Award by The Ellis-Beauregard Foundation. With the Award, Moya will create a new work to be performed during the Bangor Symphony Orchestra's 2020-2021 season. Moya was selected through a juried national competition and chosen from over 335 applicants. In addition to this, his work Siempre lunes, siempre marzo will open the season at the San Diego Symphony in October 2020. He has been commissioned by the Indianapolis Chamber Orchestra to write a new work for their inaugural concert of the 20-21 season. The piece deals with the deforestation of the Amazon rainforest and will feature a video component.
Moya's opera Tienda was performed at the Hoversten Chapel at Augsburg University as part of the Sesquicentennial Celebration in February 2020. The performance was directed by Doug Scholz-Carlson and featured an immersive food component, where audience members got to taste food as the action unfolded onstage. Both performances were sold out and involved The Augsburg Choir and the Augsburg Orchestra as well as guest musicians.