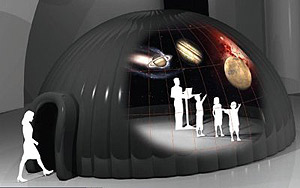 Joel Halvorson of the Minnesota Planetarium Society will be on campus Tuesday, Feb. 19 demonstrating the ExploraDome — an 18′-diameter, 13′-tall portable dome featuring high quality, interactive, visual programs for the sciences and science education.
The ExploraDome will be set up in the East Commons of the Christensen Center and available for viewing on Feb. 19 from 11 a.m. – 2 p.m. Students, faculty, and staff are invited to drop by and see how the dome can help promote science education as well as enjoy exciting imagery of the cosmos. The dome can accommodate 25-30 students at any one time.
The Minnesota Planetarium Society is dedicated to improving math and science education, and is constructing the Minnesota Planetarium and Space Discovery Center on top of the new Minneapolis Central Library.