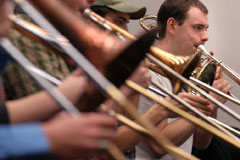 More than 200 potential new Augsburg students and their families will come to campus for Scholarship Weekend Feb. 22 and 23.
Approximately 100 students will compete for President's Scholarship and 100 for Fine Arts Scholarships, with several students competing for both. Several students will do phone interviews for the President's Scholarship while others will send in audition tapes/portfolios for the Fine Arts Scholarship.
"During the weekend, not only will students complete their audition, but they'll also attend sessions with their parents designed introduce them to Augsburg, including study abroad options, research opportunities and more," says Janet Bertok, Senior Admissions Counselor and Fine Arts Scholarship Coordinator.
In addition, ASAC, Fine Arts, and Admissions are teaming up to bring painter and Augsburg alum Chris Allen and some great hip hop back to campus.
Fine Arts Scholarships are worth $3,000 per year, while the 11 President's Scholarships run between $17,500 and full tuition. To qualify for the President's Scholarship competition, one must have an ACT of 27 or higher or 3.5 cum GPA or higher and have demonstrated exemplary leadership.
Approximately 20 faculty members are currently helping with the President's Scholarship interviews, while most members of the Fine Arts departments will meet with the Fine Arts applicants.
For additional information on Augsburg's scholarship program, visit www.augsburg.edu/day/finaid/scholarships.html or contact Admissions at 612-330-1001.