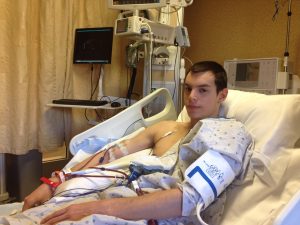 Will Walker '17 knew as a boy that his grandfather had experienced some kidney issues, but he had no idea that the disease was hereditary, or that one day it would send him on a critical ambulance ride from his Augsburg dormitory to HCMC (Hennepin County Medical Center).
As a boy growing up in the South, Walker had watched his family struggle to make ends meet. When he was 10, they moved to Minnesota, and he sensed the opportunity for a fresh start. Survival still had its challenges, but as a teen, Walker learned how to fend for himself. To avoid confrontations with neighborhood gang members, he found ways to dress and act that kept him "under the radar." He developed a sense of "street smarts" that served him well.
Walker knew about Augsburg, and he learned more when some of his friends became students there. With some scholarship assistance, eventually, he himself became an Auggie. Inclined toward either the physician assistant program or a business degree, he chose business. He also became involved in sports.
At one of Walker's business classes, an evening class, he asked his professor if she would teach him how to be a businessman. He sought her advice regularly, often after class as he walked her to her car in the parking lot as a safety precaution. Thus began an enduring friendship between Walker and his professor, Dr. Karen Tangen.
One day in the dormitory, tragedy struck. Walker began vomiting. He kept on vomiting and then couldn't breathe. He knew this was severe. Something was definitely wrong, so he called 911. The ambulance came to the dormitory and whisked him away to HCMC.
Fortunately, Walker's emergency was addressed by a seasoned pulmonary specialist, who happened to be on hand when Walker arrived at HCMC. He drained two-and-a-half gallons of fluid from Walker's lungs. What he had vomited was not blood, but fluid. It was at this time that Walker learned about the hereditary disease that could shut down his kidneys—the same disease that had caused his grandfather's problems years earlier. The physician told Walker that, when he had made the 911 call, he was within a couple of minutes of losing his life.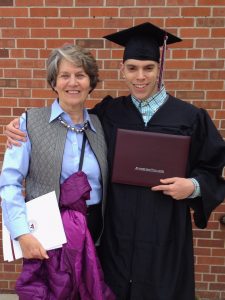 Walker's name was put on the kidney transplant list. Though he was younger than most individuals meriting a spot on the list, he had shown himself to be very responsible—eating right, exercising regularly to keep up his strength, and following physicians' orders. However, in order to be eligible to receive a kidney, he would need to have a sponsor and undergo a psychological exam—plus he would need to have all his wisdom teeth pulled since transplant patients are more prone to oral health complications. Tangen agreed to serve as his sponsor and she helped him find the resources to have the teeth pulled. But waiting for a kidney requires patience.
While waiting, Walker continued his Augsburg studies. In addition to managing his class load, handling a regular job, and working his student job in food service, he was also receiving kidney dialysis three times a week. Each four-hour dialysis session had to be capped off by a four-hour period of rest. The schedule was grueling, but he somehow managed it all. And he was nearing the finish line at Augsburg.
Then he got the call. HCMC had a kidney for him. The first person he called to "get down here right away" and join him was Tangen. Her mad rush to be there for him was successful, and the three-hour transplant surgery went well. He was put in isolation during recovery, and Tangen faithfully "guarded" his space, when his resistance would be low. He began taking 13 medications, a regimen he will need to continue the rest of his life. The recovery from surgery took two months, and two months after that, he graduated from Augsburg.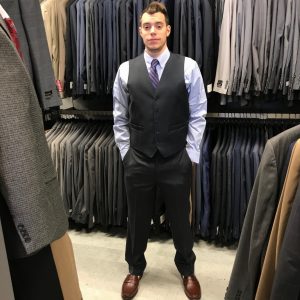 As Walker searched for employment, Tangen stepped in to help again. They went shopping together for appropriate interview clothing, practiced "lunch out" with a fictional prospective employer, and attended a job fair. She gave him tips on how to handle an interview, helped him write a solid resume, and showed him how to search online for jobs.
All the preparation paid off, and Walker's search yielded his current position in finance for Abbott Hospital in Minneapolis, where he handles revenue and statements for the parking department. He and his new kidney are doing just fine.
–by Cheryl Crockett '89