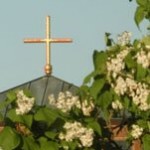 On Monday, October 19, Lonna Field with the Christensen Center for Vocation and I will be taking a group of Auggies to Seminary & Divinity School Day at Gustavus Adolphus College in St. Peter, Minnesota. Close to 20 seminary and divinity school representatives will be present to converse with regarding the many various graduate school programs in theology, biblical studies, youth and family ministry, and professional ministry tracks.
It is a wonderful time to meet with other students from other schools and enter into conversations of vocational discernment. Are you unsure about your future? Or, feel sure yet maybe God is nudging you to consider other things? Do you want to learn about options for public Christian leadership? Whatever the case, you are welcome to join us!   
Here is the schedule of the day – Monday, October 19:
8:00 a.m. Meet at Augsburg and depart shortly thereafter to St. Peter
9:30 a.m Registration @ Gustavus
10:00-10:20 a.m. Daily Sabbath – Christ Chapel
10:30-11:30 a.m. Opening Session – Dr. Chris Johnson
11:45 a.m.-1 p.m. Lunch and Keynote Address –  Kate Knutson '13 (current seminary student)
1:15-2:00 p.m. Table Time with representatives
2:15-3:30 p.m. Exploring Questions Together – World Café  Model – Four Rounds of Questions
3:30-4:00 p.m. Closing Session and Sending
5:30 p.m. Arrive back on campus
This event is free to Augsburg students and includes lunch and transportation
to and from Gustavus for those who pre-register for the event by October 12.
Questions? Contact me at lindayre@augsburg.edu or Lonna Field at fieldl@augsburg.edu.
Hope you can come and discern with us!