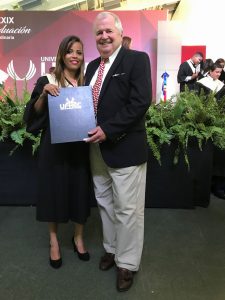 The difference between college then and college now is a key factor that motivates Tom Peterson '69 to honor his father by contributing regularly and often to the Clifford A. Peterson Scholarship endowment fund.
"A small scholarship throws off enough to buy books. I would like to get to where I can make a material dent in someone's tuition," Tom Peterson says. He figures it takes about a million dollars to fund an endowment that pays for one person's full scholarship each year, and he speaks with a deep knowledge of finance. As former chief investment officer for the Good Samaritan Society, he was in charge of two privately held mutual funds and managed $1.5 billion in capitalization.
He was not, however, an academic star. "I was an extraordinarily ordinary high school and college student, with average grades at best," Tom recalls. He grew up in Richfield and initially enrolled at Bemidji State University, which invited him to play on its tennis team. He studied hard there but again earned only average grades, and the tennis team's mediocre performance coupled with the frigid climate convinced him to move closer to home and enroll at Augsburg, his father's alma mater.
"My father always held Augsburg in high regard. He used to drag us kids along to basketball, football, and baseball games," Tom says of Clifford Peterson '49, whose successful career included marketing stints at Standard Oil and SuperAmerica as well as nursing home administration in later years. Tom's younger brother, Jim Peterson '78, was inducted into the Augsburg Hall of Fame for his prowess in both baseball and hockey.
At Augsburg, Tom majored in finance and sociology and played for two years on winning tennis teams, which placed second in the conference. (His son, Christopher Olson '91, later lettered four times in tennis at Augsburg.) Tom also graduated in four years with no debt, an accomplishment that seems impossible today. That was college then, when tuition was $1200 a year.
"I put myself through Augsburg, had an apartment off campus, and paid for it all myself," he says. "I had one of the best jobs a student could have at that time—I drove truck." He made deliveries throughout the state, working 30 hours a week during school and 60 hours a week during summers and breaks. When he graduated and got his first job as an accountant at Honeywell, he almost had to take a pay cut (but got to work a shorter, 40-hour week).
Even though he would sometimes come home too tired at night to study, he found time to connect with and admire his sociology professor, Joel Torstenson, and several adjunct business professors, one of whom he later mentored in the business world.
"I had good teachers, and they were fun people to be around. Here's the thing: I felt comfortable there," Tom says. Now retired and living in Edina, Minnesota, where long walks with his dog have replaced tennis, he recalls, with fondness, those college days in the past. He also remains committed to ensuring that students will be able to meet the financial challenges and enjoy the faculty support at Augsburg in the future.