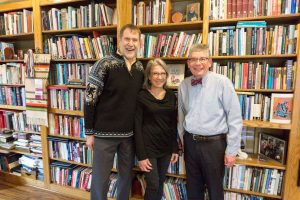 The Agre legacy at Augsburg University is well-established. The late Courtland L. Agre accepted the position of chairperson in the chemistry department in 1959 and became a beloved professor, inspiring hundreds of admiring students to stake out careers in science. His lessons were not lost on his three sons, all of whom majored in chemistry: Nobel prize winner Peter Agre '70, Bloomberg Distinguished Professor at the Johns Hopkins Bloomberg School of Public Health and Johns Hopkins School of Medicine and director of the Johns Hopkins Malaria Research Institute; Jim Agre '72, professor of rehabilitation medicine at the University of Minnesota; and Mark Agre '81, a rehabilitation medicine specialist in St. Paul. (Their sister, Annetta Agre '69, majored in elementary education and taught in the Minneapolis school system.)
So when Jim Agre and his wife, Brenda Gauvin-Chadwick, designated a planned gift of $1.25 million to Augsburg in their estate, it certainly fit the family tradition. But this couple also has deeply personal reasons for committing their funds to the StepUp program. Alcoholism contributed to the early deaths of Jim's first wife and Brenda's sister.
"We saw how awful the disease of addiction can be. Now we are in a position to be able to give back," says Jim, who also serves on StepUp's board of directors. "The StepUp program offers recovering students an opportunity to regain control of their lives and become fulfilled and productive citizens."
Health and wellness have long been a touchstone for him. He majored in biology and chemistry and participated in team sports; both he and Peter joined Augsburg's original men's soccer team in 1968. After graduating at the end of soccer season a few years later, Jim spent five months in Hamburg, Germany, where he played on a Hamburg soccer team, brushed up on his German language skills, and worked at a light fixture manufacturing plant.
He came home to attend the University of Minnesota medical school, then one of the few in the country that offered a specialty in physical medicine and rehabilitation. He recalls being drawn to that specialty because its treatments were focused on the recovery of individuals who had experienced severe loss of function due to medical illness. Becoming part of the medical team that restores function and quality of life to those individuals proved very fulfilling.
"As I look back on my career, I am very happy with the decision I made," he says.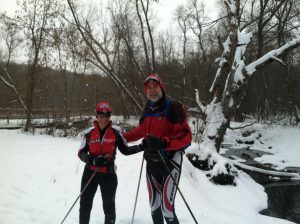 Jim plans to retire this spring but has no plans to slow down. He takes Swedish classes and returns often to Sweden and Norway to visit family and participate in cross-country ski competitions; he and his wife are both avid skiers. At home, he takes part in Loppet Nordic Racing at Theodore Wirth Park.
He also remains connected to Augsburg. Back in medical school, he coached men's soccer after his classes and labs were done for the day. Last fall, he volunteered as an assistant coach. "It was nice to see those young boys so full of enthusiasm and energy," he says.
The supportive environment he encountered on campus 50 years ago has not changed, he adds. Although he had considered attending the University of California, Berkeley, where he lived with his family while his father was on sabbatical, he feels blessed to have chosen the smaller school. "Even as a freshman, I knew my professors, and I could go to them if I had questions or a problem. They knew me as a person, not just a number in a class. That personal touch was very helpful."
The sense of caring still pervades the campus, creating a firm foundation for StepUp, one of the first comprehensive programs in the country to emphasize and support students in recovery. Services range from sober living space to sobriety pledges to counseling as needed. "They are helping folks who have various challenges that the average student doesn't have. It makes me feel good to be a part of Augsburg," Jim says, "and doing wonderful things to help folks along also helps our society."