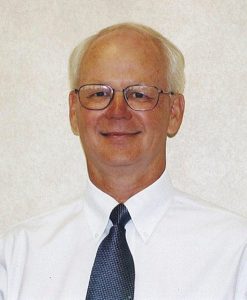 A serial entrepreneur who relishes new challenges and opportunities to share his leadership expertise, John Fahlberg '68 has not forgotten what it is like to work hard, play hard, and struggle to afford a college education. He and his wife have designated $375,000 as a planned gift to establish the John A. and Martha C. Fahlberg Scholarship, which will support students who have financial need and enjoy participating in extracurricular activities.
Extracurricular activities marked Fahlberg's early life, but they were not always the fun kind. Yes, he played sports as far back as he can remember, and he was happy to serve as student council president and captain of the football team. But he also started pumping gas at his father's filling station at age 13, shoveled snow, and did whatever odd jobs needed doing in the small town of Alexandria, where his family moved when he was in the third grade. He also spent a college summer as a spot welder on the assembly line at the Ford plant in St. Paul.
"I learned about the world of hard work at a very young age, and it stuck with me my whole life. I was very lucky. I chose the right parents," says Fahlberg, who is now a business consultant and executive coach in Chapel Hill, North Carolina. "My dad was a stoic Swede and my mom an outgoing Norwegian. They married in the early '30s, during the Depression, and they had a rough life. They never got a chance to finish college, but they taught me great values."
One of those values was education, of course. Sportsmanship was another. Both Fahlberg and his brother, ten years his senior, were very competitive and became outstanding athletes, following in their father's footsteps. Fahlberg's prowess in football and baseball attracted offers from several good liberal arts colleges. He chose Augsburg because he wanted to live in the "big city" and "hit it off immediately" with the late, legendary coach Edor Nelson '38. A scholarship paid his tuition.
Fahlberg pitched baseball for the Auggies throughout his college years and earned several division honors as football quarterback. He was inducted into the Auggie Hall of Fame—a surprise he was not expecting—in 2001. "In retrospect, it was a great four years, and the late '60s was an interesting time, to say the least," he says, recalling Seven Corners and the funky Cedar-Riverside neighborhood during that turbulent time. "I got a good education on all fronts."
A business administration major, he grew fond of assistant professor Bruce Budge, who "really looked after us, really cared about us," and treasured his connection with the late Jeroy Carlson '48, "one of those genuinely great, warm human beings who supported any and all of us. He made the Augsburg experience a real plus." These and other faculty members became a community of friends who shared the value system his parents had instilled in him: treating people fairly and well, respecting honesty and diligence, admitting mistakes, trying again after failing, doing the right thing no matter what.
Those values would also serve Fahlberg well in the business world. Getting a job was difficult in the late '60s, but a chance opening in the University of Minnesota's MBA program gave him a degree and 15 job offers from around the country two years later. His financial planning and analytic skills took him to Exxon in Houston before friends eventually convinced him to move back to snow country. He joined Target, where he met his wife, Marty, and became director of accounting by the time he was 31. Preferring scrappy start-ups to large corporations, however, he quit to embark on an eclectic entrepreneurial journey that took him from freight services (Murphy Transportation) to supercomputers (Zycad, where he became CEO), retail signage (Insignia Systems), and golf courses (LinksCorp).
Tired of long winters at last, Fahlberg and his wife decamped to Chapel Hill 19 years ago, although they return to Alexandria every summer. He stays busy as an angel investor, a member of several boards, and a coach who helps young executives plumb their strengths and weaknesses.
"We all have our ups and downs, but I have always felt that if I do it right, even if I fail, then I will be all right. My Augsburg experience really helped me solidify my values and live my life. I have never wavered from that," says Fahlberg. "I can't think of anything better than to help students get into and get through Augsburg University."