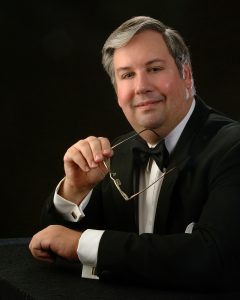 With his planned gift to Augsburg University's music department, Duane Esterly '75 has come full circle in his musical life, helping to ensure that future students who share his passion can pursue similar dreams.
By the time he reached fourth grade, Esterly had teaching goals clearly in sight. A church choir director had named him a boy soprano and instilled in him a love for music, and his parents sang in the senior choir at Calvary Lutheran Church of Golden Valley, where he took organ lessons as a high school sophomore from the church organist. The senior choir at Calvary was directed by Dr. William Halverson, professor of philosophy at Augsburg from 1959 to 1967, and often performed anthems by Leland Sateren '35, who headed Augsburg's music department from 1950 to 1973 and directed the choir until retiring in 1979. By the time Esterly was ready to choose a college, it was evident that Augsburg was "a good place to get a music degree."
Such a pursuit was "challenging then. They had nowhere near the facilities they do now," Esterly recalls. In those days the music department was housed in a group of renovated churches deeded to Augsburg by dwindling congregations. Recitals were held in an old white church where one could also hear toilets flushing throughout the building. The organ studio was housed in a converted grocery store, and the band building was located across the freeway on Franklin Avenue in another former church with a questionable heating system during the winter months.
"By the time I graduated in 1975, I figured the college had better do something about their facilities in order to stay competitive," says Esterly.
His music education, however, was top-notch. He took voice lessons, sang in the choir, and learned much about choral technique, conducting, and interpreting text through music. As a senior, he directed the student production of Oklahoma, facing the formidable task of turning the old music building into a theater in a mere three weeks. He made good friends, such as Peter Hendrickson '76, who became artistic director of the Masterworks Chorale and recruited Esterly, who sang for the Chorale from 1996 to 2015. "I'm very appreciative of the tools I learned while at Augsburg. They taught me quality, first and foremost," he says.
Esterly worked in sales administration, market research, training, and finance with such companies as Sandoz, Novartis, and Nestle for 35 years, but he never left music behind. For 27 years he taught privately—adults mostly, whom he deems often more difficult than elementary or high school students. He has held church music positions with various congregations throughout his working life, and, since retiring from the business world in 2016, he claims he is now "down to one job." That means working with three different churches at present, fulfilling principal organist duties at each on alternating Sundays, directing a vocal choir and a handbell choir, and being on call for plenty of weddings and funerals.
When he is not working on choral arrangements for his choirs in his home office in Plymouth, Esterly fills his time with books, concerts, plays, flower and auto shows (in season), and dining out with friends. Because he has no children to inherit his financial legacy, he has chosen Augsburg's music department as one of its worthy recipients. "I am so pleased to see what's happening there now. Almost all the professors I had are no longer living and my contemporaries are retiring, but I am very impressed with what I currently see," he says. "Their degree of dedication is deep, and I believe in all the possibilities they can offer to the students to come."