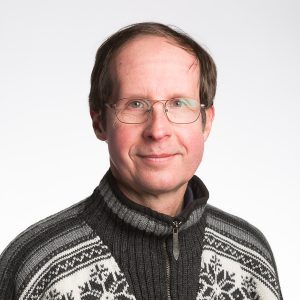 As a young man just out of high school, Scott D. Anderson '96 had already developed a love for drawing and painting. He had artistic talent, but the skills necessary to make a full-time living pursuing art were then beyond his reach. He became a chemical technician at 3M instead, launching a career that has helped him come full circle, back to his first love through philanthropy.
"Art inspires me," says Anderson, who is sponsoring "A Song of Dust" by collage artist Stephanie Hunder in the Hagfors Center for Science, Business, and Religion through the Art & Identity program. "Ever since I got my chemistry degree, I've wanted to give something back to Augsburg. I'm very grateful to Augsburg for giving me the opportunity to obtain a degree in science. Now I can return the favor."
With the support of his employer, Anderson completed his chemistry degree through Augsburg's Weekend College. It took him about six years while working full-time. He has been a regular donor to the Augsburg Chemistry Alumni Scholarship ever since, and he has also devoted more than 36 years to 3M, where he is now a senior research chemist in the Infection Prevention Division.
The art he chose for Hagfors Center is a 6' by 12' piece comprised of five panels, one of which had already been sponsored. Anderson will sponsor two panels, and 3M's employee matching gift program will cover the remaining two. Stephanie Hunder, gallery director and art professor at Concordia University in St. Paul, uses printmaking and photography to create images of actual objects, such as branches and grasses pressed into paper, that often mimic scientific recording in some ways. Anderson spotted her work while exploring an entire room of art proposed for the Art & Identity campaign.
"What she put on the canvas was partly scientific and partly artistic, so it represented the sciences and the arts at the same time. In fact, it represents what I do now at 3M—chemistry, engineering, biology. It all flows together. It meshes," says Anderson. "To see art on the walls when you walk around campus is pretty inspiring, at least for me." The piece will appear with a small recognition plaque in a prominent hallway near the physics area in the Hagfors Center.
The Hagfors Center is slated to open next January. Meanwhile, though he is not yet ready to retire, Anderson is beginning to rediscover his talent for art, using pen and ink, watercolor, and acrylics in occasional projects. "Sometimes I surprise myself," he says. "I believe it is important to mix art with academics, as well as mixing humanity studies with science."
— Cathy Madison