Sylvia Ann Sabo (nee Lee), 85, passed away on October 26, 2022.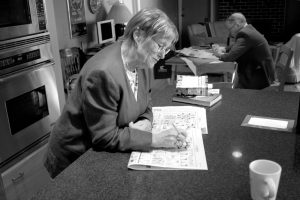 Sylvia attended St. Olaf College in Northfield, MN, and became a registered nurse. Her close connection to Augsburg began when she returned to Minneapolis, after spending a year as a traveling nurse, and married her husband, Martin Olav Sabo '59.
U.S. Representative Martin Olav Sabo '59, who passed away at age 78 on March 13, 2016, was a lifelong public servant who exemplified the progressive approach and personal integrity that were modeled in his Lutheran upbringing and education. 
Sylvia also found meaning in service. She was a long-time member of the Augsburg Associates, serving on the board and working on estate sales, events, and fundraising for the scholarship support of Augsburg students.
In addition, Sylvia was an active member of the Seward neighborhood in Minneapolis, a PTA president, and participated in the Seward community orchestra, an assembly of amateur neighborhood musicians. She also enjoyed singing at the Trinity Lutheran Church on Riverside Avenue. The couple had two children, Karin Mantor '86 and Julie Sabo '90, who also attended Augsburg.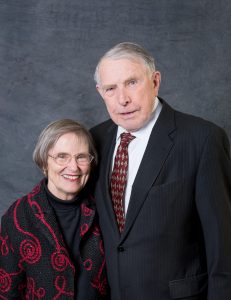 The Sabo Center for Citizenship and Learning was founded on lessons that come from Sylvia and Martin's work. 
In 2014, the Center for Democracy and Citizenship and the Sabo Center were combined into a single entity, bringing together these two traditions of public service and citizen engagement. 
Today, the Sabo Center for Democracy and Citizenship is recognized for its innovative leadership in democracy education, public work philosophy, experiential learning, and place-based engagement.
President Paul Pribbenow shared, "Sylvia Sabo was a beloved part of the Augsburg community. After Martin retired from the U.S. House of Representatives, and he and Sylvia returned to Minnesota, we enjoyed their warm hospitality for students and faculty as they shared their passion for public service and community engagement. The Sabo name will reside permanently on our center, organized to promote democracy and citizenship – recognition of both Sylvia and Martin who modeled for all of us what it means to be good citizens. Abigail and I will miss Sylvia's warm smile and gracious presence in our midst."
The funeral service will be held on Monday, Nov. 7, at Lakewood Cemetery Chapel, 10:00 AM, followed by a brunch and interment. 
Read Sylvia's official obituary.